October 12th, 2016 Posted by Frederik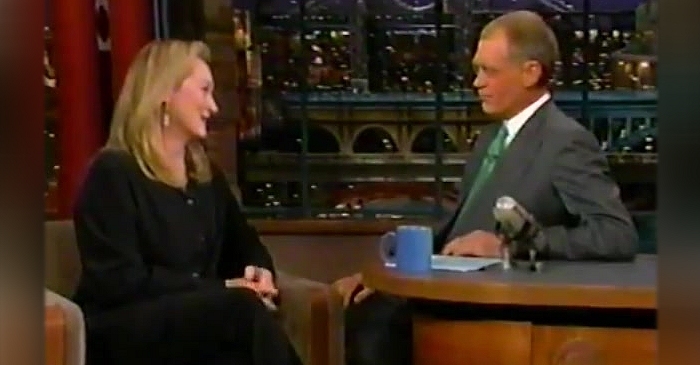 This update comes with a story, a personal one for Simply Streep. As you know this website runs in its 17th year, which is insane – it's probably older than many of our visitors. Back in 1999, when I started this as a project, it was way harder to get hold of material. A fellow German, Anke, who has been a tremendous help over the years, sent me a VHS tape with some of Meryl's talkshow appearances she did in the late 90s, among them her first visit on David Letterman's late show, one of her first talkshow appearances. I had to learn the hard way that American NTSC tapes could not be played properly on European PAL recorders (in case any of you remembers a video cassette), so all faces turned out green like the Incredible Hulk and it was almost impossible to watch. I tried just about everything to get a video copy for Simply Streep, but nothing worked out. So I just settled and thought, with Youtube and other sources emerging, "one day it'll be on Youtube". That thought came and went for the past 17 years.
Well, mark you calendars. Today, with many thanks to Youtuber Daniel Poitras, the Letterman appearance has been posted in its entirity, and in good old fashioned VHS quality. The interview runs for a whopping 13 minutes, which is so much more than today's talkshow snippets. Also, she gives the best excuse for declining to appear on Letterman's show for 20 years. I'm so happ to finally add this to the archive, it makes Simply Streep feel a whole lot more complete. Enjoy the clip and make sure to view the screencaptures in the photo gallery.