Roberta Guaspari
Roberta Guaspari's story had Hollywood written all over it: A mother of two young sons emerges from a failed marriage and finds her calling teaching violin at a New York City public school in East Harlem. When budget cuts threaten to close her program, she fights City Hall and wins. In 1999, eight years after Guaspari's efforts were first chronicled by the media, Roberta's story was brought to the screen in Wes Craven's Oscar-nominated drama "Music of the Heart".
Roberta Guaspari began studying violin in fourth grade. She eventually graduated with a music education degree from the State University of New York at Fredonia in 1969. While working on her master's at Boston University, she met George Tzavaras, a Navy officer studying at MIT. "I was 24, Italian and not married," she says. "The pressure was on from my family." They wed in 1971. As George rose through Navy ranks – with postings in Honolulu and Newport, R.I. – the family was always on the move. Teaching violin and persuading school administrators to invest in musical instruments proved a dauntingly tough career choice, especially after the birth of the couple's two sons. Finally, when the family moved to Greece in 1977, Roberta devised a solution. Withdrawing $5,000 from the family savings, she bought 50 tiny violins and persuaded the headmaster of the British-run Campion School to hire her. No sooner had Guaspari-Tzavaras established herself there than George asked for a divorce. "It was the lowest point of my life," she says.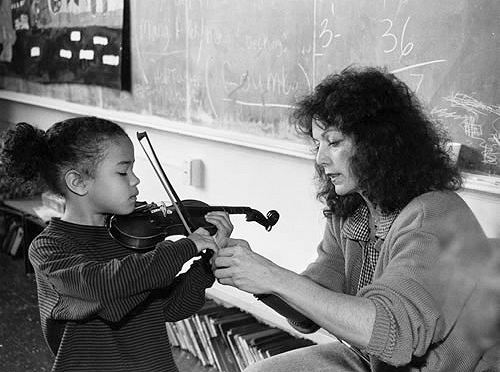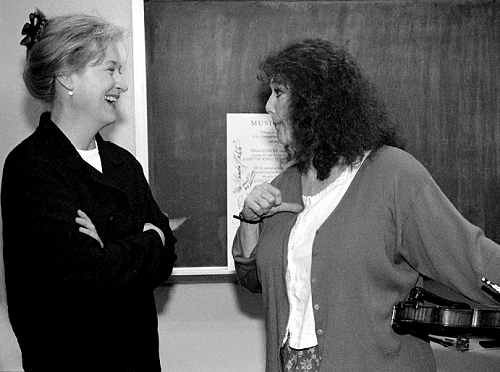 Roberta Guaspari's passionate struggle to keep music instruction alive in Harlem's public schools has inspired two films: Small Wonders, a 1996 documentary produced by Susan Kaplan and directed by Allan Miller, and Miramax's 1999 feature film, Music of the Heart, starring Meryl Streep.
But Guaspari-Tzavaras rebounded. With her sons – and violins – in tow, she moved to New York City in 1980, subletting an East Harlem apartment from a couple whose children attended Central Park East schools, a city-run alternative program. That led to an introduction to the school's music-loving principal, Deborah Meier, and a part-time job. Three years later, when she was hired full-time, Guaspari-Tzavaras had fallen in love again – this time with her gritty new neighborhood, where she lovingly restored the townhouse she lives in with Sophia, a 5-year-old from El Salvador, whom she adopted in 1991. "My mother really needs to come home and be a mother," says Alexi. "She is just as passionate about mothering as she is about teaching."
And there are those who are passionate about her. In 1993, world-class violinists, including Itzhak Perlman and Arnold Steinhardt, helped organize a Carnegie Hall benefit concert that raised nearly $300,000 for her program. "This woman has an incredible, demonic amount of energy," says violin virtuoso Isaac Stern. "She draws things out of the kids. And from her they gain a sense of self." That's certainly true for Guaspari-Tzavaras alum Melia Crumbley, 15. When kids who hang out on the street mock her for spending so much time practicing, says Melia, "I just look them right back in the eye and say, 'What are you doing with your life?" A documentary film about Roberta called Small Wonders was nominated for an Academy Award in 1996. Further developments inspired by this teacher include a feature film, released in October 1999. Music of the Heart starred Meryl Streep as real-life violin teacher Roberta Guaspari-Tzavaras.
The Character
Meryl Streep was a literally last-minute replacement for Wes Craven's "Music of the Heart", after Madonna dropped out of the project. Streep was given six weeks for preparation in order to play the violin. "I had to beg them to give me some more time for the violin part of it." Streep, aside from having the daunting task of learning the violin while acting like a professional, also had the burden of playing a real person. She found this to be particularly challenging. "Playing a real person carries with it a whole other set of responsibilities than you would have when creating a fictional character," Streep continues, "So, I did as much research as I could and then I just sort of threw it away because I can't think of the real Roberta. I had to make it our Roberta, our movie Roberta. The real woman is a sizable phenomenon of energy, inspiration, hard work, irascibility. I tried to capture little parts of her and put it together in the film."