Star Treks
Horizon Magazine | August 1978 | Written by Scott Haller
---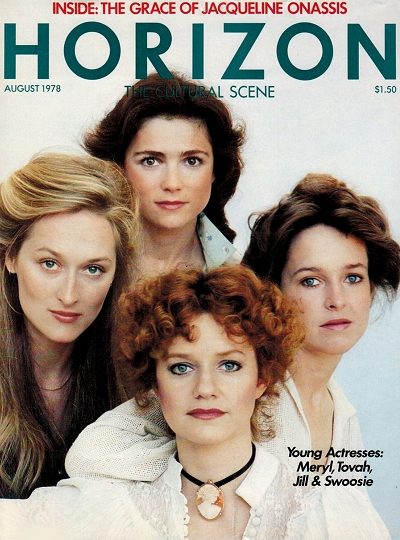 The names are as uncomon as the actress themselves: Meryl Streep, Tovah Feldshuh, Swoosie Kurtz, Jill Eikenberry. Difficult to pronounce, they lack the contrived cadences and ethnic anonymity of yesteryear's star names: Greta Garbo, Sylvia Sidney, Olivia de Havilland, Doris Day. Yet, difficult to ignore once encountered, they may soon be among the more recognized names around.
As four of the New York stage's most promising actresses, they are already familiar to many. This past spring Meryl Streep and Tovah Feldshuh culled new admirers from the 109 million viewers of NBC's much-discussed miniseries "Holocaust". Playing Inga, the Gentile German wife who commits herself to a concentration camp in order to be near her Jewish husband, Streep gave strength and texture to a role that demanded more of her tear ducts than her talents. Cast as Helena, the young Jewish wife and freedom fighter who is eventually gunned down by the Nazis, Feldshuh displayed the combination of determination and distance typical of characterization. Swoozie Kurtz and Jill Eikenberry found similiar showcase in last season's "Uncommon Women and Others", Wendy Wasserstein's off-Broadway comedy about a group of Mount Holyoke College seniors contemplating their futures. As rita, the tough-talking sex expert – a variant of the flamboyant parts she has nearly patented on the New York stage – Kurtz infused an essentially comic character with an essential pathos, letting us understand that Rita's noisy, street-smart sexpertise camouflaged her own fear of flying. Playing the overly motivated, overly pretty Kate, Eikenberry suggested – as her interpretations often will – that good looks can be a curse, that intelligence can be a crutch, creating a heart-wrenching portrait of a young woman in danger of numbing her own heart. When "Uncommon Women" transferred to public television, Streep joined the cast and made a haunting appearance as a hounded student.
Currently on the verge of national visibility, these four women have all hazarded the well-traveled route that was serious, intelligent stage actresses take today. The route necessitates stopovers at a university (most likely one of the Seven Sisters), at a graduate program (preferably the Yale School of Drama), and at regional theaters (such as Washington's Arena Stage) that serve as colleges of continuing education. It may also include a few commercials for the money, a few bit parts in films for experience, and more than a few productions on or off Broadway. But it usually by-passes Hollywood. "Hollywood doesn't come to Broadway for casting anymore," explains Feldshuh, who has appeared in only one feature film, "Nunzio" (1978). Today, a gifted stage actress is apt to go undiscovered by the public at large until she has accumulated an achievement that cannot go unnoticed, such as appearing in six shows in one season – as Streep did her first year in New York – or receiving four acting-award nominations for three different roles – as Kurtz did last season. Only then does Hollywood begin to notice as well. During the next several months, in addition to appearing onstage, Meryl, Tovah, Swoozie, and Jill will be co-starring with such familiar names as Robert De Niro, Mary Tyler Moore, and James Caan in a spectrum of televisio shows and feature films. In the wake of that exposure they could come to represent a new wave of young screen stars, argumenting the recently heralded ranks of Jill Clayburgh, Diane Keaton, and Lily Tomlin.
Meryl Streep's story is as close to Cinderella's as the theater world has come in some time. Three months out of the Yale School of Drama, with only a season at the Yale Repertory Theater and a year's experience with another company to her credit, Streep auditioned at Joseph Papp's New York Shakespeare Festival. She won the role of the ingenue in Arthur Wing Pinero's "Trelawny of the Wells", reset in turn-of-the-century New York. Before the 1975-76 season was completed, she had also appeared as a (considerably padded) "200-pound crackerwoman" in Tennessee William's "27 Wagons Full of Cotton", a sexy secretary in Arthur Miller's "A Memory of Two Mondays", a Civil War belle in the melodramatic "Secret Service", the French princess Katharine in "Henry V", and the religious fanatic Isabella in "Measure for Measure". She received critical acclaim for all six roles, but she received a Tony nomination for the part in the Williams play. "I was very lucky to get that part," concedes Streep, who is as personable in person as are her characters onstage, "because that's a role that otherwise I would have been able to do only in school; 'Well, we don't have anyone that fat, so OK, Meryl, you can play her.' It's that kind of role that helped me break through the ingenue trap." It's also that kind of demanding role that keeps an actress new to New York in constant demand by directors and a constant surprise to audiences. Onstage Streep is an arresting combination of vulnerability and strength, diffidence and determination. She possesses what have been called classic good looks, but more important, she also possesses the facility to veer from the classics to light comedy, to go directly from the maid in Chekhov's "Cherry Orchard" to the singing Salvation Army lady, Hallelujah Lil, in the Bertolt Brecht musical "Happy End". Unlike some of her equally promising predecessors, Streep displayed a versatility in her first season that has not vanished as her fortunes have escalated. Instead, she has firmly established herself as one of a vanishing breed in the American theater: the young character actress, the kind of talent who gets good reviews no matter what material she works woth. "When I first came to New York," she observes, "people always told me, 'You'd make a great Ophelia' because of my looks. They told me I was going to get typed. I've managed to avoid it. But there definately is a tendency here for directors to to cast you on the basis of your hair color."
Fortunately for Streep, Papp has displayed a tendency to cast her as often as possible – four times now, with another under way. This month, after nearly a year of film work, Streep is returning to Papp's Shakespeare Festival to play Katharina in "The Taming of the Shrew". Does an actress need a patron? "I like the continuity of being associated with one company," explains Streep, who appeared in seven out of eight shows at the Yale Rep. For a year after she graduated from Vassar, Streep was associated with the less prestigious Green Mountain Guild in Vermont. "We took Chekhov to ski resorts," she remembers. Following that experience Streep enrolled at Yale on scholarship; on campus she achieved a certain local fame for her graduate-student performances at Yale Rep. During the summers Streep returned to her family in Bernardsville, New Yersey. "I couldn't afford the tiny salary of stummer stock, so I went home and worked as a waitress." In 1975 she graduated from Yale with an M.F.A. degree and a substantial debt. Those debts have been paid off now, in part through her appearances in two new movies, "The Senator" and "The Deer Hunter". (Previously, she passed through "Julia" in the role of Anne Marie, the socialite snob.) In "The Senator", opposite Alan Alda, she portrays a civil-rights lawyer who has an affair with a married U.S. senator. In "The Deer Hunter", which will be released next month, Streep plays opposite Robert De Niro as the small-town girlfriend of a soldier in Vietnam. "She's the kind of girl I went to high school with," says Streep. "The kind who waits to be asked to the prom, who waits to be asked to get married, and who waits for her lover to come back from the war." It concerns Streep that this role is one of "those blond-haired woman parts," the kind of parts she has tried to sidestep on stage. It also concerns Streep that the part most people have seen her play is one she found less than gratifying – the role of Inga in "Holocaust". "I did it for the money. I need it very badly, and I make no bones about that. She defines the fame the show has brought her as "something surreal". "The other day I was riding my bike through Chelsea when these four guys in a Volkswagen started yelling at me out of the window, 'Hey, Holocaust, hey, Holocaust!' Can you imagine? It's absurd that that episode in history can be reduced to people screaming out of car windows at an actress."
In the first act of "Uncommon Women and Others" Kurtz announced to her friends, "Listen, by the time we're twenty-five, we're going to be pretty… incredible. All right, I'll give us five more years for emotional and career development." Throughout the play, however, she constantly extends her timetable, until at the end she declares, "When we're forty-five, we can be pretty… amazing." Already, these women are ahead of schedule. Given the high attrition rate of promising young actresses who "go on to become executives with American Can Company" – as Streep puts it – these women have already distinguished themselves from their competition. Once, newspaper articles about them regularly included phonetic pronunciations of their names. The fact that that no longer happens may be the first sweet smell of success.