Review: War Hero
Entertainment Weekly | August 25, 2006 | Written by Thom Geier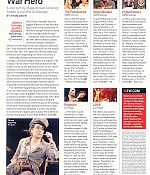 ---
Who'd have thought that the biggest liberties in the fascinating Central Park production of Mother Courage would be taken by the incomparable Streep?
Audiences may not recall that the 1941 Bertolt Brecht classic contained songs or pointed allusions to the folly of war and imperial ambition. (No, Tony Kushner's new adaptation did not wholly invent lines like "It's expensive, liberty, especially when you start exporting it to other countries.")
Naturally, Streep commands attention as Courage, a canteen-wagon owner during the 17th-century Thirty Years' War, who profits from the conflict even as she laments its toll on her three children. In her hands, the role becomes less a figure of outright tragedy than a jokey raconteur. Sure of voice even as she stumbles on a few lines, Streep doesn't evoke traditional Brechtian alienation, but lets her indomitable exterior slip to reveal the vulnerability beneath her army uniform.
The excellent supporting cast includes Kevin Kline as a lascivious cook and Alexandria Wailes as Courage's mute daughter, who acts as the play's conscience despite tragic consequences. The chief shortcoming may be Jeanine Tesori's original music, which seems to reflect a quasi-Brechtian belief that a memorable melody would be a capitulation to audience pleasure. Luckily, the latter is in abundant supply, principally from Mother Streep.