"It's Complicated" is simplified by Streep, Baldwin, Martin
USA Today | December 18, 2009 | Written by Susan Wloszczyna
---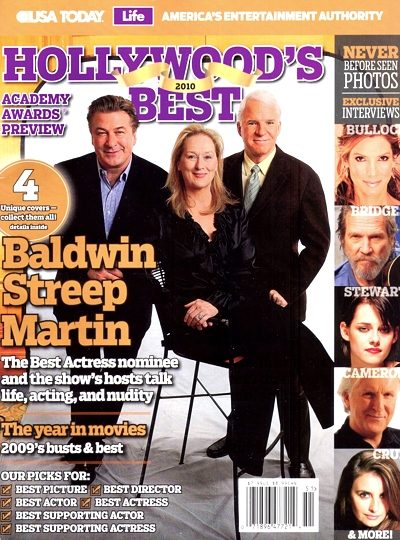 Meryl Streep is hung over. "Too much party," the less-radiant-than-usual actress explains while eagerly seeking room-service coffee. Seems she went overboard the night before with toasting at the Kennedy Center Honors in Washington, D.C.
Meanwhile, Steve Martin is taking a bathroom break. And Alec Baldwin is not to be found. Talk about complicated. As a result, there's a slight delay in the three-way gabfest with the stars of It's Complicated, a nicely naughty farce opening Christmas Day that seems destined to further fuel the 60-year-old Streep's late-career love affair with adult moviegoers that began with 2006's The Devil Wears Prada. She already has won over the Golden Globe voters as she competes against herself as Julie & Julia's cooking legend Julia Child in the lead-comedy category.
The R-rated romp, directed and written by Hollywood's premier peddler of middle-aged romantic fantasies abetted by decadently fabulous décor, Nancy Meyers (What Women Want, Something's Gotta Give), dares to suggest that people over 50 actually enjoy sex – and, upon occasion, even with their ex-spouses. Streep is Jane, a gourmet-shop owner and lonely divorcée. While out of town for her son's college graduation, she finds herself surprisingly susceptible to the advances of ex-husband Jake (Baldwin, doing his best besotted satyr routine) after multiple rounds of inhibition-dissolving beverages. Shock, awe and bed-endangering coitus follow. The arrival of an upbeat Martin, whose chivalrous architect vies with the decidedly alpha-male Baldwin for Streep's affections, does much to lift the mood of Oscar's pet actress. After inquiring about her condition ("I heard you didn't get much sleep," he says), he heads to a window and uses a hotel-provided telescope to check out the impressive 17th-floor view of Central Park. "I can see my apartment," the 64-year-old actor, who lives nearby, declares with childlike delight. "I can see my wife."
Movie knows its target audience
As Baldwin dawdles, the pair ponder the rarity of having a film whose subject matter is aimed at those heading toward their twilight years rather than those in the throes of Twilight fever. "There really aren't stories about that," says Streep, a mother of four and wife to sculptor Don Gummer for 31 years. "It doesn't interest the people who greenlight movies generally. If this were Nancy's first film, it would be a harder sell." Adds Martin, who worked with Meyers on 1991's Father of the Bride and its 1995 sequel: "The audience is getting older, and they have been ignored. I think there is a big audience for movies like this." Hark! Are those the Emmy-winning vocal intonations of 30 Rock's Jack Donaghy we hear? Yes, Baldwin is finally in the house, with BlackBerry in hand. Settling in, he playfully suggests, "Let's text each other." He pretends to type: " 'Steve, what do you really think of Meryl's acting?' "
When the laughter dies down, the subject of Baldwin's much-discussed revelation that he is considering leaving his profession once his NBC sitcom contract ends in 2012 is broached. He denies that was the intent of his statement. "What I wanted to say is I wanted to do other things," he says. "What is missing from the quote is that Steve is going to quit acting. He just doesn't know it yet." Baldwin, who at 51 is enjoying his first juicy big-screen lead in years with It's Complicated (even generating Oscar talk), grows serious as he acknowledges his spotty commercial record at the movies. "Let's not be children. The goal is to make money." It's an old maxim that the careers of most actresses are basically dead after 40. But what about actors of a certain age?
Martin: "It's not true of men."
Baldwin: "Some men. Some men become a kind of icon."
Martin: "Like Clint."
Baldwin: "And Jack."
"And Steve," Martin quickly adds.
Meanwhile, many women are lucky to play grandmothers for the rest of their lives.
"Steve is playing a grandmother in his next film," Baldwin kids. "Honestly, though, there are very few people now who have it the way that stars had it years ago. They starred in film on into their 50s and 60s. Like Hepburn and Bette Davis and Liz Taylor … "
Streep interjects: "No, they didn't, they didn't."
Baldwin: "Cary Grant did."
Streep: "Cary Grant did, but the gals … they stopped. Bette Davis was about 10 years younger than me when she made Whatever Happened to Baby Jane?. Hepburn had a career and came back much later to play old ladies. It's the middle ages they didn't know what to do with."
If Meyers, who just turned 60, knows anything, it's what to do with experienced performers. In 2003, she magically reunited Jack Nicholson, then 66, and Diane Keaton, at 57, for the first time since 1981's Reds in Something's Gotta Give, collecting a healthy $125 million in ticket sales and giving Keaton her fourth Oscar nomination.
With It's Complicated, she tailored the parts for each headliner. "I had Meryl in mind the whole time I was writing it," Meyers says. Unlike Streep's intimidating fashion editor in Prada and famous chef in Julie & Julia, she says, "Meryl is normal here. She's a mom and an ex-wife and says things like, 'Do you want to go to Bed, Bath & Beyond?' She is a regular person." As for Baldwin, she says, "I turned on 30 Rock the first season and I thought, 'This is an actor I like.' It is that whole Nicholson thing, a hilarious tough guy who is very brave as an actor and really great with dialogue." Putting her pal Martin into the mix was a no-brainer, though his part reflects his more introspective side instead of zany personas like the bumbling Inspector Clouseau in the Pink Panther films. Then again, a pot-smoking sequence does lend itself to some of the familiar Martin wild-and-crazy goofiness. "He has a gentle nature," Meyers says. "He's not an aggressive person. Never in your face. In this, he is so winning, so adorable."
For Streep, it was an offer she simply could not refuse, even if she's back in the kitchen so soon after Julie & Julia. "I thought it might not be good to ice two identical chocolate cakes on-screen. But it doesn't matter. It's a different thing." As for Baldwin, "My agent called me and said, 'Five guys have to die before you get this part. And they're dead and you're in. They want you.' " Martin says simply, "I called my agent and said, 'Get me something thankless.' I play the nice guy." Also, the guy who keeps his clothes on. While Streep manages to remain demurely covered during her bedroom trysts with Baldwin, he almost goes all the way. A butt double, approved by both the actor and Meyers ("He said, 'Mine's beautiful. However, I don't want to do that,' " she says), fills in during the most revealing scene. But that is all Baldwin – the excess body hair, the healthy paunch – striking a pose in his boxers.
"Well, the director is a woman, and she wants to protect her leading lady," he says. "And the men are just toys to her. I was like a little Ken doll. A 51-year-old Ken doll." Adds Streep fondly, "Nancy knows, too, what will make women love you. And the fact that you stand there and pat your belly." Baldwin, whose rancorous split with actress Kim Basinger in 2002 after nine years of marriage is well known, is pretty sure some long-divorced couples have found themselves in a similar situation as his and Streep's characters. "If people were honest, there is probably more of this going on than you want to admit." Martin, who was married to actress Victoria Tennant for eight years before they divorced in 1994, took the plunge again two years ago with New Yorker staffer Anne Stringfield. He nods. "I've heard of people who are sleeping with their current spouses."
Story reflects true life
All three appreciated that the script, as humorous as it is, contained some essential truths about relationships, including how the news of the couple's reignited passion affects their grown children. "Someone asked me whether or not I've gone through this before, this idea that you love someone and therefore you love them forever," Baldwin says in a thoughtful moment. "And I said, 'That might be true.' "There might be people who have these hideously acrimonious divorces who, deep down inside, if they let it go, realize they had some wonderful times with that person. When I have my daughter with me, there's nothing more common than sitting with your child and talking about the fun times you had with her mother."
But, he adds, "whether you belong back together or not is a different story."