Necessary Targets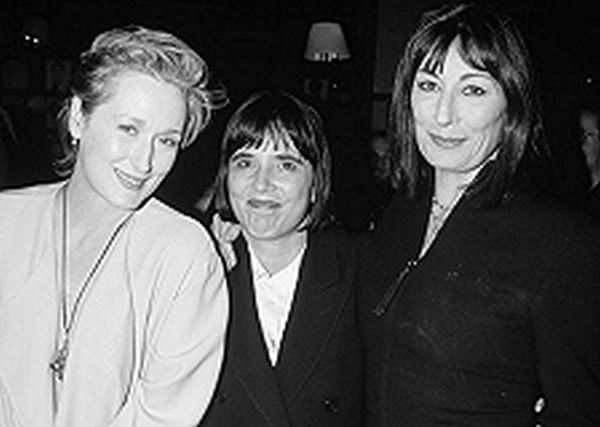 Video Archive
Internet Broadway Database
Press Coverage
Promotional Appearances
Stream & Buy on Amazon

Venue:
Helen Hayes Theatre
Directed by:
Eve Ensler
Written by:
Eve Ensler
Production Dates:
1996
Melissa (Anjelica Huston), an ambitious writer, and J.S. (Meryl Streep), a successful but unsatisfied middle-aged psychiatrist, have nothing in common beyond the methods they have been taught to distance themselves from other people. As J.S. begins to feel compassion for the women whose tragedies she has been sent to expose, she turns on Melissa, who finds safety in control. In an unexpected moment of revelation, J.S. and the women she is supposedly treating find a common ground, a place to be taught and a place to learn. Necessary Targets is a groundbreaking play about women and war - about the violence of dark memories and the enduring resilience of the human spirit.
Cast & Characters
Meryl Streep (J.S.), Anjelica Huston (Melissa)
Production Photos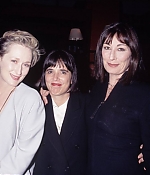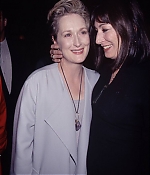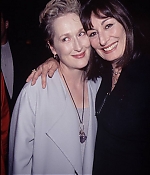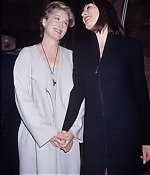 Production Notes
For Eve Ensler, the Broadway/Streep/Hawn experience last fall was the payoff for a long artistic and political effort. The place was New York's Helen Hayes Theatre. The occasion was a benefit performance to raise funds for Bosnian war victims. The event was a reading of Ensler's Necessary Targets, a wrenching drama about women and war, specifically about women brutalized in rape camps during the war in Bosnia. "In 1993," Ensler recalls, "I saw a picture on the cover of Newsday of six totally traumatized girls who had just been returned from rape camps, and I freaked out. I couldn't believe that rape was being used as a systematic tactic of war in the middle of Europe in 1993." It was an atrocity demanding a response from a writer who has never stopped thinking of herself as a radical feminist, and has never stopped believing in a natural connection between art and politics. She persuaded a Hollywood production company to fly her overseas to investigate the war experiences of women in the dismembered Yugoslavia. "In 1994, I spent two months in Croatia and Pakistan interviewing Bosnian women refugees. Then I went back again last summer to Bosnia and spent quite some time interviewing women who have worked with rape victims during the war."
Out of that research came what Ensler describes as a play about "an American psychiatrist who goes on a mission to `help' Bosnian refugees who have been traumatized, goes to save them and in the process really saves herself." After a Necessary Targets reading at the Public Theatre, an official of the International Rescue Committee asked Ensler to arrange a benefit performance. Meryl Streep agreed to portray the psychiatrist, and other stars Anjelica Huston, Cherry Jones, Lois Smith, John Cullumquickly filled out the cast. "It was truly one of the great nights of my life," Ensler beams. "The prime minister of Bosnia was there. Madeleine Albright was there. We raised tons of money for Bosnian refugees." About the same time she was putting together this political and artistic triumph, Ensler was also opening a one-woman show at a theatre in SoHo. She had toured the piece around the country for three years and felt she was ready to do it in New York. But New York, or at least the New York Times, wasn't sure it was ready for her. The title of her show, The Vagina Monologues, raised some eyebrows in the newspaper's advertising department. "They said they couldn't run the ad," Ensler laughs. "Then somebody told them, `We reviewed it,' so it was okay." The Times didn't just review The Vagina Monologues, it raved about the show: "Sex just doesn't get funnier or more poignant than this." The title of the play pretty much speaks for itself. In a series of monologues, Ensler portrays women of different ages, social classes, and ethnic backgrounds, all talking about a range of deeply personal and intensely political topics from the horror of rape to the primal majesty of childbirth, from the wry comedy of body image issues to the raw delight of sexual discovery. It's a play about women's power and women's vulnerability, and the intimate connection between the two. It's a play that transforms the familiar phrase "The personal is political" from a shopworn slogan into hard-won truth.
Art and feminist politics were already a matched pair for Ensler during her years as a Middlebury campus radical in the mid-seventies. She was a poet in those days, not yet a playwright, though already immersed in theatre as an actor and director. (Eventually, she says, "My poetry writing merged with my directing and it became play writing.") She worked on a feminist literary journal, organized poetry readings at a campus coffeehouse, and devoted herself to the Women's Action Coalition. With the war in Vietnam winding down, and political activists refocusing their energies on new issues, her attention shifted primarily to feminist causes. Feminism, that is, viewing public issues and worldviews in terms of their meaning for women's lives, remains her central political passion to this day.
"Necessary Targets" was really cool! It was commissionned by the Public Theatre and the UN and it was a benefit for the UN Commission for Women and Children Refugees, which helps people all over the world, but this one was specifically about the Bosnian relief effort. It's about the women who are in camps in the former Yugoslavia and have been displaced and have had horrible things happen to them. It's a really interesting project - and it was fun because I finally got to work with Anjel at last! (Meryl Streep, Filmscouts, December 1996)
By concentrating in Necessary Targets on the suffering of women refugees, Ensler casts the war in Bosnia as a feminist issue. The same perspective has shaped her writing on other political topics. Depot, her Reagan-era play about nuclear weapons, offered a feminist take on the disarmament cause. A one-woman play starring Shirley Knight and directed by Joanne Woodward, Depot toured for two years, playing venues as diverse as the Kennedy Center in Washington, D.C., and a nuclear test site in Nevada. Ladies, which debuted off-Broadway in 1989, identified homelessness as a feminist issue by dramatizing the lives of women in a city shelter. The author estimates benefit performances of that play have raised $50,000 for homeless women. Like Necessary Targets, those two earlier plays were not stand-alone products. What Ensler brought to the stage, she was taking to the streets at the same time. During the two years that Depot toured the country, the playwright was heavily involved in antinuclear demonstrations. "I got arrested a lot," she remembers fondly. "I protested at a lot of nuclear sites." Ladies evolved from her years of volunteer work at a New York City shelter. "I fell in love with homeless women, and fell in love with their struggle. I really identify with their struggle." Ensler traces this sense of identification back to her abusive childhood. "I always felt homeless. When I first met homeless women and I first sat in a shelter, it was the first time I ever felt at home. It was this bizarre irony and deep connection." The connection continues 10 years laterEnsler is still volunteering at the shelter, conducting a weekly rape recovery group for homeless women.