Holocaust: The Story of the Family Weiss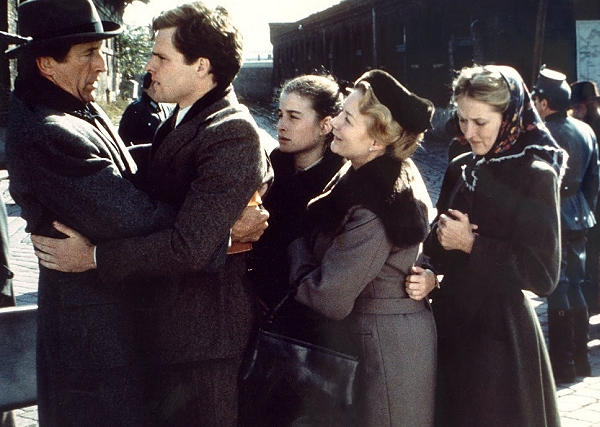 Original Release:
April 16, 1978 (NBC)
Directed by:
Marvin J. Chomsky
Written by:
Gerald Green
Produced by:
Robert Berger
Running Time:
475 minutes
Ratings:
Unknown
Holocaust" follows each member of the Jewish Family Weiss - father Fritz and Berta (Fritz Weaver and Rosemary Harris), their sons Rudi and Karl (Joseph Bottoms and James Woods) and Karl's Catholic wife Inga (Meryl Streep) - throughout Hitler's reign in Germany. One by one, the family members suffer the horrible fate of extermination under Anti-Semetic Nazi Law until only one son remains at the end of World War II. A sub-plot follows the story of Eric Dorf (Michael Moriarty), a young German lawyer with a good heart who is changed into a mass murderer by membership in the SS.
Cast & Characters
Fritz Weaver (Josef Weiss), Rosemary Harris (Berta Weiss), James Woods (Karl Weiss), Meryl Streep (Inga Weiss), Michael Moriarty (Erik Dorf), Joseph Bottoms (Rudi Weiss), Tovah Feldshuh (Helena), Sam Wanamaker (Moses Weiss), Ian Holm (Heinrich Himmler), David Warner (Reinhard Heydrich), Lee Montague (Uncle Sasha), Marius Goring (Heinrich Palitz), Blanche Bake (Anna Weiss), Deborah Norton (Marta Dorf), Robert Stephens (Kurt Dorf), Michael Beck (Hans Helms), Tom Bell (Adolf Eichmann)
Production Photos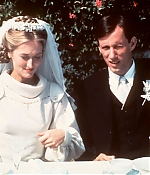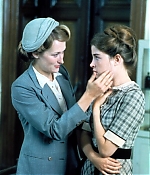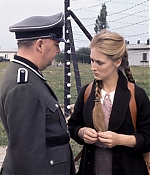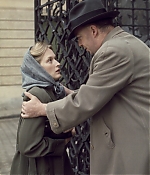 Episode Guide
Part 1 - The Gathering Darkness (original airdate: April 16, 1978)
It is Berlin, Germany, 1935. In an outdoor setting, two families and their friends are celebrating the marriage of Karl Weiss, the artist son of a prosperous Jewish physician, Josef Weiss, to Inga Helms, a Catholic girl. Muller, a Nazi friend of Inga's parents, points out that within a few months such intermarriages will be banned in Germany. Elsewhere in Berlin, Erik Dorf, an unemployed lawyer whose family have been patients of Dr. Weiss, is persuaded by his ambitious wife, Marta, to apply to top Nazi official Heydrich for a job with the SS and is taken on as his aide. Dorf visits Dr. Weiss and warns him to leave Germany with his family. But the doctor's wife, Berta, adamantly refuses to leave her country. Kristallnacht, "the night of broken glass," occurs, with German mobs raging through the streets of Berlin beating up Jews and destroying their property. One of the Kristallnacht victims is Berta's father, Herr Palitz, a decorated German hero of World War 1. His bookstore is destroyed and he is beaten and humiliated by the mob. The Weiss' other son, Rudi, and daughter, Anna, rescue him. A series of tragedies befalls the Weiss family: Berta's parents commit suicide; Karl is arrested and sent to BuchenwaJd; Rudi runs away; Anna is assaulted and sent to a "hospital," where she becomes a victim of the Nazi treatment of the mentally ill; and Dr. Weiss is deported to his native Po land. Meanwhile, Rudi has arrived in Prague, Czecholovakia, where he is saved from arrest by a Czech girl, Helena Slomova. Romantically drawn to each other, they decide to flee together to escape the Germans.
Part 2 - The Road to Babi Yar (original airdate: April 17, 1978)
It is 1941. Muller, who is infatuated with Inga Helms Weiss, is now a guard at Buchenwald, where Karl, Inga's husband, is working in a rock quarry. Inga is refused a visit, but Muller promises he will smuggle in letters to Karl if she submits to him. Karl is then transferred to the artists studio. After a series of adventures, Rudi and Helena arrive in the Russian city of Kiev. Hiding in a bombed-out store, they rescue Inga's brother, Hen Helms, a German soldier, after an explosion and help him back to his unit where he breaks his promise and denounces them as Jews. Erik Dorf's career is rising, and as a major he is assisting Heydrich in finding new ways of disposing of the Jews of Eastern Europe. They inform a group of officers of a plan to execute thousands of "spies" and "saboteurs" by rounding them up and shooting them in ditches. Dorf attends a mass execution and complains about the lack of efficiency. He is goaded by an angry Blobel into using his pistol for the first time to finish off one of the wounded. Rudi and Helena escape from a long procession of Jews being marched to Babi Yar and watch horrified as thousands of men, women and children are stripped naked and shot. Josef and Berta Weiss are reunited in the Warsaw Ghetto, where he practices medicine as best he can without adequate supplies. Soon after, Erik attends a top level conference in which Heydrich spells out the final solution for all the Jews in Europe. Rudi and Helena, near starvation, are discovered hiding in a hayloft by a group of partisans. But these are not the dreaded Ukrainians, they are Jews and their leader is Uncle Sasha.
Part 3 - The Final Solution (original airdate: April 18, 1978)
It is 1942. Karl Weiss and his artist friend, Felscher, have been transferred to Theresienstadt, the model concentration camp in Czechoslovakia which the Germans use to display to Red Cross officials and representatives of neutral countries. Karl finds that his fellow artists are secretly creating works of art at night that tell the truth about the brutal conditions in the camp; while by day they paint propaganda pictures for the Nazis. Rudi and Helena, now members of Uncle Sasha's Jewish partisan brigade, are married in a traditional ceremony in the forest. When the partisans attack a Ukrainian militia unit, Rudi is forced to kill a young boy trying to run for help. In Warsaw, Moses Weiss and Aaron, a school boy, arc smuggling weapons into the ghetto. Anelevtiz is teaching the resistance adherents how to use them. Erik Dorf complains that the executions of Jews and others are in efficiently done. Plans to expand the camp at Auschwitz, with labor furnished by the ghettos, are put into effect. An order is placed for Zyklon B, a lethal gas which will be labeled "for disinfecting only" for use at Auschwitz. Inga asks Muller for a final favor that he denounce her so she can join her husband, Karl, at Theresienstadt. After Heydrich's assassination, his successor, Kaltenbrunnner, shows Dorf some harsh anti-German drawings which surfaced in Prague. At Theresienstadt, it is discovered that Felscher sold some of the secret sketches to Czech policemen. Karl, Felscher and Frey admit the drawings are theirs, but despite torture, do not re veal the hiding places of the other drawings. The Jewish council in War saw is told that 6,000 people will be removed from the ghetto each day for resettlement. Zalman finds out that the trains are really going to the Treblinka and Auschwitz death camps.
Part 4 - The Saving Remnant (original airdate: April 19, 1978)
In Warsaw, Josef and Berta Weiss and the Lowys are ordered onto the next train to travel to a "family camp." Lowy, who has been printing an underground newspaper, leaves the press in the hands of Eva, a young Zionist The remaining resistance fighters, including Moses Weiss, Eva, Zalman and Aaron, rise up in the Warsaw Ghetto. For 20 days, a few hundred Jews hold back 7,000 well-armed German soldiers. Barely alive, Karl Weiss is removed from the Thesesientadt dungeon and allowed a brief reunion with his wife, Inga, who tells him she is bearing his child. Then he boards the train for Auschwitz. In Auschwitz, many people are being sent to the "showers." Josef and Lowy are working with a road-building gang under Kurt Dorf's supervision. Erik tells his uncle he must no longer use Jews in this gang. Soon after, all of Kurt's road workers are marched away. In a partisan attack on a German convoy, Helena is killed and Rudi is captured and sent to Sobibor, a prison camp in eastern Poland. Joining forces with Russian prisoners, Rudi participates in a successful breakout. As World War 11 draws to a close, Theresienstadt is liberated and Inga, with her 2-year-old son, is reunited with Rudi. She shows him Karl's secret atrocity drawings. She decides to return to Berlin, but she won't remain there. Rudi, now without family and rootless, agrees to lead a group of orphan boys past the British blockade into Palestine.
---
Production Notes
Holocaust first aired on NBC from 16 April through 19 April of 1978. This nine-and-a-half-hour, four-part series contrasts the interlocking fates of two German families, the Jewish Weisses of the subtitle and the Nazi Dorfs. At the time of the series's first airing, critics sniped about the improbability of the proposition that so small a cast of characters would be witnesses to so great a number of the major milestones in the destruction of European Jewry, among them the confabulations of the architects of Hitler's Final Solution, the slaughter at Babi Yar, the Warsaw Ghetto uprising, and the liberation of Auschwitz. On its American debut, Holocaust met with a generally positive response but not with unanimous approbation. Holocaust survivor Elie Wiesel protested in the New York Times that it was "untrue, offensive, cheap". Reviewers generally applauded the cast and praised Gerald Green's script, an overnight best seller when published in novel form as a tie-in. Still, several critics described a curious "emptiness" at the drama's heart, emanating from what they identified as excessive melodrama and flat characters who seemed designed to represent particular classes and types more than individuals.
When the series aired in West Germany on the Third (Regional) Network in January of 1979 (a forum apparently designed to lessen its impact), however, viewer response was little short of stunning. According to German polls intended to measure audience reaction before, immediately after, and several months after Holocaust appeared, this single television event had a significant effect on West Germans' understanding of this episode in the history of their country. Despite strong opposition to the broadcast before it aired, some 15 million West Germans (roughly half the adult population) tuned in to one or more episodes. Variety later reported "70% of those in the 14 to 19 age group declared that they had learned more from the shows about the horrors of the Nazi regime than they had learned in all their years of studying West German history". Such was the public response that West Germany promptly canceled the statute of limitations for Nazi war crimes, formerly scheduled to expire at the end of 1979.
The critical praise in the United States was overwhelming. "Holocaust" won Golden Globes for its actors, Michael Moriarty and Rosemary Harris, as well as eight Emmy Awards (out of 15 nomination), including for Outstanding Limited Series and Outstanding Lead Actress in a Limited Series for Meryl Streep. All praise aside, Meryl has had no fond memories on the making of the series. "Austria was unrelentingly Austrian. The material was unrelentingly noble. Matthausen was too much for me. Around the corner there was a Hofbrau, and when the old soldiers got drunk enough, and it was late enough, they would pull out their souveniers of the war, it was very weird and kinky. I was going crazy .I did it for the money. I needed it very badly, and I make no bones about that. The fame of the show has brought me something surreal. The other day I was riding my bike through Chelsea when these four guys in a Volkswagen started yelling at me out of the window, 'Hey, Holocaust, hey, Holocaust!' Can you imagine? It's absurd that that episode in history can be reduced to people screaming out of car windows at an actress."
Simply Streep's Review
"Holocaust" has become an important part of television history right after its first broadcast in the USA - watching it again some thirty five years after its release, it still holds up to its momentum. Some critics have dismissed that it's of bad taste to chronicle this most horiffic event through with a family's story in soap opera style. And I can understand that in parts watching the first episode where the families and key characters are introduced. But in order to care for each person in this story, it's important to know their conflicts. The series has moments that are still unbearable to watch and it's hard not to be moved and shocked by the stories that are told. It also made Meryl Streep a star in Europe before the release of "Kramer vs. Kramer". Although she has stated later that she didn't like shooting the mini-series, this has been an important step in her then-short career.
Awards & Nominations for Meryl Streep
★
Emmy Award - Outstanding Lead Actress in a Limited Series