Babar the Elephant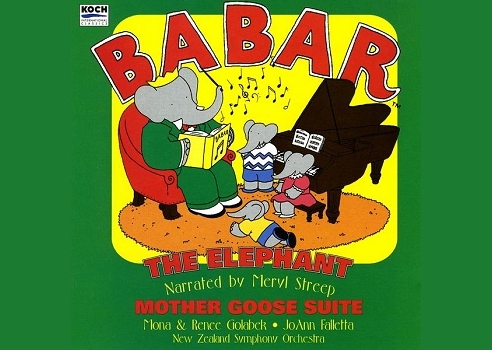 Photo Gallery
Audio Excerpt
Internet Movie Database
Press Coverage
Promotional Appearances

Genre:
Audiobook
Running Time:
Not stated
Original Release:
September 15, 1996
This CD, based on the classical music and children's compositions, contains many stories narrated by Meryl Streep, including The Sleeping Beauty, Tom Thumb, The Fairy Garden and more. "Babar the Elephant" proceeds benefit the Audrey Hepburn Hollywood for Children Fund. Babar the Elephant is a very popular French children's fictional character who first appeared in Histoire de Babar by Jean de Brunhoff in 1931 and enjoyed immediate success. An English language version, entitled The Story of Babar, appeared in 1933 in Britain and also in the United States. The book is based on a tale that Brunhoff's wife, Cecile, had invented for their children. It tells of a young elephant called Babar who leaves the jungle, visits a big city, and returns to bring the benefits of civilization to his fellow elephants.
About the Foundation
Audrey Hepburn dedicated her last five years to this unending humanitarian work, traveling throughout the developing world on behalf of UNICEF and presenting to the rest of the world a provocative vision of children in pain, struggling to survive, or just fighting for basic human rights. In 1994, the Audrey Hepburn Children's Fund was created by her sons, Sean and Luca, and long time companion, Robert Wolders, in order to continue her work. Today, the Audrey Hepburn Children's Fund supports many organizations around the world dedicated to helping improve the lives of children through various programs and initiatives.
Track Listing
01.
Babar The Elephant - Meryl Streep
02.
Mother Goose Suite: Sleeping Beauty - Meryl Streep/Mona Golabek/Renee Golabek
03. Mother Goose Suite: Tom Thumb - Meryl Streep/Mona Golabek/Renee Golabek
04. Mother Goose Suite: Empress of the Pagodes - Meryl Streep/Mona Golabek/Renee Golabek
05. Mother Goose Suite: Beauty and the Beast - Meryl Streep/Mona Golabek/Renee Golabek
06. Mother Goose Suite: The Fairy Garden - Meryl Streep/Mona Golabek/Renee Golabek
07. Mother Goose Suite: Sleeping Beauty - New Zealand SO/Falletta
08. Mother Goose Suite: Tom Thumb - New Zealand SO/Falletta
09. Mother Goose Suite: Empress of the Pagodes - New Zealand SO/Falletta
10. Mother Goose Suite: Beauty and the Beast - New Zealand SO/Falletta
11. Mother Goose Suite: The Fairy Garden - New Zealand SO/Falletta