| | | |
| --- | --- | --- |
| Biography: The Early Years | Previous | Next |
Born Mary Louise Streep on June 22, 1949 in Summit, New Jersey, to pharmaceutical company executive Harry Streep and commercial artist Mary Streep. Meryl describes herself at age seven as already looking like a forty year old and acting like one too! The kids thought I was one of their teachers." Her devoted parents were able to move to Basking Ridge and then Bernardsville, a wealthier nearby community in central New Jersey. Teaching their children arts and literature from an early age on , Meryl was raised with two younger brothers, Harry III (whom she nicknamed Third because of the Roman numeral after his name), and Dana.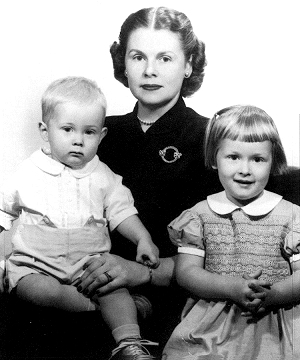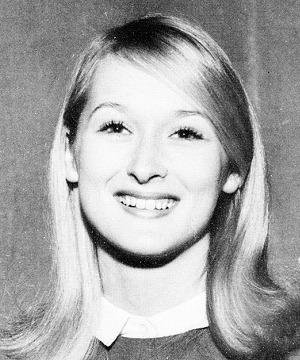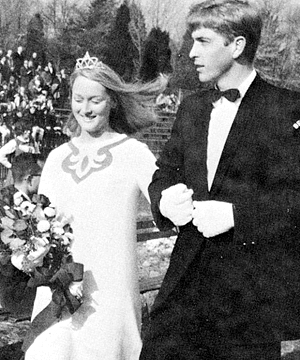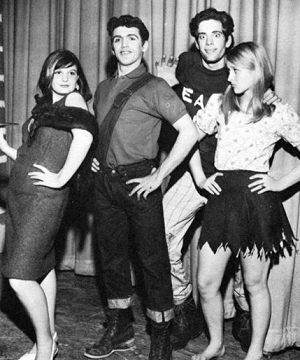 An early picture of Mary Louise, mother Mary and brother Harry. A Seventeen-Magazine knock-out: Meryl in high school and as Homecoming queen. Meryl (far right) and classmates in a production of "Lil Abner".
Meryl remembers herself as a child with unflinching honesty: "I was an ugly little kid with a big mouth, an obnoxious show-off." Even so, she got her first applause by age twelve when she sang "O Holy Night" in French in her school's Christmas concert. She was so good, in fact, that she stunned her family and classmates and others urged her parents to get her singing lessons which she took with internationally renowned coach Estelle Liebling. It was Meryl's first encounter with a true artist. Once a week for several years, Meryl was driven to Liebling's Upper East Side residence to take her lessons. The woman who trained the hour before Meryl was Beverly Sills, an admired opera singer in the sixties and seventies. Eventually, Meryl quit her lessons when she became "far more interested in boys and in being a cheerleader." Cheerleading turned out to be Meryl Streep's first role. At age fourteen she took off her corrective lenses, refused to wear dental braces and dyed her hair blonde. "This was my make-over…" During football's off-seasons, Meryl sang in the chorus, worked on the school newspaper and yearbook and eventually became the homecoming queen of her graduation year. Recalling this period of her life, Meryl says "I was a nice girl, pretty, athletic, and I'd read maybe seven books in four years of high school… had a great vocabulary, and no understanding whatsoever of mathematics or science. But I had a way of imitating people's speech that got me an advance placement in French without really knowing any grammar. I was not what you would call a natural scholar." Between honors in French and English Lit, the swim team, the cheerleading practice and the drama club, she arrived at school each day "a Seventeen Magazine knockout" , as she herself recalls with sardonic accuracy.
In high school Streep recounted having only two friends and "one was my cousin", she says "so that didn't count"." Then there's that whole awful kind of competition based on pubescent rivalry for boys". She began acting in plays at her highschool in Bernardsville, including the lead performances in "Li'l Abner" and "Oklahoma", before she began studying at the all female Vassar College. Although it was her second choice as a college, Vassar changed her life. "On entering," she says, "if you had asked me what feminism was. I would've thought it had something to do with having nice nails and clean hair. I felt absolutely great in that atmosphere. Suddenly, I felt accepted by the entire other half of the human race. Although Streep entered Vassar as a music major, she soon realized that her passion was the stage. From the time I entered college, I never felt the need to compete with anyone. At Vassar, it was commonplace to give your best shot, so that became a habit. I learned to believe in myself and aquired a genuine sense of identity." In 1969, she played the title role of August Strindberg's Miss Julie, a one act in which aristocratic Julie has a brief affair with Jean, her father's valet.