After graduating from Vasser, Meryl took a year off. She then won a three-year scholarship to Vassar's brother-school, the Yale School of Drama, from which she graduated in 1975. Her ability to embody the most diverse characters culminated in a remarkable portrayl of Constance Garnett in the Idiot's Karamazov written by classmates Albert Innaurato and Christopher Durang. At Yale she also performed as Helena in "A Midsummer's Night Dream", the high-strung Bertha in Strindberg's "The Father", Hallelujah Lil in "Happy End" by Bertholt Brecht. With each role the tension grew. Streep moved to New York City in 1975 where she got her first stage performance as manager in "Trelawney of the Wells" at Jospeh Papp's Public Theatre, co-starring promising young actors, and friends of Meryl, Mary Beth Hurt and John Lithgow. From that point on, the Public Theatre became her second home.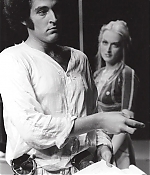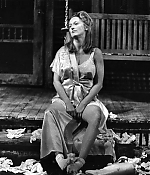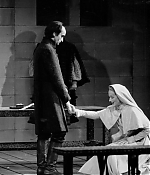 Early success on stage. Meryl is seen during rehearsals at the O'Neill Theatre Center in 1975 (during a production of "Marco Polo Sings a Solo"), in her professional debut in "27 Wagons Full of Cotton", in the Brecht musical "Happy End", and opposite John Cazale in the Shakespeare in the Park production of "Measure for Measure".
Shortly after "Trelawney of the Wells" received rave reviews, Meryl auditioned for two plays at the Phoenix Theater. She got both parts in Tennessee William's "27 Wagons Full of Cotton" and Arthur Miller's "A Memory of Two Mondays". The Miller play was performed immediately after "27 Wagons full of Cotton", during the short intermission, Meryl had to become a totally different character. The audience was stunned to realize that they were seeing the same actress in so different parts. "27 Wagons" was so well received that Meryl got a Tony Award nomination, in addition to a Theater World Award and the Outer Critics Circle Award. Finally, filmmakers got interested in the rising stage actress. Streep flew to London to appear in a supporting role in Fred Zinneman's "Julia", co-starring Jane Fonda, Vanessa Redgrave and Maximilian Schell. Her motion picture debut was shorter than expected as most of her scenes ended at the cutting room floor. Further, her first on-screen experience disgusted Streep. "When I saw myself on screen for the first time, I was horrified. I had a bad wig and they took the words from a scene I shot with Jane and put them in my mouth in a different scene. I thought, I've made a terrible mistake, no more movies. I hate this business". Nevertheless, Meryl landed another part in the television version of Wendy Wasserstein's play "Uncommon Women and Others". Streep performed Leilah, an unhappy graduate who is planing to move to Iraq. She also landed successful parts on the stage, including the role of Lilian Holiday in "Happy End" and performances in "Secret Service" and "Taken in Marriage". Joseph Papp invited her to rejoin the New York Shakespeare Festival for its summer season at the Delacorte Theater in Central Park. In the first half of the summer, Meryl performed the fanatic nun Isabella in "Measure for Measure" and Princess Katherine in Henry V. After the festival, Streep took over the supporting part as wife of a professional hockey player, who gives in to internal and outside pressures and adopts a more aggressive style on the ice in "The Deadliest Season", which successfully premiered in March 1977.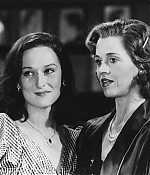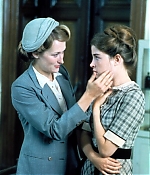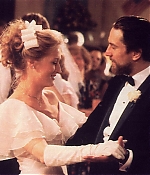 Opposite Jane Fonda in her motion picture debut "Julia". In her breakthrough, Emmy winning performance, in "Holocaust". Sharing the screen with Robert De Niro in "The Deer Hunter". With husband Don Gummer in 1979.
Her second film should become one of the most-talked about films of the 70's and a classic today. Meryl was cast as Linda in Michael Cimino's controversial "The Deer Hunter", an in-depth examination of the way that the Vietnam war affects the lives of people in a small industrial town in the US. Starring Robert De Niro, Christopher Walken and John Savage, Meryl was not only surrounded by America's most promising actors, but also by her fiancé John Cazale, who shared the stage with Meryl in "Measure for Measure and graced the screen as Fredo Corleone in "The Godfather". With a length of three hours, 'The Deer Hunter' was hailed by critics and moviegoers alike, grossing a 100 million dollars alone in the USA. But Streep had a difficult time, Cazale died shortly after "The Deer Hunter" was finished in 1978, and Meryl launched a marathon of work. She traveled to Germany and Austria to film the mini-series "Holocaust", a six-hour drama centering on the lives of two families that couldn't be more different. It follows each member of the Jewish Family Weiss throughout Hitler's reign. One by one, the family members suffer the horrible fate of extermination under Anti-Semetic Nazi Law until only one son remains at the end of World War II. Meryl Streep is seen as Inga, who has married the son of the jewish Weiß family, and who follows her husband to the concentration camp. When "Holocaust" was first broadcast in April 1978, the emotionally draining saga moved audiences all over the world. While some critics disagreed with its soap opera style, everybody applauded Streep for her heartwrenching performance, for which she won the Emmy Award, one of seven in total for "Holocaust", in 1979. With the successful release of "The Deer Hunter" in December 1978, Meryl Streep received nominations for the Golden Globe, the British Academy Award and the Oscar as Best Supporting Actress. While she lost the Oscar to Maggie Smith, the film itself won 5 Oscars, including for Best Picture, Best Director and Christopher Walken's supporting role.
The same year, she married sculptor Donald Gummer, a friend of her brother Harry, and gave birth to their first child Henry. After the triumph with "The Deer Hunter", Meryl Streep took no time to breathe and continued her on-screen work with a small supporting role as Woody Allen's lesbian ex-wife, who plans to publish a book about their failed marriage, in Allen's "Manhattan", appearing at the same time on stage in "The Taming of the Shrew", which was performed in Central Park, and played another supporting role in Jerry Schatzberg's "The Seduction of Joe Tynan", appearing as the love interest to Alan Alda's character, a married man and respected liberal Senator who is asked to to lead the opposition to a Supreme Court appointment. Performing on stage and in a film at the same time, it seemed no problem for Meryl to join a third project, when she drew attention to Robert Benton and his producer Stanley Jaffe, who were looking for an actress to play opposite Dustin Hoffman in the adapation of Avery Corman's bestseller "Kramer vs. Kramer". Meryl Streep got the part of Joanna, a woman who leaves her husband and son to find herself , returning a year later to have her son back, at a time when her husband has successfully managed having a career and raising a child. Appearing for only 20 minutes in the film, Meryl not only delivered a tour-de-force perform-ance but also rewrote her lines in the courtroom scene to strengthen the unsympathetic role of Joanna. "Kramer vs. Kramer", which released cinemas on Christmas 1979, became one of the most successful movies of the year, followed by a goldrush of awards, including a Golden Globe for Meryl Streep and finally - on April 14, 1980 - an Oscar as Best Supporting Actress, one of five Oscars, that "Kramer vs. Kramer" won. After only three years in the film business, Meryl Streep had been in two of the most successful films over the past two decades and also won prestigious awards for the screen, stage and television. But that was only the beginning of her outstanding career.