In 1981, director Karel Reisz gave Meryl the opportunity to star in her first leading role and offered her a part in his historic drama, "The French Lieutenant's Woman", based on the novel by John Fowles, the screenplay was written by Harold Pinter, one of the greatest playwrights of the 20th century. While critics - and her co-star Jeremy Irons - first wondered why an American actress was hired to play a British character in an adaptation of an acclaimed British novel, Meryl proved that she was the right choice. Twelve weeks before shooting commenced, she hired a vocal coach and spent long periods reading aloud from Jane Austin and George Eliot to speak the british accent of her character Sarah Woodruff perfectly. The victorian drama was shot on location in Lyme Regis. Telling the story of an educated biologist, Charles Smithson, who's engaged to be married, but falls in love with the outcast Sarah Woodruff, a stranger in town, since it was once rumored she had an affair with the title-given French Lieutenant. Reisz used a complicated, but masterfully performed turn in his storyline. A second plot, about two fictional actors, again performed by Streep and Irons, and their own little romance on the set of the film. While Irons' performance made no big difference between his Charles and the actor, called Mike, it was a joy to see two totally different appearances by Streep as the victorian Sarah and the modern and attractive actress Anna, and how their on-set romance is interwoven with the heavy cost of the victorian tragedy.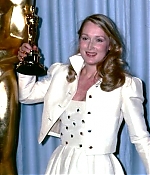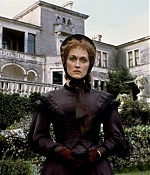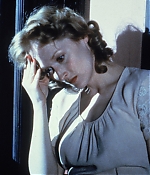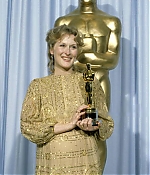 Holding her Best Supporting Actress Oscar for "Kramer vs. Kramer" in April 1980. As Sarah Woodruff in "The French Lieutenant's Woman". As Sophie in "Sophie's Choice". Receiving her second Oscar, this time as Best Actress for "Sophie", in 1983.
The French Lieutenant's Woman and especially Streep's double performance was praised by critics in the USA and the UK alike. The New York Times wrote: "Miss Streep has never looked more beautiful nor has she been more in command of her talent as she switches back and forth between the lightweight movie actress and the tragic Sarah, who enters the scene as a Hardy-like victim of fate and stays on to triumph as a modern woman a century ahead of her time." When award season began, the British Academy recognized Streep's performance with their BAFTA Award, a Golden Globe and the Award from the Los Angeles Film Critics Association followed. Meryl was also again nominated for an Oscar, the first time in the Leading Actress category, the award was eventually given to Katharine Hepburn. Meryl next joined a production she didn't really believe in called, "Still of the Night" . This movie reunited her with the director of "Kramer vs. Kramer", Robert Benton. Playing a mysterious murder suspect in the style of Grace Kelly, who begins a love affair with the victim's psychatrist, performed by Roy Scheider. Although "Still of the Night" was a chilling thriller with some scary moments, the film largely panned by critics. After all, Meryl was the up and coming new star in Hollywood. With only six films, for which she received three Oscar nominations and one win, as well as an Emmy for her television work, the real prime would only begin. In early 1980, director Alan J. Pakula began working on the wrenching Holocaust story "Sophie's Choice", based on a 1979 novel by William Styron. The part of the Polish concentration camp survivor Zawistowska turned to become the most wanted part for actresses. Although Pakula received offers from famous actresses, including Barbra Steisand, who offered him to play the part without any salary, the director kept an eye on an unknown Polish actress Meryl Streep felt this was the role she always wanted to play. Casting problems arose when the Polish actress originally signed for the part had problems with the English language and getting a visa to visit the USA., Streep took her chance and literally threw herself on the floor, begging Pakula to perform Sophie. As the project was stuck at that time, Meryl Streep went on to play in "The French Lieutenant's Woman". After finishing it - and out of the blue - Pakula offered her the part of Sophie. Learning the Polish and the German language perfectly to perform Sophie, Meryl also helped Kevin Kline to gather the role of her lover Nathan, after she saw him on stage in "The Pirates of Penzance" in 1981. The film chronicles the unusual friendship between the aspiring author Stingo who moves to Brooklyn and soon becomes friends with his neighbors. Nathan, a sparkling, if unsteady American Jew obsessed with the Holocaust, and his girlfriend Sophie, a survivor of the Nazi death camps. As Stingo and Sophie get closer, she reveals the tragic episodes of her life, including her time at the concentration camp. Those scenes, filmed in Yugoslavia, summarize the extraordinary talent that Streep achieves with speaking two foreign languages fluently. Further, she not only lost an amount of weight for the concentration scenes, but shaved her head. Often mentioned in film circles as one of the most horrorfying and moving scenes in filmmaking, is where Streep's character must make an unthinkable choice between her two children. "Sophie's Choice" was released in December 1982 in the USA, but Meryl seemed to have no time to breathe. Only weeks after the film's release, Meryl won the Best Actress award from the National Board of Review, the Los Angeles Film Critics Association Award, her third Golden Globe and, in March 1983, she won her second Oscar for her portrayal of Sophie. Despite the golden guy, Meryl awaited another new member to the Streep family, she was pregnant with her second child Mamie. She was already working on a new film, that would cause more controversy than any member of the film crew could have imagined.
Streep took on the role of Karen Silkwood who died in a never solved car accident in 1974. Much speculation surrounded Silkwood's mysterious death, as she had documents with her that would have proven the lack of safety at the Nuclear plant where she worked. It was later reported that Karen herself was radioactively contaminated. However, these documents were taken out of her car. Eight years after Karen Silkwood's story dominated the press and the people's conversations in the USA, Mike Nichols, the acclaimed director of "The Graduate", began working on a film about Silkwood. With a screenplay by Nora Ephron and Alice Arlen, Meryl joined the project to star as pop singer Cher was cast, in her first "serious performance" as their roomate Dolly. Cher admitted she was "frightened of meeting Meryl. I thought it was going to be like having an audience with the Pope. Somebody so big she's out of this world. I mean, me and Meryl Streep? Never!". Filming on various locations in Texas, problems rushed in when the first reports on the filmmaking were published. It actually caused so much of a stir before it was released that the Kerr-McGee Corporation, which owns the nuclear plant where Silkwood worked, considered bringing a lawsuit against the producers. Despite some of the problems with the Kerr McGee Corporation, the actors seemed to enjoy the filming. As Cher reveals working with Meryl, "We'd knit, crochet, and joke about men. Meryl and I talked about our kids so much I thought something was wrong with us, that we didn't have an existence outside of them. Then I realized we were just two proud mothers." When the movie officially opened on December 14, 1983, moviegoers had trouble connecting the gum-chewing, chain-smoking character of Karen Silkwood with the Meryl Streep they knew. But it is a testament to her acting ability that Meryl was able to persuade them to identify with this character; a beer-drinking redneck, a somewhat promiscuous divorced woman whose children live with their father. Although Silkwood's parents were dismayed by the movie, and especially Meryl's portrayal - Silkwood's mother wondered why "those women from New York didn't ever call to ask about Karen" - Streep's unstudied characterization helped the film transcend its initial image as antinuclear propaganda. In its first month of release it made as much as it cost, twelve million dollars. The film's hefty box office gross was helped in part by the January 1984 U.S. Surpreme Court decision to reinstate the ten-million-dollar award against the Kerr-McGee Corporation. Meryl Streep herself received nominations for the Golden Globe, the British Academy Award and the Oscar in 1984, the third year in a row she got mentioned for these awards. While "Silkwood" lost in all five categories at the Oscars, Cher won a Golden Globe as Best Supporting Actress for her role as Dolly.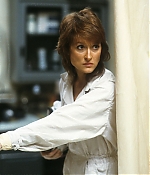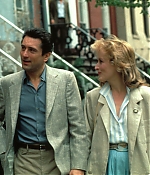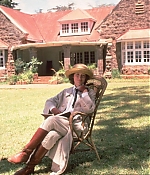 As Karen Silkwood in "Silkwood". Reunited with De Niro in "Falling in Love". As Karen Blixen in "Out of Africa". Holding her People's Choice Award in 1986, winning Favorite Motion Picture Actress.
After a well deserved break, in which Meryl gave birth to her second child and first daughter, Mary Willa, nicknamed Mamie, in 1983, she reteamed with her "Deer Hunter" co-star Robert De Niro. As audiences were looking forward to see America's biggest male and female movie star again in a film, many were dissapointed by the result, the solid performed but stateless romance "Falling in Love". And also her next project, the screen adaptation of David Hare's "Plenty" was dismissed by audiences. Filmed in France and England, Streep plays Susan Traherne, a young spy who has been irreparably changed by her wartime experiences as a Resistance fighter. She sets out in the post-war world to make her way to what she wants, no matter who is hurt, or how. Surrounded by an amount of talented actors, including Charles Dance, Tracey Ullman, Ian McKellen and Sting, director Fred Schepisi failed to capture the power it had when it was performed on stage. Although critics weren't satisfied by Streep's performance, her co-stars Sir John Gieldgud and Tracey Ullman received nominations for the BAFTA Award. After box-office failures with her last two films, Meryl knew she should look again for a new character that had potential. But as with "Sophie's Choice", her new favorite project didn't see her as the first choice. Stating that director Sydney Pollack didn't think she was sexy enough to play the leading role in "Out Of Africa", Streep auditioned in "a very low cut blouse and a push-up bra" to draw the director's attention. Whether it was Streep's outfit or her willigness to take risks, Pollack made the perfect choice and offered Streep the role in his film, which should become the most beloved romance of the 80's cinema. "Out of Africa" is the autobiographical story of Karen Blixen who establishes a plantation in Africa. Her life is comp-licated by a husband of convenience, a true love, troubles on the plantation, schooling of the natives and the war. Meryl Streep developed her accent by listening to actual recordings of Isak Dinesen reading her works. The three hour-long epic lovestory and compliment to Africa was hailed by critics and audiences - and was awarded with seven Academy Awards, including Best Film and Best Director, Meryl was beaten in the Best Actress category by Geraldine Page. She received nominations for the Golden Globe and the BAFTA, winning honors from the Los Angeles Film Critics Association and the David Di Donatello Award in 1986. Also in 1986 another major event in Meryl's life took place, she gave birth to her third child, Grace Jane. Her next film reteamed Streep with director Mike Nichols, who offered her the part of Rachel Samstat in "Heartburn", the adaptation of Nora Ephron's autobiographical bestseller about her failed wedding with Carl Bernstein, one of the famous reporters of the Washington Post, who investigated the Watergate break-in and first cracked the Watergate scandal in August 1972, which led to the resignation of President Richard M. Nixon in 1974. Meryl joined another legendary actor of the 70's. After first scenes were shot with Mandy Patinkin in the role of Bernstein (who is named Mark Foreman), the actor was replaced by Jack Nicholson. The film itself is well written and performed by Streep, Nicholson - and supporting roles by Jeff Daniels, Catherine O'Hara, Maureen Stapleton and Stockard Channing. The film was neither better or worse than the many comedy /dramas that were released in the mid-80's. Streep and Nicholson continued their on-screen relationship and both joined director Hector Babenco in his hopelessly sad drama "Ironweed", based on the novel by William Kennedy. Nicholson plays a schizophrenic drifter in 1938's Albany, New York, who spends Halloween in his home town after returning there for the first time in decades. If moviegoers ever had problems recognizing Streep, it was in "Ironweed". Hidden under a felt hat and dressed in dirty rags, she plays Nicholson's companion Helen Archer, who was a successful singer in the past, before she lost her home - and her mind. While "Ironweed" was hard to watch, it grossed 7 million dollars in the USA and recognized its stars, Nicholson and Streep, with nominations for both the Golden Globe and the Oscar.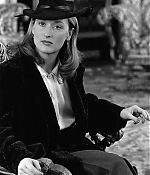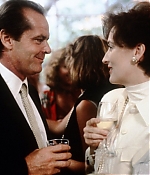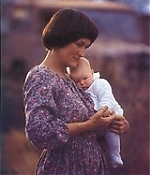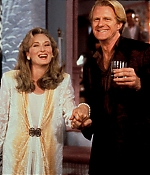 The mid-late 1980s bring a box office flaw to Streep's career: "Plenty", "Heartburn" and "Ironweed", both with Jack Nicholson, and as Lindy Chamberlain in "A Cry in the Dark", for which she wins Best Actress at the 1988 Cannes Film Festival. The 80s end with a venture to broad comedy in "She-Devil".
What Meryl's characters all had in common were loveable women, maybe with the exception of the alcoholic Helen in "Ironweed". Streep now took on a part to play Lindy Chamberlain, the mosted hated mother in Australia. The woman, who lived a normal life with her husband and her three children witnessed how a dingo stole her baby daughter out of the family's tent during a vacation trip to the Ayers Rock in Australia in 1981. The Chamberlain's tragic story covered all magazines in Australia, but Lindy's cold radiation and tearless acception of her child's loss made the Australian population distrustful of her. When the police note some apparent inconsistencies in her story, a witch hunt is opened by the media which results in a condemnation by the Australian court in 1982, sending Lindy Chamberlain to prison for life. Meryl Streep visited Lindy in prison, before she began to learn the accent and was transformed completely into Chamberlain. Again, she was at first unrecognizable with a black wig and huge glasses. In the middle of the filmmaking, the project seemed to become more up-to-date as never expected. In 1987, new evidence in the Chamberlain case was found that proved Lindy's innocence,. Chamberlain was released from jail the same year. "A Cry in the Dark" is a masterful chronicle of the case that shocked and eventually shamed a whole continent. And once again, it featured a tour-de-force performance by Meryl Streep. She was awarded with the Golden Palm at the Cannes Film Festival, the Australian Film Institute's Best Actress award and nominations again for the Golden Globe and the Oscar.
Making films for ten years now, Meryl Streep had achieved many honors, honors which some actors wait an entire lifetime to achieve. She won two Oscars and eight nominations as well as three Golden Globes and five People's Choice Awards. But it was another number that would dominate her career from now on. Turning 40.