Year in Review 2014
2014 started like every good Meryl year should - with praise and awards season. Although this time, things were more complex. The subject of early 2014's buzz was "August: Osage County", a prime example of a good film failing to reach expectations and a misguided marketing campain. Helmed by the Weinstein Company, "August" received a limited release in December 2013 to qualify for awards and released nationwide in January. The film - an adaptation of Tracy Lett's Pulitzer-Prize winning play - had been a favorite for Oscar buzzers since its first announcement in 2011. Oscar buzz is a science of its own and has so vastly changed over the years thanks to social network and the increasing numbers of awards out there to win. Oscar buzz doesn't begin with a film's release, but by the minute the project is announced.
For "August", it was just like that. It took two years after its initial announcement to finally keep rolling in Oklahoma. Not only was it star-studded in front of the camera, but with George Clooney as a producer it got another name likely to provoke attention. All the buzz cooled down once the film world-premiered at the Toronto Film Festival. "August", to critics, was good, but not the gold-spinning masterpiece the world was expecting. There might be few worse things for a film studio to have a big December release with interest descending in October. In the end, "August" was their race-horse for 2014's awards season. The cast began an extensive press tour for the film in late 2013. As Meryl was simultaneously shooting "Into the Woods" and "The Giver" until late last year, she was able to join her colleagues by the time of the new year.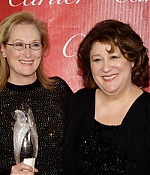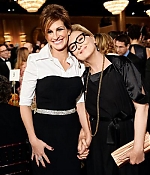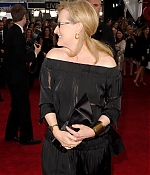 The Weinstein Company chose an odd - some may say aggressive - marketing campaign for the film. Not thought to be suitable for the masses, their television spots sold the film as an "outrageous comedy" with misplaced Christmas tunes, making it look more like a light-hearted "Home for the Holidays" rather than the bleak funeral gathering it was. Once Golden Globe nominations were announced - and "August" scored nominations for Best Actress and Best Supporting Actress - the Weinstein Company received criticism for touting Streep and Roberts as winners in bold letters - meaning that they "won" nominations (they did the same with "Philomena"). The film didn't deserve this, because it was good, deserving of the accolades, just not in such a forced way. But this is Hollywood. Besides the aformentioned Golden Globe nomination, Meryl Streep scored further nominations for the Screen Actors Guild Award, Critics Choice Award and Academy Award. All buzz and campaign aside, anyone who has seen Cate Blanchett in "Blue Jasmine" knows she was a deserving winner this year for any award. Still, there were some trophies to accept. Streep won Best Actress and Best Ensemble at the Capri Hollywood Film Festival (of which I've never heard), and was awarded with the Icon Award by the Palms Springs Film Festival. On her 18th Oscar nomination, Meryl said: "I am so happy for our film that Julia and I have been nominated. We are both so proud of August: Osage County. This honor from the Academy, for which we are truly grateful, will help bring attention to our film from audiences across the country, which is thrilling."
During awards season, no news is small enough for scandal. In January, Meryl Streep raised eyebrows, not for "August" but for her speech at the National Board of Review in honor of her colleage Emma Thompson, who had starred in the Disney biopic "Saving Mr. Banks". There was plenty of effusive Thompson praising in the speech, but Streep also made a point of blasting Walt Disney for his sexist and anti-Semitic stances. The edgy riff offered a different perspective on Disney from the sugarcoated hero played by Tom Hanks in "Saving Mr. Banks." "Some of his associates reported that Walt Disney didn't really like women," Streep said, quoting esteemed animator Ward Kimball on his old boss: "He didn't trust women or cats." Streep talked about how Disney "supported an anti-Semitic industry lobbying group" and read a letter that his company wrote in 1938 to an aspiring female animator. It included the line, "Women do not do any of the creative work in connection with preparing the cartoons for the screen, as that task is performed entirely by young men." This, of course, was heaven for headlines - Streep bashing / attacking / slamming Disney - on social media and pretty much every entertainment publication from
Variety
to
The Hollywood Reporter
.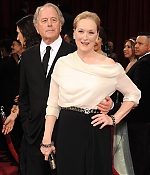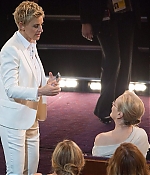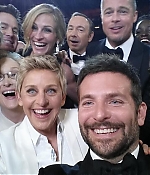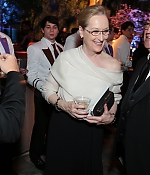 If that wasn't scandal enough, Harvey Weinstein announced a new project with Meryl that would "make the National Rifle Association wish they weren't alive" "I don't think we need guns in this country," Weinstein told Howard Stern on his radio show. "I think the NRA is a disaster area. I shouldn't say this, but I'll tell it to you, I'm going to make a movie with Meryl Streep, and we're going to take this head-on. And they're going to wish they weren't alive after I'm done with them. Weinstein described the film as a "big movie like a 'Mr. Smith Goes to Washington,'" which he hopes will make audiences think: "Gun stocks — I don't want to be involved in that stuff. It's going to be like crash and burn." The awards season came to an end with the Academy Awards on March 3rd, and while the Best Actress Oscar was awarded to Cate Blanchett, Meryl did make some history that evening, as part of Ellen's most re-tweeted selfie.
In February, a new film project was announced - a small but pivotal role as iconic political activist Emmeline Pankhurst in the drama "Suffragette", penned by "The Iron Lady" writer Abi Morgan. Streep shot her scenes in London in March 2014. The same month, another project was announced, which would unite Meryl with colleagues from the past. In "Ricki and the Flash," Streep would play a woman who abandoned her family when she was younger to find fame and fortune as a rock star. Decades later, she decides to be a mother again to her estranged children, one of whom is going through a rough divorce. Penned by Diablo Cody, the comedy is directed by Jonathan Demme (who worked with Meryl on 2004's "The Manchurian Candidate"). The role of her ex-husband was cast with former "Sophie's Choice" co-star Kevin Kline, her daughter will be played by real-life daughter Mamie Gummer.
In April, Meryl Streep was a guest at the UMass Lowell's Chancellor's Speaker Series. Her appearance was originally planned for February 05, but got postponed. Streep answered questions, reflected on her storied career, offered advice for breaking into films, posed for countless photos, pulled an April Fools' prank before a crowd of 3,600 and raised more than $230,000 for scholarships. The same month, Meryl received the Monte Christo Award from the Eugene O'Neill Theater Center. "I'm glad to see some old friends and celebrate this wonderful theater — it's a home for new playwrights, writers, musicians, it's a rare sort of conservatory for new talent and ideas," she told reporters at the Edison Ballroom in New York City of the organization where she first worked as an actress after graduating from the Yale School of Drama. On May 01, Meryl Streep attended the Women's Refugee Commission 25th Anniversary Voices Of Courage Awards luncheon as a guest speaker.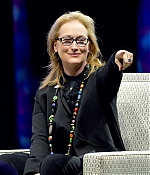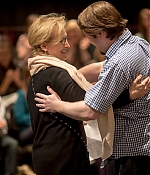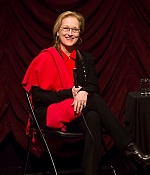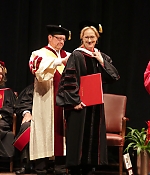 With three films wrapped in 2013, the first in line to release was "The Homesman". If "August: Osage County" had a strange marketing campaign, "The Homesman" didn't fare better. Directed by Tommy Lee Jones and starring Hilary Swank, the film had its world-premiere at the Cannes Film Festival in May 2014. Reviews were mixed due to the film's bleak setting and storyline, although Hilary Swank's performance was universally praised. Meryl had only taken a small role in the film towards the end, and didn't participate in its promotion. The film co-starred her daughter Grace Gummer in a pivotal but almost mute role as one of three women who have lost their mind, and who are being brought to Streep's character's care by Jones and Swank. While "The Homesman" was kept in the shelf until the end of the year in the United States and elsewhere, it did however release French cinemas in May and released on home media in September in Europe. Upon its US release, "The Homesman" was able to repeat the good reviews, but failed to find an audience.
Meryl's second new film in 2014, "The Giver", took a different turn. It had a smart marketing campaign for a big Summer release, but got drowned in medicore reviews. The big screen adaptation of Lois Lowry's beloved YA novel was a labor of love for Jeff Bridges and took him years (and the Weinstein's) to finally bring it to the screen. In a perfect world where there is no conflict, racism or sickness, every member of society has a specific role, and 16-year-old Jonas is selected to be the Receiver of Memory. Meryl, once again, took on a smaller role, playing the Chief Elder. Despite the reviews, "The Giver" grossed $67 million on a $25 million, which cannot be considered a flop.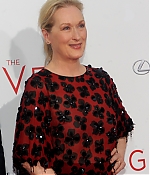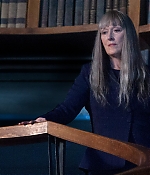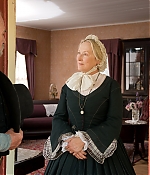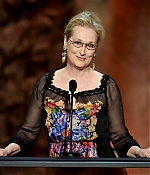 In a year of work, it didn't take long until yet another new project was announced. HBO confirmed a collaboration on "Master Class", Terrence McNally's play on Maria Callas, with Meryl Streep and Mike Nichols on board. "We are delighted to welcome back the incomparable Mike Nichols and the gifted Meryl Streep, whose collective brilliance shone on HBO with 'Angels in America' almost ten years ago. Terrence McNally's riveting play about the iconic Maria Callas is the perfect platform for these two consummate talents," HBO's announcement read. "It is a terrific play written with awareness of a great artist's process," says Mike Nichols, "and it will be one great artist playing another." Unfortunately, Nichols passed away this November, and it's likely that this also means the end of "Master Class", with no further comment by HBO being made as of now. It was a year of losing creative partners, with Nichols being a frequent collaborator. He and Streep worked on Silkwood, Heartburn, Postcards from the Edge on the screen, Angels in America on tv and The Seagull in the theatre. In February, Philip Seymour Hoffman, with whom Meryl worked in The Seagull and on Doubt, died of a drug overdose. And in October, Misty Upham, who played Johnna in "August: Osage County" was found dead at age 31 due to unreleased causes.
The fifth new project announcement was released by Pathe in October. The true story of Florence Foster Jenkins, the legendary New York heiress and socialite who obsessively pursued her dream of becoming a great opera singer. The voice she heard in her head was beautiful, but to everyone else it was hilariously awful. Her husband and manager, St Clair Bayfield (Hugh Grant) an aristocratic English actor, was determined to protect his beloved Florence from the truth. But when Florence decided to give a public concert at Carnegie Hall in 1944, St Clair knew he faced his greatest challenge. Helmed by Stephen Frears, Streep said of this new role, "If you listen to those recordings, she was almost good, and then there was a point when she was off. And that is what makes it funny. It was almost there. It doesn't start out badly. It starts out hopefully. I think I'm going to try to be as good as I can, and then — we'll see."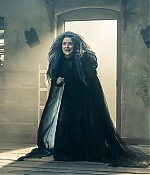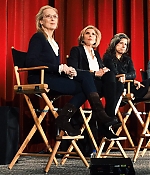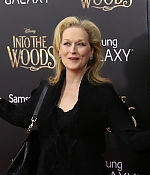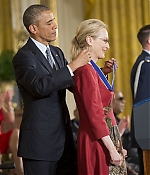 In September, Meryl joined the Takacs Quartet and Philip Roth at Princeton University, with the quartet playing Arvo Pärt and Franz Schubert and Streep reading extensively from Roth's 2006 novel Everyman. And on November 25th, Meryl received the Medal of Freedom from the President of the United States. The president annually awards Medals of Freedom to people who have made contributions to society including in the areas of security, peace and culture. Of Meryl, President Obama said, "I love Meryl Streep. Her husband knows I love her. Michelle knows I love her. There's nothing they can do about it."
Most of 2014's last quarter was dominated by "Into the Woods", Rob Marshall's big screen adaptation of Stephen Sondheim's musical. With first images and teaser trailer being released in the Summer, promotion for the film kicked off with a bunch of Q&A's attended by the film's cast - Streep, Emily Blunt, James Corden, Anna Kendrick, Chris Pine, Tracey Ullman, Christine Baranski. Meryl sat down with Good Morning America, Live with Kelly & Michael, The Ellen DeGeneres Show, ABC's Nightline as well as David Letterman to promote the film's Christmas release. The New York premiere was held on Decmeber 08, and the early press screenings paid off: Meryl Streep once again received nominations for the Golden Globe, Screen Actors Guild Award and Critics Choice Movie Award. Early reviews have embraced the film, once again not the Oscar-favorite masterpiece, but a worthy adaptation of a beloved Broadway hit and a cast with acting and singing chops to bring it to the screen.