Year in Review 2015
2015 featured two powerful performances in films destined to become a Summer hit and the turning point for women's equality in Hollywood. In both cases, 2015 taught us more about backfired marketing.
But first, the year started like every good Meryl Streep year should start - with an awards season that saw Meryl Streep nominated for all major awards. Her supporting role as The Witch in "Into the Woods" was recognised with nomination for the Critics Choice Movie Awards, Golden Globes, Screen Actors Guild and Academy Awards. And Meryl was busy promoting the film by the start of the year. "Into the Woods", like most films that strive for awards season gold, had a limited release in late December and released wide in January 2015 in most places on the earth. While the film would become a solid hit at the box office (thanks to a rather small budget for a Disney film), the reviews were mixed. The first stop for the film's promotion was London, where most cast members, including Emily Blunt, James Corden and Tracey Ullman, attended a photocall and premiere for the film. After the premiere, Meryl made her first ever appearance on a British late night show - joining Mark Ruffalo and James McAvoy on Graham Norton's couch. By the next week, Meryl was back in Hollywood to attend the Golden Globe Awards. While the Best Supporting Actress award deservingly went to Patricia Arquette (as would every other Best Supporting Actress award this year), Meryl took the stage to present the Best Picture, Drama of the year. On January 26, Meryl attended the Screen Actors Guild Awards, once again a sole nominee for "Into the Woods".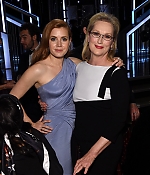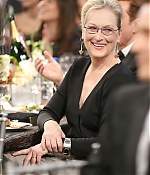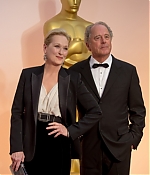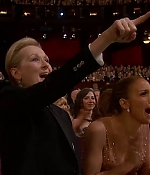 In February, People Magazine released a first promotional still of Meryl Streep in "Ricki and the Flash", Sony's Summer comedy destined to hit in the vein of Streep's recent Summer successes with "Mamma Mia", "It's Complicated" and "Hope Springs". The rest of February included a bunch of business dates on the road to the Oscars. Meryl attended Diane von Furstenberg's Oscar Brunch and Women In Film Pre-Oscar Cocktail Party. The 87th Academy Awards took place on February 23, where we saw Meryl vocally supporting Patricia Arquette and her speech on women's equlalities. Her shout out from the audience was often quoted this year when women's equality was covered, but more on that later. The "Into the Woods" marketing campaign wrapped with a visit to Tokyo to promote the film's premiere. This was Meryl's second visit to China in three years after her promotional tour for "The Iron Lady". This time, she was joined by Lilla Crawford, who played the Little Red Riding Hood in the film. After sitting through awards season without an invite to the podium, Meryl did win an award for "Into the Woods" in April: Best Villain at the MTV Movie Awards.
March kicked off the first promotional efforts for "Suffragette", a film long talked about, and almost immediately treated as 2016's Oscar contender. In a year that has been so often linked to Hollywood actresses and business women complaining the lack of women in any powerful positions, "Suffragette" seemed like the film to open the first important door. A film about women, by women, to show everyone that a women's film can tell a big story - and more importantly - make big money. Not that "Suffragette" was a Hollywood film made to fulfill this exact course, it is a British film by a relatively unknown director, Sarah Gavron, and a cast of fine British actors (Carey Mulligan, Helena Bonham Carter, Ann-Marie Duff). The only Hollywood-factor that brought "Suffragette" into the game was Meryl Streep's cameo as Emmeline Pankhurst. It would both help and hurt the film when called a "Meryl Streep movie" closer to its release. A first trailer for the film released in April.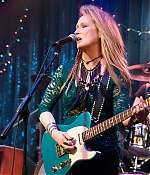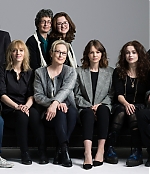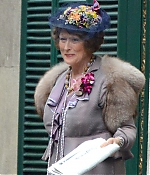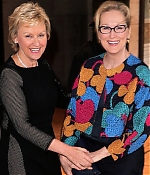 Also in April, Meryl attended The Daily Beast's Annual Women in the World Summit. Streep described the hardest thing for an actress to do—to get anyone but women to identify with them onscreen. As evidenced by everything from the way toys are marketed to which movies win Oscars, the general assumption is that women will identify with female and male characters, while men will only identify with other men. Or, as Streep puts it, "I wanted to be Tom Sawyer, not Becky." (The way she says "Becky," by the way, is 19 Oscar nominations worth of talent in two syllables) For Streep, the hardest thing as an actress is "to have a story that men in the audience feel like they know what I feel like." In the video, you can see DuVernay—who beefed up the role of Coretta Scott King in the script for Selma– and Obaid-Chinoy - who won an Oscar for a 2012 documentary about women attacked with acid in Pakistan—nodding in agreement.
It would seem that London would become Meryl's favorite working place in the last two years. After wrapping "Into the Woods" and then "Suffragette", she returned in the Spring of 2015 for Stephen Frears' comedy "Florence Foster Jenkins". The Pathe-financed pic follows the true story of the titular character, a wealthy woman in the early 20th century NYC high society who used her relationships and her fortune to gain traction as a singer. With one catch: She couldn't actually sing. The film started shooting in May. This month would become the most exciting in terms of movie releases for Meryl. With "Florence Foster Jenkins" filming, both "Suffragette" and "Ricki and the Flash" received new theatrical trailers and first production stills were released.
June was dedicated to Meryl Streep's own efforts to bring discussion of women's equality forward. First, More Magazine ran an interview with Meryl and First Lady Michelle Obama. They dug deep into the topics that accomplished women talk, worry and wonder about – Power. Passions. Work. Mothers. And Sting. The same week, Meryl sent a letter to each member of Congress, asking them to restore the Equal Rights Amendment. "I am writing to ask you to stand up for equality-for your mother, your daughter, your sister, your wife or yourself-by actively supporting the Equal Rights Amendment", the letter read. This proposed revision to the United States Constitution that would guarantee equal rights for women has been in negotiation for over four decades. Written in 1920, the amendment was introduced unsuccessfully in every legislative year in Congress from 1923 until it was finally passed in 1972. Thirty-five states ratified the amendment, but 38 states need to do so in order for it to be added to the Constitution. Her effort was largely ignored, as Streep recalled later that year: "I sent them each a book called Equal Means Equal by Jessica Neuwirth. It's about the revival of the attempt to get an E.R.A. that would codify in law that you can't discriminate against women. I got five answers."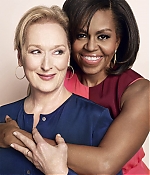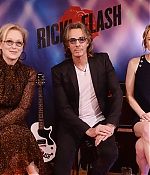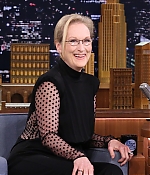 In July, Sony Pictures started their promotion for "Ricki and the Flash". Meryl Streep made talkshow appearances on Today, Live! with Kelly & Michael and the Tonight Show with Jimmy Fallon. Equal promotion was done by her two co-stars, daughter Mamie Gummer and 80s hearthrob Rick Springfield. All three joined director Jonathan Demme for the film's New York premiere on August 4, 2015. The reviews were mixed to positive, with the consensus of critics aggreeing that this was a "nice movie. But nothing special". The New York Times wrote, "Ricki and the Flash seems like a squandered opportunity for this humane, curious and liberal-minded filmmaker to reflect on some uncomfortable realities. This isn't really rock 'n' roll. It's easy listening." And Peter Travers wrote for Rolling Stone, that "Director Jonathan Demme, with music in his DNA, offers a heartfelt salute to those who play the underside of rock & roll because, well, they have to. Too bad the rest of the movie is dime-a-dozen family soap opera." While not being the Summer hit that Sony had in mind, "Ricki" still brought in good money, racking 40 million at the box office on its 8 million budget.
The mild reception for "Ricki and the Flash" feels tame in comparison to the "Suffragette" treatment that followed in October. In an odd repeat of Hollywood repeating history, these women had to suffer for their right, and so did the women for their film. "Suffragette" had its world-premiere at the Telluride Film Festival, with director Sarah Gavron and Meryl Streep in attendance. Reviews were good, especially on Carey Mulligan's central performance, but it didn't turn out to be the Oscar contender most awards enthusiasts have expected. The good critics couldn't prevent "Suffragette" from becoming targeted by some of the worst promotion backfire that has been seen since The Weinstein Company promoted "August: Osage County" as a family comedy. The major stars of the film - Mulligan, Duff and Streep - appeared on individual covers for Time Out London, each wearing a t-shirt with a quote from Emmeline Pankhurst's speech, titled "I'd rather be a rebel than a slave". Turns out, this is a word not to be uttered by white women. The full passage reads: "I know that women, once convinced that they are doing what is right, that their rebellion is just, will go on, no matter what the difficulties, no matter what the dangers, so long as there is a woman alive to hold up the flag of rebellion. I would rather be a rebel than a slave." However, it hasn't exactly received cheers of support from all sides, with the line facing a backlash on social media for its connotations with American history, especially slavery and the Confederate rebellion.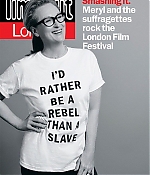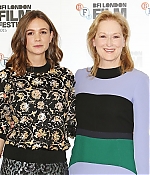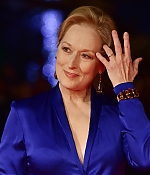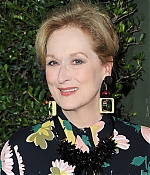 It didn't take long until "Suffragette" was further criticized, largely on social media, for not depicting suffragettes of colour. Guardian writer Rebecca Carroll supported this criticism, accusing the film of "erasure" and stating that "in 2015 feminists of colour are still trying to get our particular story into the collective consciousness." At a BAFTA screening of Suffragette in London, the film's screenwriter Abi Morgan stated that, due to the low levels of non-European immigrants residing in Britain in 1911-13, there were very few suffragettes of colour in the UK, and that those few, such as Indian princess Sophia Duleep Singh, were upper class women who did not move in the working class circles in which Suffragette is set. Dr Paula Bartley, a historian focusing on women in history and the suffrage movement, and biographer of Emmeline Pankhurst, confirmed that the film's depiction of race was historically accurate. I personally never thought social media would have a lasting impact on a film's promotion, but "Suffragette" has become the year's prime example on how to turn an important film about women's rights into a racist Meryl Streep t-shirt movie.
While both Carey Mulligan and Meryl Streep have been active in promoting the film's US and UK releases with appearances at the BFI London Film Festival (and, for Meryl, another appearance on The Graham Norton Show), "Suffragette" didn't make a big splash at the box office, and by the time of the 2016 awards season, the film is not considered a frontrunner for anything. Oddly enough, and maybe the nicest footnote for "Suffragette"'s struggle, the only acting award it has received went to Brendan Gleeson, one of the very few male actors in the film. I'm sure he's glad he didn't wear that t-shirt.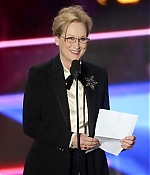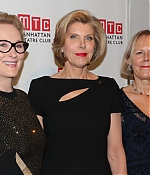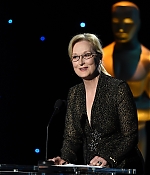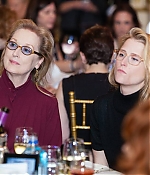 At least, late 2015 brought some awards love for Meryl - once again from the United Kingdom. In October, Meryl was honored with the BAFTA's Stanley Kubrick Britannia Award For Excellence In Film, for her contribution to the world cinema. Streep would entertain audiences at the ceremony when accepting the award. "I am honored to receive this award given to a distinguished group of men and... men, over the last quarter century". In November, Meryl attended the Academy of Motion Picture Arts & Sciences' 7th Annual Governors Awards to present the Hersholt Humanitarian Award to Debbie Reynolds.
In retrospect, 2015 has been a successful but odd year. And 2016 will be a curious one. "Florence Foster Jenkins" will be released, probably in the Summer. Stephen Frears is a wonderful independent director who has given career-best roles to Helen Mirren (The Queen), Judi Dench (Philomena) and Anjelica Huston (The Grifers), to name a few, and I'm sure his film will bring out the best in Meryl. Besides that, no other project has been announced. It seems that Meryl takes some time off, which would be understandable after constantly working on multiple projects in the past years. But she has rarely taken some time off, namely in 2000-2002 and again in 2010. Both times, she returned with projects that vitalised her career (Adaptation, The Hours, The Iron Lady). So let's see what 2016 will bring.