Year in Review 2017
In the 18 years of maintaining Simply Streep, I have always chosen to keep my personal opinions out of this site. It's a fansite on an actor's career, not a personal playground. I haven't used this site for personal comments throughout the year, but it's impossible to write a Year in Review without putting certain things in context. If the year has told us anything, it's more important than ever to read beyond the headlines.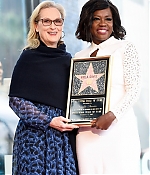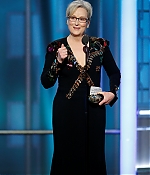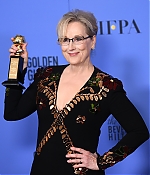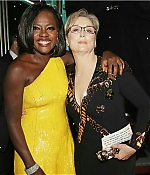 The year started with Meryl Streep receiving the Hollywood Foreign Press' Cecil B. DeMille Award for Life Achievement - quite early, since her achievement is still a work-in-progress, as proven by her nomination as Best Actress in a Comedy or Musical for "Florence Foster Jenkins". But hey, who complains about Meryl getting awards. And who could complain about the powerful and poingnant speech Meryl gave when she accepted her award. She chose her time in the spotlight to address the moment that devastated her:
There was one performance this year that stunned me, it sank its hooks in my heart. Not because it was good, there was nothing good about it. But it was effective and it did its job. It made its intended audience laugh, and show their teeth. It was the moment where the person asking to sit in the most respected seat in our country imitated a disabled reporter. Someone he outranked in privilege, power and the capacity to fight back. It kind of broke my heart when I saw it and I still can't get it out of head because it wasn't in a movie, it was real life. And this instinct to humiliate when it's modeled by someone in a public platform, by someone powerful, it filters down into everybody's life because it gives permission for other people to do the same thing. Disrespect invites disrespect, violence incites violence, and when the powerful use their position to bully others, we all lose.
It was the first time since the election that an actor chose a public platform to speak about President Trump - in this case without mentioning his name - and it seemed that the acting community was waiting for someone like Meryl Streep to open the floodgates. As Bryan Cranston put it after the ceremony, "she is the unofficial spokesperon of the heart of what this community is feeling". Getting political at an awards show isn't fairly new. But this time, it attracted a comment from the President himself, in a Tweet. It served not only as the the butt of jokes for late-night talkers, but gave those who think that "celebrities should stick to their job and not talk about politics in public" a ground to criticize Streep for critizing Trump.
Meryl Streep would not further comment on this issue in the following appearanes at the Screen Actors Guild Awards and BAFTA Awards, both as a Best Actress nominee for "Florence Foster Jenkins". But she did remark on Trump's tweet at the Human Rights Campaign, a national group that advocates on behalf of LGBTQ rights, where Streep received the group's National Ally For Equality Award:
I am the most overrated and the most overdecorated… and currently I am the most over-berated actress. The weight of all my art is part of what brings me here to the podium. It compels me. It's against every one of my natural instincts, which is to stay the fuck home.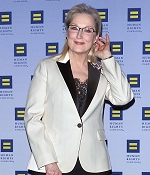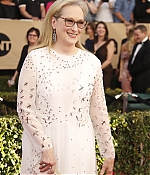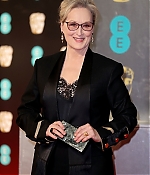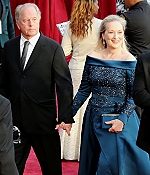 She spent most of February filming scenes for "Mary Poppins Returns", a sequel to the Julie Andrews classic, now starring Emily Blunt and co-starring Lin-Manuel Miranda, Colin Firth, Angela Lansbury and Dick van Dyke. Streep would return in late February to attend the Academy Awards, as a Best Actress nominee for "Florence Foster Jenkins", her career's 20th nomination. The week before the ceremony brought yet again public criticism towards Streep, this time by fashion designer Karl Lagerfeld. Lagerfeld accused Streep of rejecting a dress he was working on for her, claiming that a different designer was willing to pay her to wear one of their designs. "After we gift her a dress that's €100,000, we found later we had to pay for her to wear it. We give them dresses, we make the dresses, but we don't pay. She could keep the dress because of the size. A genius actress, but cheapness also, no?" Streep issued a statement a coupe of days later, saying, "In reference to Mr. Lagerfeld's 'statement', there is no 'controversy': Karl Lagerfeld, a prominent designer, defamed me, my stylist and the illustrious designer whose dress I chose to wear, in an important industry publication. I do not take this lightly, and Mr Lagerfeld's generic 'statement' of regret for this 'controversy' was not an apology." Chanel issued an apology to Streep: "Chanel engaged in conversations with Ms. Streep's stylist to design a dress for her to wear to the Academy Awards, with the full understanding that she was considering options from other design houses. When informed by the stylist that Ms. Streep had chosen a dress by another designer there was no mention of the reason. Chanel wishes to express our continued and deep respect for Ms. Streep." And Lagerfeld backed away from his comments as well, saying he misunderstood that Streep may have chosen another designer due to remuneration, which Streep's team has confirmed is not the case. "I regret this controversy and wish Ms Streep well with her 20th Academy Award nomination," he said.
She attended the Academy Awards on February 26 (in an Ellie Saab dress) and while the Best Actress Oscar went to Emma Stone (and the Academy Awards of 2017 will forever be remembered for the mix-up in the Best Picture category), host Jimmy Kimmel couldn't resist to remark on Streep's current status as trouble maker regarding Trump and Lagerfeld: "We are here tonight to honor great actors, but we're also here to honor actors who seem great, but actually really aren't. And of all the great actors here in Hollywood, one in particular has stood the test of time for her many uninspiring and overrated performances. From her mediocre early work in The Deer Hunter and Out of Africa, to her underwhelming performances in Kramer vs. Kramer and Sophie's Choice, Meryl Streep has phoned it in for more than 50 films over the course of her lackluster career. This is Meryl's 20th Oscar nomination, made even more amazing considering the fact that she wasn't even in a movie this year — we just wrote her name down out of habit. Meryl, stand up if you would. Everybody please join me in giving Meryl Streep a totally undeserved round of applause. The highly overrated Meryl Streep, everyone. Nice dress by the way, is that an Ivanka?"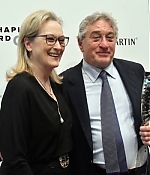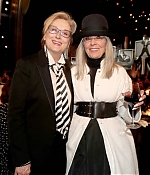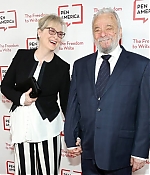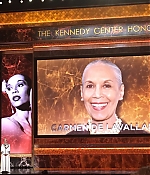 After the Academy Awards, luckily, it was about the work again. Netflix announced its five part documentary "Five Came Back", which offered a deep dive into Hollywood's role in World War II by following five filmmakers who travelled to Europe to document the war effort: John Ford, William Wyler, John Huston, Frank Capra, and George Stevens. For the narration of the series, Meryl Streep would win a Primetime Emmy Award for best narration - her third Emmy after "Holocaust" and "Angels in America". And in early March, Steven Spielberg announced his new project to be "The Post", focusing on Katharine Graham and editor Ben Bradlee, as they railed against the federal government's opposition to the Post's rights to publish the documents, which detailed the country's questionable military actions and political maneuvers in Vietnam. In a surprise movie only a week later, "The Post" was announced to be released by the end of the year, giving the team only seven months, from its late-May shoot to release the film on December 22.
There were only a few public appearances troughout the year, most notably as a host of the 15th Annual Poetry and the Creative Mind, and honoring Stephen Sondheim at the 2017 PEN America Literary Gala, both in April. In May, Streep attended the Women for Women Luncheon and the 100th Anniversary of Planned Parenthood. On May 20, in a surprise move, Universal Pictures announced a sequel to "Mamma Mia", titled "Mamma Mia: Here We Go Again!," for July 20, 2018. The sequel, however, will mostly feature on Donna Sheridan's back story and brings in British actress Lily James as the young Donna. The film will still feature its original cast in smaller or bigger parts. In early June, Meryl Streep took the stage to honor her "Marvin's Room" co-star at her AFI Life Achievement tribute, saying "Diane Keaton, arguably one of the most covered-up persons in the history of clothes".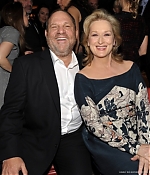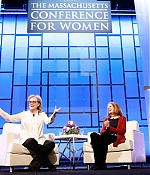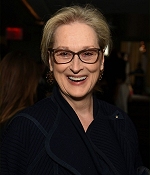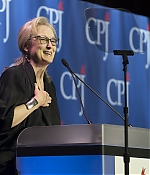 October saw the biggest scandal that Hollywood hit in a long time - The New York Times' and The New Yorker's report that more than a dozen women accused producer Harvey Weinstein of sexually harassing, assaulting, or raping them. As a result of these accusations, Weinstein was fired from his production company. Meryl has had numerous films in her career distributed by the Weinstein Company, most notably "The Iron Lady", which became a bona fide hit and winner of two Academy Awards, thanks in part to Weinstein's relentless promotion. After the revelation, it was quite among the Hollywood community, until Meryl Streep was the first to release a statement: "The disgraceful news about Harvey Weinstein has appalled those of us whose work he championed, and those whose good and worthy causes he supported. The intrepid women who raised their voices to expose this abuse are our heroes. One thing can be clarified. Not everybody knew." Many have followed since with statements, many took a stand, but no one has received so much hatred as Meryl Streep. The reason? I still don't know. The criticism towards Streep was only fueled in December, when actress Rose McGowan, one of the key accusers of Weinstein, wrote in a tweet that she "despises her hypocrisy", which just further provoked online shaming against Streep. It prompted Streep to release a longer statement, which reads in part:
It hurt to be attacked by Rose McGowan in banner headlines this weekend, but I want to let her know I did not know about Weinstein's crimes, not in the 90s when he attacked her, or through subsequent decades when he proceeded to attack others. I wasn't deliberately silent. I didn't know. I don't tacitly approve of rape. I didn't know. I don't like young women being assaulted. I didn't know this was happening.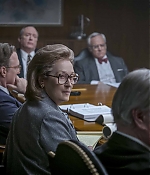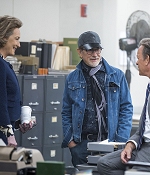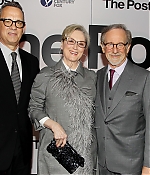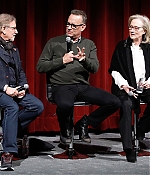 Luckily, the end of year shifted the focus back to work. For Steven Spielberg's "The Post", Meryl Streep received some of the best reviews in recent years. "The beauty of Streep's performance (and it's one of her best in years) is how she lets you see her grow into the responsibility of her position", wrote Entertainment Weekly. Time Magazine praised Streep, for being "revered for her great-lady acting, but she's always freshest, and most alive, in comedy. Her performance here is terrific because it's a whirlwind eddy of both." And the Wall Street Journal wrote, "a much bigger hats off to the movie as a whole, a commercial feature film that focuses on a core concern of our time... and the unforced beauty of Meryl Streep's performance." "The Post" won three awards from the National Board of Review - Best Picture, Best Actor and Best Actress and received a whopping 6 Golden Globe nominations, including Best Actress. While it was surprisingly overlooked by the Screen Actors Guild, "The Post" is sure to receive its fair share of nominations at next year's Academy Awards.
So, in retrospect, 2017 has been a year of outstanding contradictions - a year of success with a new film, a Golden Globe and an Emmy Award, but also a year of scandal and great shame - and even more misguided bashing towards an artist who has spent decades of her career to fight for equal pay and women's equalities. Maybe it'll take another year to understand why women receive the blame for speaking out - not only by men, but even so fiercely by women. We'll see what 2018 will bring us.