Previous Layouts
Simply Streep has changed its face quite a few times since its opening in 1999. Unfortunately, not all previous layouts have been saved, but you can clearly see how the site has changed through the years. Here's a collection of the good, the bad and the ugly :-)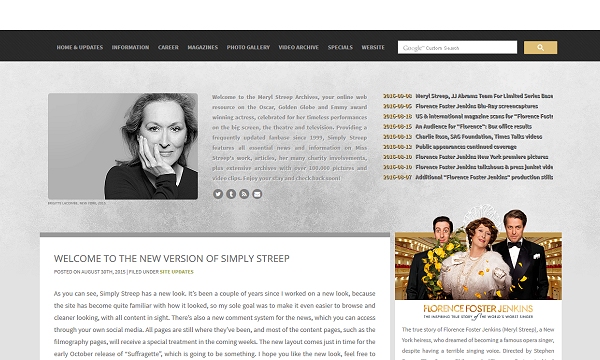 Layout 13
(August 30, 2015 - September 18, 2016) There was no real reason to change the previous look since it was online for 4 years, but I guess that was the reason. The new layout struck the same chord though, classy and light, with everything easy to access. I felt it was online for longer, but after a year, this felt too bland for me.
---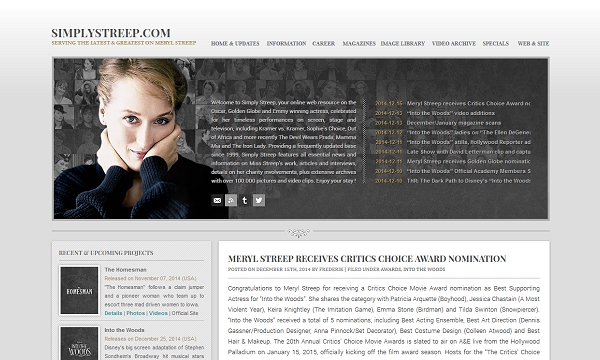 Layout 12
(January 31, 2013 - August 29, 2015) The definite look, part two. After the previous layout was online for two years, I wanted to give the site a lighter look again. So this version is rather an extended version of its predecessor. It stayed online just as long, and still looks very sophisticated. This layout covered a busy period in Meryl's career and served its cause.
---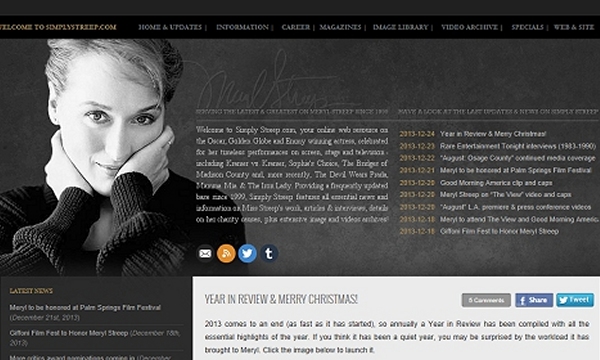 Layout 11
(November 25, 2011 - December 30, 2013) This has become the definite look for me. Just in time for "The Iron Lady", I've created another simple yet darker layout that has stayed for over two years. Much of the site's subsites were improved over this period, with both the gallery and video archive expanding. Still one of my favorite looks.
---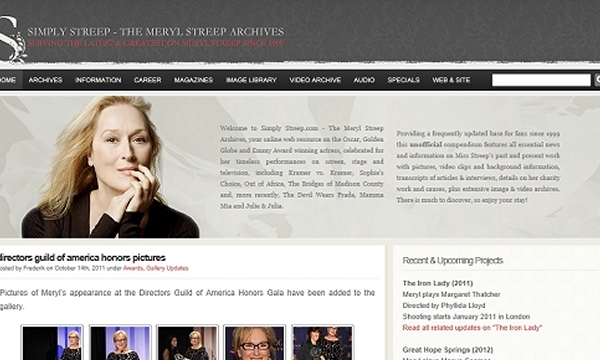 Layout 10
(July 03, 2010 - November 24, 2011) The site was further improved with this layout, featuring a beautiful new photoshoot by Brigitte Lacombe, in an otherwise quiet period with no films being released until the end of 2011. I remember taking the time to dig deep into Wordpress and bring the site functions forward, as the next layout proves.
---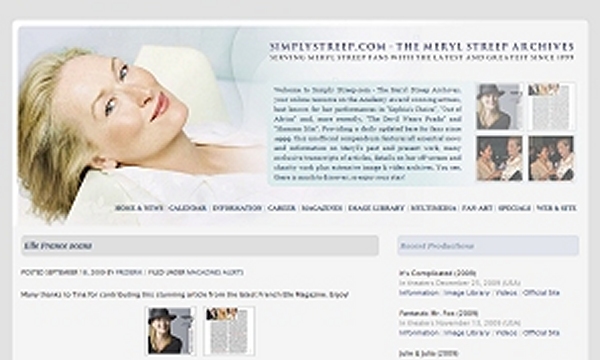 Layout 09
(September 20, 2009 - July 03, 2010) This one featured one of my all time favorite photos of Meryl by Brigitte Lacombe. Other than that, I remember trying to convert most of the site to php instead of html (in case anyone cares ;-) and then throwing it all out again and concentrating on getting to know Wordpress. So this layout I rather connect to frustration.
---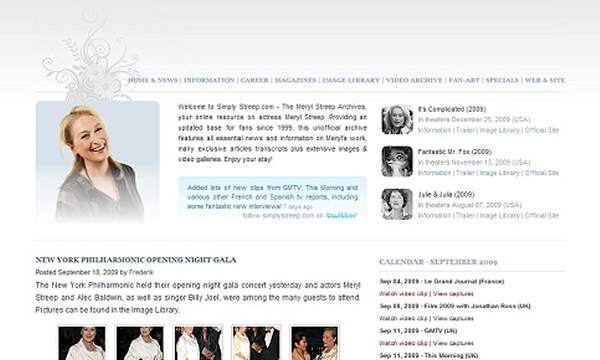 Layout 08
(June 22, 2009 - September 19, 2009) One I wasn't content with for long. The celebration layout for Simply Streep's 10th birthday - and Meryl's birthday - took quite some time, but didn't look like I've imagined once it was done. Too clean, too cold. So it didn't take long until I started on sharpening my skills once again.
---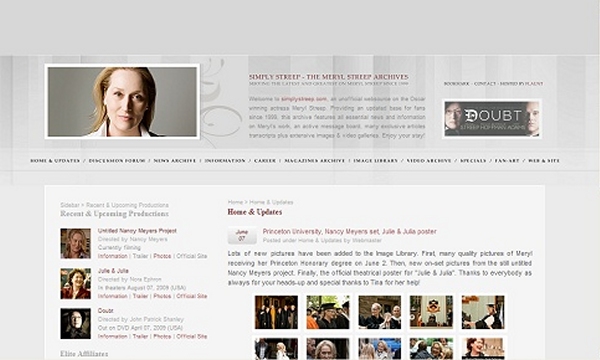 Layout 07
(December 19, 2008 - June 21, 2009) With the hype on "Mamma Mia" descending and the critical praise for "Doubt" starting, I gave the site a clean look (not that the previous ones weren't ;-). I feel that this version was never really quite finished. So Meryl's 60th birthday in June 2009 was a nice occasion to change it once again, hopefully for longer.
---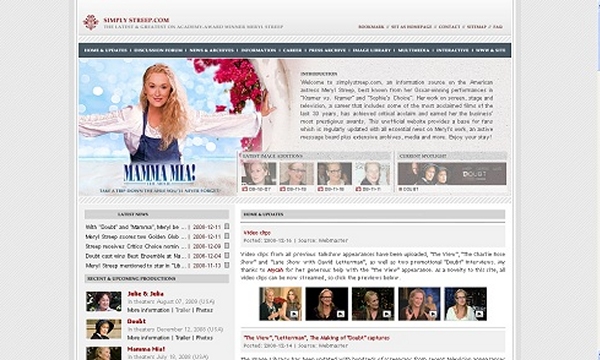 Layout 06
(June 01, 2006 - December 18, 2008) This version stayed online forever, at least it felt like that. It had different looks throughout the years since the header was easy to change. Since this layout was online during the "Devil Wears Prada" and "Mamma Mia" periods, the site gained most attention - and content - with this look.
---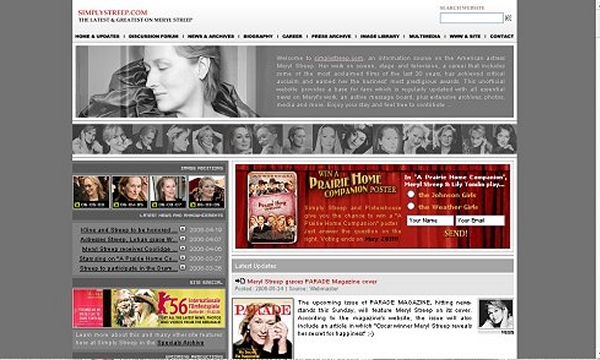 Layout 05
(April 1, 2005 - June 1, 2006) I liked this version A LOT! It lasted for quite over a year and again, the site really grew with this layout, a perfect example for "less is more". Looking back, it had a great balance of gray shades and colorful images, and with a good capping program the video archive was largely extended with lots of clips from her films and appearances.
---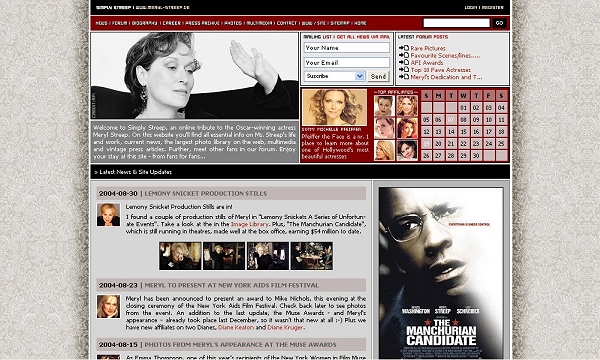 Layout 04
(June 1, 2004 - April 1, 2005) This layout took quite a long time to be made - but it was also the most professional version of the site so far. Around this time, the fansite culture became a really big thing on the world wide web and offered a lot of inspiration from other designs. Also, the discussion forum was opened with this layout.
---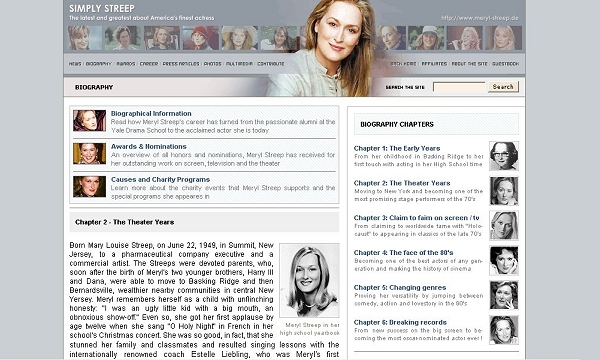 Layout 03
(2003-2004) Another simple looking layout, showcasing the many faces of Meryl's movie roles. With this design, the site got more and more extensive, the image library opened, a first few clips were added and the idea of an in-depth biography was born. This version's content really went into detail for the first time. And it looked simply stunning.
---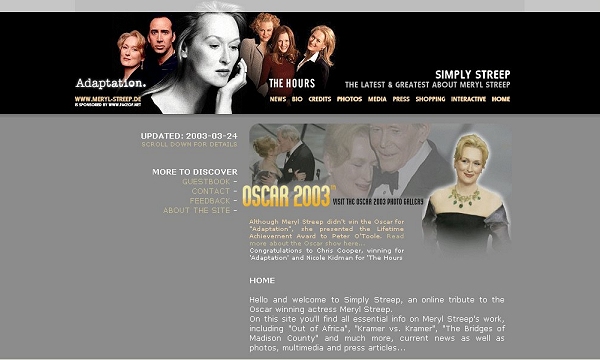 Layout 02
(2002-2003) With the release of "Adaptation" and "The Hours", the site received a major makeover and returned with this look - although I'd recall this version to be the original opening of the site as you know it today. Its content was rather limited at this time, offering general info and spotlights with multimedia links on the above films.
---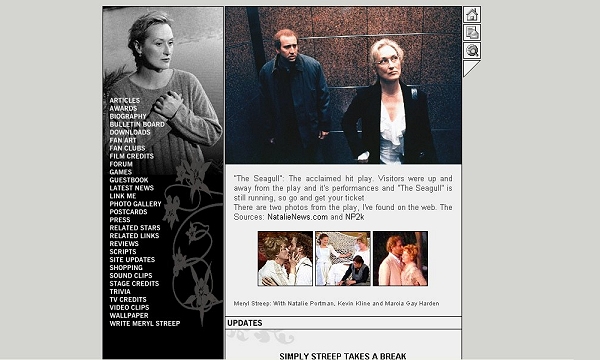 Layout 01
(1999-2001) Probably not the very first layout, but the first one I've made a screenshot of. Seeing it today, its funny to acknowledge that this is how it all started - although I'm pretty sure that back in 1999, the only visitor to this site was myself, or in terms of my English skills, I was the only one to understand what was written :-) The site also went on hiatus in late 2001.