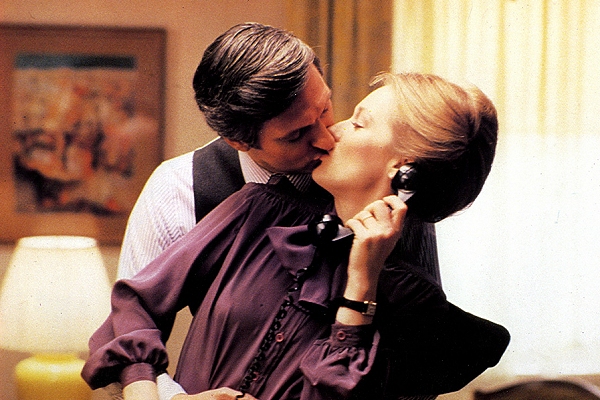 *Please note that any links forwarding to third-party streaming services have no affiliation or monetary connection with Simply Streep.
Release date:
August 17, 1979
Directed by:
Jerry Schatzberg
Written by:
Alan Alda
Produced by:
Martin Bregman, Louis A. Stroller
Running time:
107 minutes
Respected liberal Senator Joe Tynan (Alan Alda) is asked to to lead the opposition to a Supreme Court appointment. It means losing an old friend and fudging principles to make the necessary deals, as well as further straining his already part-time family life and his wife (Barbara Harris). But it could be a big boost to his career, so he takes it on. Helping him prepare the case in Washington is pretty southern researcher Karen Traynor (Meryl Streep). Their interest in each other and developing relationship further complicates and compromises his life.
Alan Alda (Joe Tynan), Barbara Harris (Ellie Tynan), Meryl Streep (Karen Traynor), Rip Torn (Sen. Kittner), Melvyn Douglas (Sen. Birney), Charles Kimbrough (Francis), Blanche Baker (Janet Tynan), Adam Ross (Paul Tynan), Carrie Nye (Aldena Kittner), Chris Arnold (Jerry), Maurice Copeland (Edward Anderson), Robert Christian (Arthur Briggs)
Production Photos
Awards & Nominations for Meryl Streep
★ Los Angeles Film Critics Circle Award – Best Supporting Actress
★ New York Film Critics Circle Award – Best Supporting Actress
★ National Board of Review – Best Supporting Actress
★ National Society of Film Critics Award – Best Supporting Actress