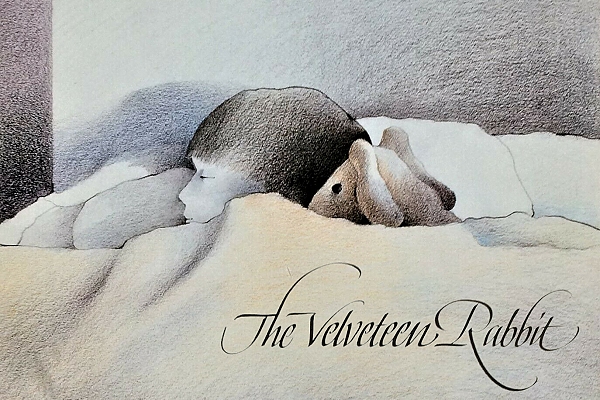 *Please note that any links forwarding to third-party streaming services have no affiliation or monetary connection with Simply Streep.
Release date:
1984
Literature:
Margery Williams
Music:
George Winston
Meryl Streep reads Margery Williams's gentle story of a stuffed bunny who becomes real through the love of a child in this 25-minute video version of the classic 1922 tale. A Christmas gift that is ignored, then beloved, and then abandoned, the rabbit with the pink sateen ears comes to love the boy who takes him everywhere and through that love finds literal rebirth. Meryl Streep doesn't disappoint as she liltingly brings the toy rabbit to life - with the help of the nursery magic fairy. Streep's reading is complemented by George Winston's music and illustrations by David Jorgenson. "The Velveteen Rabbit" received a Grammy nomination in the category of "Best Album for Children". It won a Parents' Choice Award for Favorite Recording and a Silver Plaque by the Chicago International Film Festival.
The Velveteen Rabbit was released both as an audio book and in an animated version on video cassette.
Track Listing
01. The Velveteen Rabbit
02. Christmas
03. The Toys
04. The Skin Horse
05. Nana
06. Lullaby
07. Spring
08. Summer
09. Summer Evening – The Rabbit Dance
10. Alone
11. Shagginess Doesn't Matter
12. Anxious Moments
13. Loneliness – The Fairy
14. Flying
15. Returning
16. The Velveteen Rabbit
17. The Velveteen Rabbit (Music Alone)
18. Christmas (Music Alone)
19. The Toys (Music Alone)
20. The Skin Horse (Music Alone)
21. This Magic Called Real (Music Alone)
22 . Lullaby (Sandman) (Music Alone)
23. Spring (The Velveteen Rabbit) (Music Alone)
24. Summer (Music Alone)
25. Summer Evening (Music Alone)
26. The Rabbit Dance (Music Alone)
27. Alone (Music Alone)
28. Shabbiness Doesn't Matter (Music Alone)
29. Anxious Moments Part 1 (Music Alone)
30. Loneliness (Music Alone)
31. Anxious Moments Part 2 – The Fairy (Music Alone)
32. Flying (Music Alone)
33. Returning – The Velveteen Rabbit (Music Alone)
34. Night Thougths (Bonus Track)