A Conspiracy of Hope

June 15, 1986

|

Amnesty International

|

1 minute (TV PSA)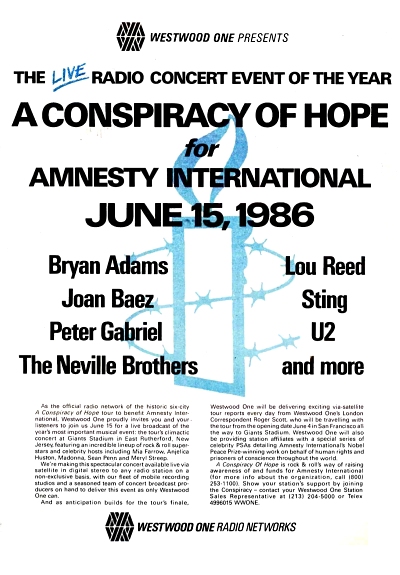 A Conspiracy of Hope was a short tour of six benefit concerts on behalf of Amnesty International that took place in the United States during June 1986. The purpose of the tour was not to raise funds but rather to increase awareness of human rights and of Amnesty's work on its 25th anniversary. The shows were headlined by U2, Sting and Bryan Adams. While Meryl Streep has been mentioned to have taken part in the concert at New Jersey's Giants Stadium, I cannot confirm if she was really there. However, she promoted Amnesty International's work with a public service announcement to promote the cause and concert tour.
Production Notes
A musical caravan, travelling around the United States with six benefit concertsheld during June 1986. 'A Conspiracy of Hope' aimed to increase awareness of human rights and of Amnesty International's work on its 25th anniversary. The tour spread information about Amnesty International to a new generation, inviting them to take action on behalf of prisoners of conscience. Some of the world's leading rock artists gave two weeks of their time, at the height of the summer touring season, 'A Conspiracy of Hope'featured U2, Sting, Peter Gabriel, Lou Reed, Joan Baez, and the Neville Brothers. They travelled from west to east across the United States, joined en route by other performing arts stars. "Morally and spiritually, we couldn't afford not to do it," Art Neville told Amnesty International members and reporters in the six cities that hosted the caravan.At each stop, the performers held a press conference, using music to spread the word about what Amnesty International does, why it does this work, and how everyone can help stop human rights abuses by joining in Amnesty International's work.
"That's where my respect goes—to the people who do this work," Bono told cheering audiences in San Francisco, Los Angeles, Denver, Chicago, Atlanta, and Giants Stadium in New Jersey.Lou Reed summarized the tour's message for concert goers between sets. Rock music is "about energy and freedom," he said. "Therefore, it has a direct relationship to Amnesty, the most astonishing group I've ever been involved with." The artists involved with the 'A Conspiracy of Hope' tour'adopted' six prisoners of conscience and throughout the tour conducted a campaign called "Write. Get One Free." At each concert Amnesty International volunteers passed out postcards addressed to governments with the ability to release the prisoners. Sting urged audiences to sign a postcard or write a letter "for prisoners and for your own future." He couldn't resist adding, "It can be fun having a dictator for your pen pal." After Amnesty International collected tens of thousands of postcards at the stadiums and delivered them to government embassies, two of the six prisoners of conscience were freed. Soviet authorities released Tatyana Osipova, who was jailed for joining a Moscow group that monitored human rights abuses. South African authorities released Thozamile Gqweta, charged with treason because of his vocal criticism of his country's apartheid policies.The tour artists played together both on stage and off. They danced through hotel lobbies, joined in impromptu jamming sessions at local restaurants, and to the chagrin of flight attendants, engaged in a sustained pillow fight during the flight to the East Coast. Fela Kuti, the outspoken Nigerian songwriter and a prisoner of conscience until shortly before the tour began, caught up with the caravan in New Jersey.
He played keyboard before the 55,000 capacity crowd at Giants Stadium, while Carlos Santana played guitar and Rubén Blades sang "Muevete" ("Move On"), a song in defence of freedom. Stopping the music for a moment, Rubén Blades pointed to Amnesty International members passing out postcards and said, "I used to be an attorney in Latin America, and I can tell you from experience, many people have been saved by this organization."Bono named several places where mass human rights abuses were taking place and led the Giants Stadium crowd in a chant of "No More." Jackson Browne sang "Lives in the Balance," accompanied by a flutist who had been jailed in Chile simply for playing his instrument. Best-selling author Timothy White, formerly a senior editor of Rolling Stone, wrote in the tour program book, "As the rock and roll being offered on this occasion lifts your spirit, let it also move you to make a basic gesture from the heart toward those who desperately need to know that you share in our 'conspiracy of hope.'" Famous musicians and Hollywood stars supported the caravan at various tour venues including Bob Dylan, Miles Davis, Madonna, Sean Penn, Meryl Streep, Robin Williams, Robert DiNiro, Yoko Ono, Michael J. Fox, and Muhammed Ali. Amnesty International USA's membership more than doubled in the summer of 1986. The 19-act final concert, performed on 15 June at Giants Stadium, was broadcast live on MTV. The New York Times critic covering the concert wrote, "The finale—dozens of performers singing Bob Dylan's 'I Shall Be Released' alongside 25 prisoners who had been freed with Amnesty International's help—was a memorable image of rock with a conscience
---
A Conspiracy of Hope is being listed under the following tags:
---