For Our Children

May 1991

|

Walt Disney Records

|

64 minutes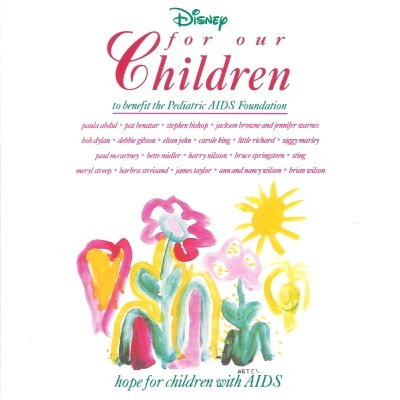 The 20-song compilation features original and traditional children's music by a variety of exceptional performers. All proceeds from ''For Our Children'' will benefit the Pediatric AIDS Foundation. The foundation was formed in 1988 by Elizabeth Glaser, Susan DeLaurentis, and Susan Zeegen. With profits going to AIDS research, education, and assistance to hospitals, "For Our Children" is a worthy charity item, but the album also holds up as a work of art.
Cast: Paula Abdul, Pat Benatar, Stephen Bishop, Jackson Browne, Bob Dylan, Debbie Gibson, Elton John, Carole King, Little Richard, Ziggy Marley And The Melody Makers, Paul McCartney, Bette Midler, Harry Nilsson, Sting, Bruce Springsteen, Meryl Streep, Barbra Streisand, James Taylor, Jennifer Warnes, Ann Wilson, Brian Wilson, Nancy Wilson,
Tracklist
01 Give A Little Love – Ziggy Marley And The Melody Makers
02 This Old Man – Bob Dylan
03 Cushie Butterfield – Sting
04 Mary Had A Little Lamb – Paul McCartney
05 The Ballad Of Davy Crockett – Stephen Bishop
06 Itsy Bitsy Spider – Little Richard
07 Chicken Lips And Lizard Hips – Bruce Springsteen
08 Country Feelin's – Brian Wilson
09 Blueberry Pie – Bette Midler
10 The Pacifier – Elton John
11 Getting To Know You – James Taylor
12 Autumn To May – Ann and Nancy Wilson
13 Child Of Mine – Carole King
14 Tell Me Why – Pat Benatar
15 A Medley Of Rhymes – Debbie Gibson
16 Blanket For A Sail – Harry Nilsson
17 Good Night, My Love (Pleasant Dreams) – Paula Abdul
18 Gartan Mother's Lullaby – Meryl Streep
19 Golden Slumbers – Jackson Browne and Jennifer Warnes
20 A Child Is Born – Barbra Streisand
Production Notes
In 1981, Elizabeth Glaser was infected with the AIDS virus through a blood transfusion, and unknowingly passed it on to both of her children. The Glaser family's tragedy inspired the creation of the Pediatric AIDS Foundation in 1988. Since then, we have been at the forefront of the fight against pediatric HIV/AIDS, making remarkable strides in our struggle against an illness that has ravaged the globe.
---
For Our Children is being listed under the following tags:
---