Passion: Women on Women

February 1995

|

Dove Entertainment Inc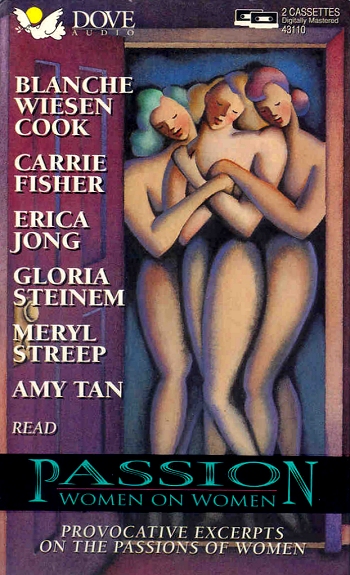 Work, love, family, sex, and politics - all of these topics have been grist for the mills of some of this century's finest women writers. On this recording a remarkable company of women deliver individual perspectives on feminine passions. Reading from their own work are Gloria Steinem (Revolution from Within), Carrie Fisher (Surrender the Pink), Amy Tan (The Kitchen God's Wife), Blanche Wiesen Cook (Eleanor Roosevelt, Vol. I), and Erica Jong (Fear of Fifty and Becoming Light). Meryl Streep reads selections from Sara Maitland, Virginia Woolf, and Katherine Mansfield.
Cast: Blanche Wiesen Cook, Carrie Fisher, Erica Jong, Gloria Steinem, Meryl Streep, Amy Tan
---
Passion: Women on Women is being listed under the following tags:
---