Christopher Reeve: A Celebration of Hope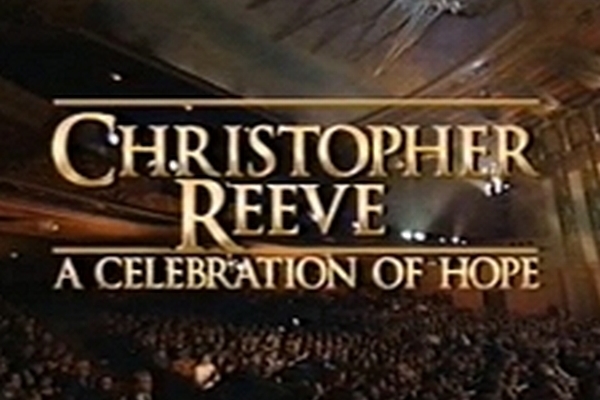 *Please note that any links forwarding to third-party streaming services have no affiliation or monetary connection with Simply Streep.
Release date:
March 01, 1998
Directed by:
Louis J. Horvitz
Produced by:
ABC Television
Running time:
120 minutes
This ABC Television special presentation is a consciousness-raiser for spinal cord injuries, with proceeds to Christopher Reeve's foundation benefiting various research and quality-of-life organizations. Guests follow typical blend of those with a connection to the star and/or cause and alternates performances with plethora of informational segments. Those tuning in for Meryl Streep, Ted Danson, Glenn Close, Christine Lahti and other billed actors will see them introducing filmed segs spotlighting success stories of people coping with spinal cord injuries.
Participants
Robin Williams, Mary Chapin Carpenter, Cleveland Ballet's Dancing Wheels, Glenn Close, Crenshaw High School Elite Choir, Ted Danson, Gloria Estefan, Chris Fonseca, Amy Grant, Tom Hanks, Phil Hartman, James Ingram, Christine Lahti, John Lithgow, Paul McCartney, Willie Nelson, Aaron Neville, Dana Reeve, Jane Seymour, Meryl Streep, Stevie Wonder.
Production Notes
It's nothing as flashy as the special effects of his screen role as Superman, but Christopher Reeve is putting his faith in an age-old super power – hope. "Once you realize there is hope, that can completely change any person's outlook on life," Reeve said in an interview with Reuters. Three years after he was paralyzed from the neck down in a fall from a horse, the actor has a new mission – persuading others trapped in wheelchairs that their disability is not necessarily a life sentence. Reeve said his injuries had taught him several powerful lessons that he uses to counsel others: "Don't give in to staring out the window into space, prepare your body for the day when recovery comes." If a paralysis victim needs motivation, he or she can always take on big business. "Fight your insurance company, because a lot of insurance companies will deny essential equipment… I tell them fight, fight back," Reeve said.
On Sunday, he headlines an ABC TV special, "A Celebration of Hope," to raise money for the Christopher Reeve Foundation, which funds research into severe spinal cord injuries. The special, to air at 9 p.m. EST, is a tape-delayed broadcast of a dinner held on Feb. 1 that generated $257,000 for his foundation. During Sunday's broadcast, ABC will flash a telephone number across TV screens for people wishing to donate. Stars such as Robin Williams, Ted Danson and Meryl Streep pay tribute to victims of spinal cord injuries. The program also features performances by singers Stevie Wonder and Mary Chapin Carpenter. Reeve soared to celebrity playing the title role in the "Superman" movies during the early 1980s, but his horseback riding accident left him confined him to a wheelchair, unable to use his arms or legs and dependent on a machine to assist his breathing.