The Devil Wears Prada

June 30, 2006

|

20th Century Fox

|

109 minutes
Directed by:
David Frankel |
Written by:
Aline Brosh McKenna |
Literature:
Lauren Weisberger |
Cinematography:
Florian Ballhaus |
Editing:
Mark Livolsi |
Costume Design:
Patricia Field |
Production Design:
Jess Gonchor |
Music:
Theodore Shapiro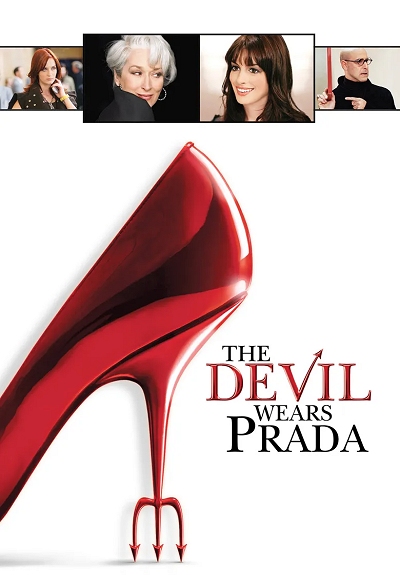 Small-town girl Andrea (Anne Hathaway) is hired to work as the second assistant of the powerful and sophisticated Miranda Priestly (Meryl Streep), the ruthless and merciless executive of the Runway fashion magazine - a job "million girls would kill for". Andrea dreams to become a journalist and faces the opportunity as a temporary professional challenge. As the weeks progress, Andrea changes her attitude, affecting her private life and the relationship with her boyfriend and friends. She has to face the challenges of what's more important in her life.
Cast: Meryl Streep (Miranda Priestly), Anne Hathaway (Andy Sachs), Emily Blunt (Emily), Stanley Tucci (Nigel), Adrian Grenier (Nate), Tracie Thoms (Lilly), Rich Sommer (Doug), Simon Baker (Christian Thompson), Daniel Sunjata (James Holt), Jimena Hoyos (Lucia), Rebecca Mader (Jocelyn), Tibor Feldman (Irv Ravitz), Stephanie Szostak (Jaqueline Follet), David Marshall Grant (Richard Barnes)
Production Notes
In "The Devil Wears Prada", Meryl Streep is Miranda Priestly, the reigning queen of fashion whose whims can start and end careers. Director David Frankel, who explored the vagaries of fashion and celebrity in the landmark series "Sex in the City" and "Entourage"," says that instead of making the obvious choice to demonize Miranda, he preferred "to explore Miranda's relentless pursuit of excellence in a serious way," he says. "And how many sacrifices she must make to excel. "There are lots of famous women who are successful on the level of Miranda Priestly, and it is very easy to criticize them because they put their work first," Frankel continues. "Men are rarely criticized for that." "Miranda has an incredible amount of power in the marketplace," says Meryl Streep. "She's a taste- and trend-maker and therefore a market-setter. She functions with a lot of pressure, and she runs a very tight ship."
Unfortunately, we don't have enough women in power so most of my models for this character were of the male persuasion. Compared to the people that I used as inspirations, Miranda is well-behaved. She's almost like a diplomat compared to some very, very, very powerful people in the film business. The anticipation for the film is almost bloody in that people are longing to go after Anna Wintour, or any woman in a powerful position. People love this story because they think that the knives are out, and that makes for good anticipation at the box office. But I was interested in portraying a woman in a powerful position, and showing exactly how hard she has to work to stay there. (Meryl Streep, The Sunday Telegraph, August 2006)
Streep's Miranda, Frankel points out, skates the edge between the comically mean and the genuinely sad. "A key part of Meryl's incredible talent is the ability to blend comedy and drama," he says. "She can find what's funny in the real so that it never feels forced." Streep plunged headlong into all the accoutrements that surround Miranda. "When we first met her I gave her a huge three-ringed binder full of research regarding the movie and fashion," recalls producer Wendy Finerman. "It included fashion industry facts, figures, and photos, and I thought, 'Oh God, she's going to laugh at me.' But instead she said, 'That's fantastic! Do you have any more?' She read everything she could get her hands on." Anne Hathaway, the breakout star of "The Princess Diaries" and "Brokeback Mountain", portrays Andy, a journalism student who believes she can change the world after leaving the comforts of Northwestern University and landing in the big city. "When Miranda first meets Andy," says Streep, "it's at the end of a series of disappointments she's had with other assistants. Andy comes in with an amazing resume, and Miranda takes a chance on her because she doesn't fit the mold of the typical Runway employee." For once, Miranda, known for her unpredictability, hires the "smart, fat girl" instead of the "stylish, slender, disappointing" type that usually trails after her. Though "The Devil Wears Prada" is set in the rarefied world of fashion, Andy's journey with Miranda is universal in its theme of a young person finding her way. "What happens to her is very character-forming," Hathaway says. "As she changes, she realizes it's important to commit not necessarily to success, but to succeed on your own terms."
It had a very successful run in theaters, making nearly $125 million in the United States and over $325 million worldwide. Initial reviews of the film focused primarily on Streep's performance, praising her for making an extremely unsympathetic character far more complex than she had been in the novel. "With her silver hair and pale skin, her whispery diction as perfect as her posture, Ms. Streep's Miranda inspires both terror and a measure of awe," wrote A. O. Scott in The New York Times. "No longer simply the incarnation of evil, she is now a vision of aristocratic, purposeful and surprisingly human grace." Kyle Smith agreed at the New York Post: "The snaky Streep wisely chooses not to imitate Vogue editrix Anna Wintour, the inspiration for the book, but creates her own surprisingly believable character." Award juries agreed – Meryl Streep won her career's sixth Golden Globe for her peformance as Miranda and earned yet another Academy Award nomination as Best Actress in a Leading Role.
Simply Streep's Review
This review is written 10 years after the film's release, and I can say it turns out more positive than it would have 10 years ago. Back then, I loathed the idea of Meryl Streep starring in a by-the-numbers fashion movie with the old story of a young woman in the Big Apple with its glossy Sex and the City look. I couldn't find a reason why Streep would do such a film, after her "comeback" in the arthouse successes "Adaptation" and "The Hours", not to mention the formidable "Angels in America". The film, while I still wouln't call it a favorite, is better than my expectation, and by the account of many even better than the book. What makes it better than the rest is its heart at the right place. Even if you ignore all the fashion and clothes, it tells you a thing or two about working in competitive environments and about leading a company as a minority (in this case, a woman). The story is predictable, as is the Andy character. You know by the beginning that Andy will be lured into this world to learn her lesson and leave it a better person. Anne Hathaway feels tailor made for this wide-eyed role of the ingénue, and the film did great things for her career. The same can be said about Emily Blunt in her breakthrough performance. She is the comic relief, together with Stanley Tucci. But it's Streep's performance that makes the movie. It's her subtle and underrated performance of a woman in a powerful position, who pays her price in her private life to stay on top. Critics have predicted it upon its release and its become a fact that Streep delivers one of her classic performances here. "Sophie's Choice" may be the best cinematic performance we've seen, but "The Devil Wears Prada" is what young and mainstream audiences relate to Meryl Streep's signature work.
Awards & Nominations for Meryl Streep
★ Golden Globe Award – Best Actress in a Motion Picture, Comedy or Musical
★ London Critics Circle Film Award – Actress of the Year
★ National Society Award – Best Supporting Actress
★ Alliance of Women Film Journalists – Best Actress in a Comedic Performance
★ Women Film Critics Circle as Best Actress
★ Alliance of Women Film Journalists as Best Actress
☆ Academy Award – Best Performance by an Actress in a Leading Role
☆ Screen Actors Guil Award – Best Actress
☆ BAFTA Film Award – Best Actress in a Leading Role
☆ Critics Choice Award – Best Actress Comedy/Musical
☆ Boston Society of Film Critics Awards – Best Supporting Actress
☆ Central Ohio Film Critics Association – Best Actress
☆ Chicago Film Critics Association Award – Best Actress
☆ Cinema Jupiter Award (Germany) – Best International Actress
☆ Dallas-Fort Worth Film Critics Association Award – Best Actress
☆ Dublin Film Critics Circle Award – Best Supporting Actress
☆ Movies for Grownups Award – Best Actress
☆ St. Louis Film Critics as Best Supporting Actress
☆ Satellite Award – Best Actress
☆ (Runner-Up) New York Film Critics Circle Award – Best Actress
☆ (Runner-Up) Boston Film Critics Circle Award – Best Actress
---