The Public Sings: A 50th Anniversary Celebration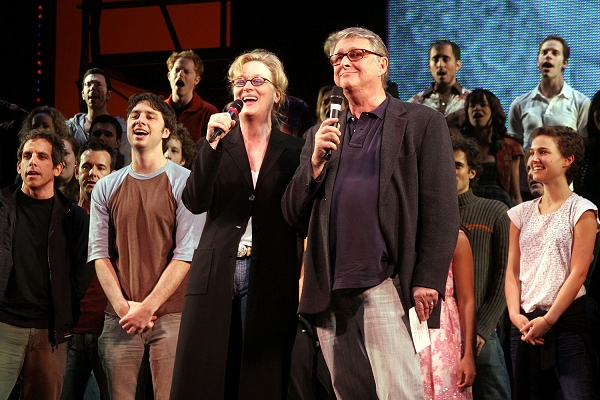 *Please note that any links forwarding to third-party streaming services have no affiliation or monetary connection with Simply Streep.
Production dates:
January 30, 2006
Venue:
The Public Theater
Directed by:
James Lapine
Literature:
Various
The Public Sings: A 50th Anniversary Celebration, a one-night-only event dedicated to the rich history of musicals produced by The Public Theater, including Hair, A Chorus Line, Runaways, Bring in 'Da Noise, Bring in 'Da Funk, Caroline, or Change, and many others. Directed by James Lapine and featuring legendary Public Theater artists, The Public Sings was an original musical interpretation of shows that engaged the social and political issues of their times and reshaped our experience of American musical theater, featuring Meryl Streep, Eartha Kitt, Idina Menzel, Donna Murphy, Cynthia Nixon, Rosie Perez, Natalie Portman, and many more.
Cast & Characters
Zach Braff, Betty Buckley, Lea DeLaria, Savion Glover, Eartha Kitt, Donna McKechnie, Idina Menzel, Donna Murphy, National Dance Institute, Cynthia Nixon, Rosie Perez, Natalie Portman, Tonya Pinkins, Meryl Streep, Elaine Stritch, Lillias White