Doubt

December 12, 2008

|

Miramax

|

104 minutes
Directed by:
John Patrick Shanley |
Written by:
John Patrick Shanley |
Literature:
John Patrick Shanley |
Cinematography:
Roger Deakins |
Editing:
Dylan Tichenor |
Costume Design:
Ann Roth |
Production Design:
David Gropman |
Music:
Howard Shore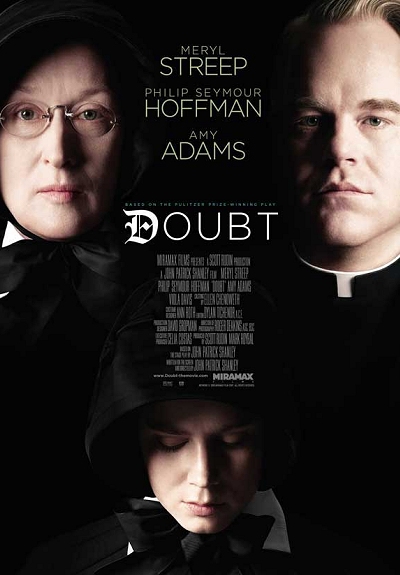 Set in a Bronx parochial school in 1964. Sister Aloysius Beauvier (Meryl Streep), a strict school principal and traditionalist nun, faces the decision of a lifetime: Does she openly voice her suspicions and accuse a priest, respected Father Flynn (Philip Seymor Hoffman), of molesting one of the students and give voice to her fear of his sinful actions, or does she bury her suspicions and leave room for doubt? This intense and personal power struggle between Sister Aloysius and Father Flynn ultimately calls into question both faith and justice in the shadows of this cloistered institution.
Cast: Meryl Streep (Sister Aloysius Beauvier), Philip Seymour Hoffman (Father Brendan Flynn), Amy Adams (Sister James), Viola Davis (Mrs. Miller), Alice Drummond (Sister Veronica), Audrie Neenan (Sister Raymond), Joseph Foster II (Donald Miller), Susan Blommaert (Mrs. Carson), Carrie Preston (Christine Hurley), John Costelloe (Warren Hurley), Lloyd Clay Brown (Jimmy Hurley), Mike Roukis (William London), Helen Stenborg (Sister Teresa), Tom Toner (Monsignor Benedict), Michael Puzzo (Father Sherman), Margery Beddow (Mrs. Shields), Jack A. O'Connell (Mr. McGuinn), Marylouise Burke (Mrs. Deakins)
Production Notes
When "Doubt" first moved to Broadway, playwright John Patrick Shanley noticed that the greater number of who it, the more intense the reaction. "There was a dissonant thing that seemed to happen where all the different responses people were having simultaneously every night in the theatre created a kind of common power," Shanley says. "It seemed a lot of people felt passionately that the subject of certainty and its consequences was something they needed to talk about. And that's when I realized I'd like to do this as a film." As he began the adaptation, he saw that translating the story to the screen would allow him to explore many elements that simply couldn't be addressed in the play: the live of the nuns, the children at the school, the whole outside world of a Bronx neighbourhood on the cusp of major changes. Shanley states, "I wanted to convey a real sense of community – because I knew that if we spent time with these families and their kids, we would begin to track how the actions inside the church take a toll on the world outside of it. By the end, I believe the consequences of Flynn and Aloysius' conflict strike a more profound emotional resonance since we see and know who is paying the price of their battle. The film allowed me to detail this aspect of the story which I was unable to in the play – but had always longed to do."
Early on in development, he started envisioning Meryl Streep taking the role of Sister Aloysius. He knew he needed an actress of unusual skill and subtlety, someone who could go well beyond the simple trope of the dictatorial, heartless nun. With Streep, he felt, he would be assured of a performance that details and honours all that makes Sister Aloysius compelling and complex, even in her righteousness and certainty. "She is fighting battles we know she will lose, because these changes have already taken place in our culture – but that doesn't mean she isn't a valiant figure for doing so," says Shanley. "I agree with her that something beautiful is lost in those kinds of changes. It's also important to understand that Sister Aloysius became a nun during World War II, and she saw herself as part of the battle between good and evil that was very much a part of those times but which became something quite different in the 60s." Streep, says Shanley, was full of extraordinary surprises in the role, and illuminated Sister Aloysius in ways even he hadn't foreseen. In her preparation for the role, Streep worked closely with the nuns at the College of Mount St Vincent, which she says was a distinct pleasure. "The discipline, the purity, the clear intelligence of these women was fascinating to me, and they were very helpful," she says. She also learned a great deal from them about another reality depicted in Doubt – the power gap between the priests, who could wield their complete authority in church matters, and the nuns who had to eke out power in very different and subtler ways. "Coupled with their sense of great capability, what I also got was a sense of their hierarchy in the church, how they were always second-tier to the male hierarchy of the priests and how some chafed against that. All of that was very valuable for Sister Aloysius. And all of it drives the narrative."
"Doubt" received 5 Oscar nominations in 2009, including for Best Actress (Meryl Streep), Best Supporting Actor (Philip Seymor Hoffman), two nomination for Best Supporting Actress (Amy Adams and Viola Davis) as well as Best Screenplay (John Patrick Shanley). Meryl Streep won the Screen Actors Guild Award – Best Actress.
Simply Streep's Review
"Doubt" is a worthy adaptation of a celebrated play to the big screen. The story is told rather fast – a nun suspects a priest of having molested a pupil. And although she is not certain about this, she is willing to go to any length to get justice, at least her way, beyond all doubts. The challenge of watching "Doubt" is its lack of giving direction on who's good or bad. Both the nun and the priest show signs of symphathy and deep, well, doubt, it keeps you guessing if Sister Aloysius' crusade against Father Flynn is justified, or simply based on her own reluctance. I can understand when people don't like "Doubt", because it gives a lot of clues but no solution. To me, this makes the greatest part of the film, it makes you think and question your own moral beliefs. For a film, that's pretty much to do. The acting by the four principal players is magnificent. Streep, Hoffman, Adams and Davis deliver standout performances throughout. Regarding Meryl, I count Sister Aloysius among her best roles in the last ten years.
Awards & Nominations for Meryl Streep
★ Screen Actors Guild Award – Outstanding Performance by a Female Actor in a Leading Role
★ Critics Choice Award – Best Actress
★ Iowa Film Critics Award – Best Actress
★ Kansas City Film Critics Award – Best Actress
★ Movies for Grownups Award – Best Actress
★ National Board of Review – Best Acting by an Ensemble
★ North Texas Film Critics Association – Best Actress
★ Online Film & Television Association – Best Actress
★ Phoenix Film Critics Society Award – Actress in a Lead Role
★ Washington DC Area Film Critics Association Award – Best Actress
★ Washington DC Area Film Critics Association Award – Best Acting Ensemble
☆ Academy Award – Best Performance by an Actress in a Leading Role
☆ Golden Globe – Best Performance by an Actress in a Motion Picture (Drama)
☆ Screen Actors Guild Award – Outstanding Performance by a Cast in a Motion Picture
☆ Critics Choice Award – Best Acting Ensemble
☆ BAFTA Film Award – Best Leading Actress
☆ Alliance of Women Film Journalists – Best Actress
☆ Chicago Film Critics Association Award – Best Actress
☆ Cinema Jupiter Award (Germany) – Best International Actress
☆ Dallas-Fort Worth Film Critics Association Award – Best Actress
☆ Detroit Film Critics Society Award – Best Actress
☆ Dublin Film Critics Circle Award – Best Actress
☆ Golden Satellite Award – Best Actress/Drama for "Doubt"
☆ Houston Film Critics Society Award – Best Actress
☆ London Critics Circle Film Award – Actress of the Year
☆ Online Film Critics Society Award – Best Actress
☆ Satellite Award – Best Actress in a Motion Picture (Comedy or Musical)
☆ Toronto Film Critics Association Award – Best Performance Female
☆ Vancouver Film Critics Circle Award – Best Actress
---