Song of Lahore

May 20, 2016

|

Universal Music Classics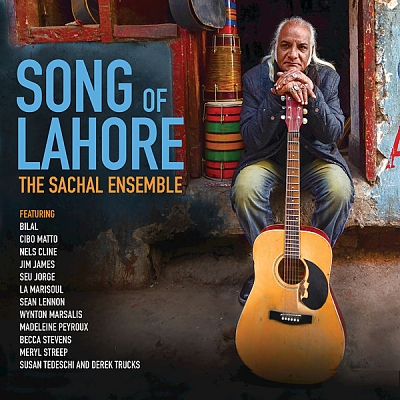 Inspired by the film of the same name produced and directed by Andy Schocken and Sharmeen Obaid-Chinoy, Song of Lahore is a companion album to the film. Recorded in New York City over the summer of 2015, the Sachal Ensemble provided the traditional sounds of their home in Pakistan, presenting several traditional Folk and even some Pop melodies of the Southeastern subcontinent. Those songs were then transformed and woven into a larger, wider tapestry, connected to a number of well-known and recognizable classic Pop, Folk, Jazz and Blues songs from the American music canon and sung by many esteemed and successful artists from the Western hemisphere. The album features such musical luminaries as Wynton Marsalis, Jim James of My Morning Jacket, Nels Cline of Wilco, Sean Lennon, Susan Tedeschi and Derek Trucks, Madeleine Peyroux and acting legend Meryl Streep reading a poem by 4-time Nobel Prize for Literature nominee, Faiz Ahmad Faiz. Produced by Grammy-winning producer Eli Wolf (Norah Jones, Al Green, Willie Nelson, Elvis Costello), Song of Lahore is not a soundtrack, but rather a tribute album to the film, continuing the message that through music, we find light in the darkness. The Song Of Lahore album is the sound of humanity at work.
Tracklist
01 Blue Pepper (Far East Of The Blues) – Wynton Marsalis
02 Shelter From The Storm – Derek Trucks, Susan Tedeschi
03 Yes We Can Ca – Bilal
04 Man In The Mirror – Becca Stevens
05 Speak – Meryl Streep
06 (What's So Funny 'Bout) Peace, Love & Understanding
07 Sometimes I Feel Like A Motherless Child / Mai Ni – Madeleine Peyroux
08 Get Up, Stand Up / Shalamar – Cibo Matto
09 The Sound Of Wonder AKA Dama Dam Mast Oalander
10 Love's In Need Of Love Today – Jim James
11 Laila Lo Laila – Nels Cline
12 I Wish I Knew How I Would Feel To Be Free – La Marisoul
13 Give Me Love (Give Me Peace On Earth) – Seu Jorge
Production Notes
"Song of Lahore" is the companion album to the award-winning documentary film of the same name (directed by two-time Oscar winner Sharmeen Obaid-Chinoy and Andy Schocken). The documentary follows the lives of The Sachal Ensemble, a group of classically-trained musicians from Lahore, Pakistan. Lahore used to be a hot bed of musical activity – the Bollywood of Pakistan—before 1977 when the conservative Islamic regime took over and discouraged any non-religious musical activity. The Ensemble was forced to perform behind closed doors, until they were discovered on Youtube a few years back performing a version of Dave Brubeck's "Take Five." At the invitation of Jazz At Lincoln Center's musical director and celebrated trumpet player, Wynton Marsalis, the Ensemble travelled from Lahore to NYC to perform with Marsalis and his JALC Orchestra to sold-out crowds. With the release of the film and album in May, their story continues.
---
Song of Lahore is being listed under the following tags:
---