Terrence McNally: Every Act of Life

June 14, 2018

|

93 minutes
Directed by:
Jeff Kaufman |
Written by:
The Orchard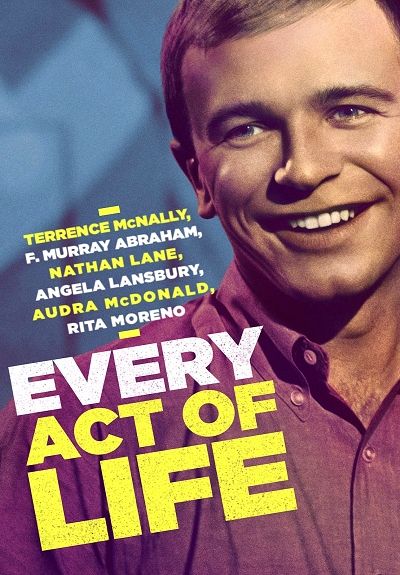 Terrence McNally is one of the world's most renowned, risk-taking playwrights, but he wakes up every day with the spirit of an ambitious and romantic young man. It's that attitude, mixed with a quiet courage, that empowered him in the early 1960s to be the first proudly open major American gay playwright. At age 24, McNally wrote dozens of groundbreaking plays and musicals about sexuality, homophobia, faith, the power of art, and finding meaning in every moment of life. He won four Tony Awards, had long relationships with Edward Albee and Wendy Wasserstein, lost a lover and many friends to AIDS, stopped drinking through the intervention of Angela Lansbury, helped launch the careers of Nathan Lane, F. Murray Abraham, Audra McDonald, Doris Roberts, Patrick Wilson, and Joe Mantello; was an early champion of marriage equality and faced violent protests for his play Corpus Christi; survived a brutal fight with lung cancer; and finally found lasting love with his now-husband, producer Tom Kirdahy.
Cast: F. Murray Abraham, Lynn Ahrens, Jon Robin Baitz, Christine Baranski, Zoe Caldwell, Dominic Cuskern, Tyne Daly, Edie Falco, Stephen Flaherty, John Glover, Anthony Heald, John Benjamin Hickey, Sheryl Kaller, John Kander, Roberta Kaplan, Tom Kirdahy, Larry Kramer, Nathan Lane, Angela Lansbury, Paul Libin, Joe Mantello, Marin Mazzie, Audra McDonald, Terrence McNally, Peter McNally, Lynne Meadow, Rita Moreno, Jack O'Brien, Billy Porter, Chita Rivera, Doris Roberts, Don Roos, John Slattery, Micah Stock, Richard Thomas, John Tillinger, Stanley Tucci, and Patrick Wilson, plus the voices of Dan Bucatinsky, Bryan Cranston and Meryl Streep.
---
Terrence McNally: Every Act of Life is being listed under the following tags:
---