The Laundromat

September 27, 2019

|

Netflix

|

96 minutes
Directed by:
Steven Soderbergh |
Written by:
Scott Z. Burns |
Cinematography:
Steven Soderbergh |
Editing:
Steven Soderbergh |
Costume Design:
Ellen Mirojnick |
Production Design:
Howard Cummings |
Music:
David Holmes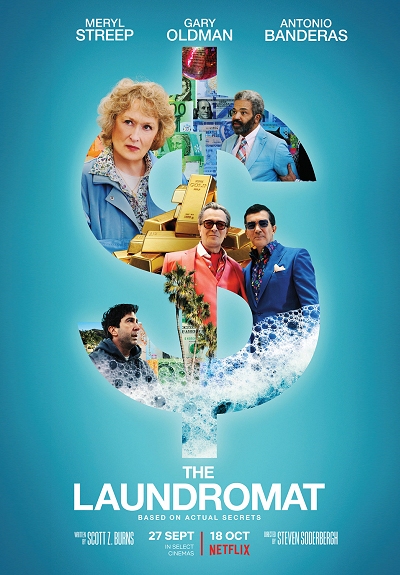 When her idyllic vacation takes an unthinkable turn, Ellen Martin (Meryl Streep) begins investigating a fake insurance policy, only to find herself down a rabbit hole of dealings linked to a Panama City law firm. The charming founding partners Jürgen Mossack (Gary Oldman) and Ramón Fonseca (Antonio Banderas) are experts in the seductive ways shell companies and offshore accounts help the rich and powerful prosper. Ellen's predicament only hints at the tax evasion and bribery that the super wealthy indulge in to support the world's corrupt financial system.
Cast: Meryl Streep (Ellen Martin, Elena), Gary Oldman (Jürgen Mossack), Antonio Banderas (Ramón Fonseca), Jeffrey Wright (Malchus Irvin Boncamper), David Schwimmer (Matthew Quirk), Sharon Stone (Hannah), Melissa Rauch (Melanie), James Cromwell (Joseph David Martin), Matthias Schoenaerts (Maywood), Robert Patrick (Captain Perry), Will Forte (Doomed Gringo #1), Chris Parnell (Doomed Gringo #2), Jeff Michalski (Norm Sidley), Jane Morris (Barb Sidley), Jay Paulson (Pastor Conners), Juliet Donenfeld (Thalia), Brock Brenner (Kaylen), Larry Clarke (Ellen's Lawyer), Marsha Stephanie Blake (Vincelle Boncamper), Daniyar (Sergei), Alexander Stasko (Felix), Cristela Alonzo (Special Agent Kilmer), Myron Parker Wright (Richard Boncamper), Miriam A. Hyman (Edith Boncamper), Veronica Osorio (Mr. Mossack's Secretary), Brenda Zamora (Mia Beltran), Fernando Martinez (Bus Driver), Frank Gallegos (Father Héctor Gallego), Christian De León (Young Ramón Fonseca), Nonso Anozie (Charles), Gabriel Rodriguez (Sinaloa Cartel Leader), Miracle Washington (Astrid), Jessica Allain (Simone), Jonah Gould (Event Planner), Larry Wilmore (Jeff), Nikki Amuka-Bird (Miranda), Rosalind Chao (Gu Kailai), Ming Lo (Chief Wang Lijun), Jesse Wang (Bo Xilai)
Production Notes
Steven Soderbergh's "The Laundromat", written by his long-time collaborator Scott Z. Burns, is based on Jake Bernstein's book Secrecy World and illuminates the story of the 2016 Panama Papers, making the scandal and the dark machinations that led to it accessible, while taking the audience on a wild journey through the lifestyles of the filthy-rich and their dirty dealings. Soderbergh often seeks to expose corruption in the stories he tells. As in Erin Brockovich and The Informant!, he selects an incredible all-star cast to bring some humor and humanity to a complex subject. This highly stylized film, in which actors often break the fourth wall and narrate their stories, tells the tale of the law firm of Mossack Fonseca, whose numerous clients used shell companies and offshore accounts to hide their wealth. Journalists exposed millions of documents from the law firm with the Panama Papers. Among those implicated were athletes, politicians, and celebrities. In Soderbergh's reimagining of the story, he has chosen to make Mossack and Fonseca (Gary Oldman and Antonio Banderas, respectively) into a sparkling Greek Chorus, narrating, as Mossack (Oldman) puts it, "a fairy tale that actually happened." Meryl Streep plays Ellen Martin, a sudden widow and a victim of insurance fraud after she loses her husband in the Lake George Tragedy. When Ellen uncovers, in her words, "bribery, corruption, money laundering, millions and millions and millions of dollars," she knows she must act. Streep and the cast deliver masterful twists and turns in bringing Ellen's heroic journey to life.
[The ending] was all very designed. That was very precisely scripted using the words from John Doe's manifesto. A person whose identity is still a secret, which is kind of amazing. Scott and I sort of talked about the movie as this kind of Russian Nesting doll that kind of mirrors the shell company structure. When it comes to Meryl and the multiple characters she plays, the idea that you keep peeling away and peeling away and then visually, I'm doing the same thing by playing her in this environment where I'm showing you all the tools and the tricks that filmmakers use to disguise who they are and what they are doing until finally, it's just her. Just Meryl and all of that stuff has been stripped away, and it's sort of a direct plea to the audience. The movie makes this pivot in the last two and a half minutes that is sort of purposeful but isn't a typical thing to do. Literally up until those last seconds of that long shot, you're seeing her like she's sitting in the chair and brushing her hair out and there is this script on the table, and there's this shawl, and she starts to gather that stuff, and you're like what is she doing? You don't see it coming. And you're like oh my god. And that was her idea. And I'm like, god, that's a really good idea. I guess that's why you're Meryl Streep. So that was fun to witness. (Steven Soderbergh, Forbes, October 17, 2019)
"The Laundromat" had its world-premiere at the Venice Film Festival and premiered at the Toronto International Film Festival before a very limited theatricl release on September 27, 2019 and a wide release on Netflix on October 18, 2019.
---