Star by self-torture
TV Times Magazine | October 31, 1981 | Written by David Quinlan
---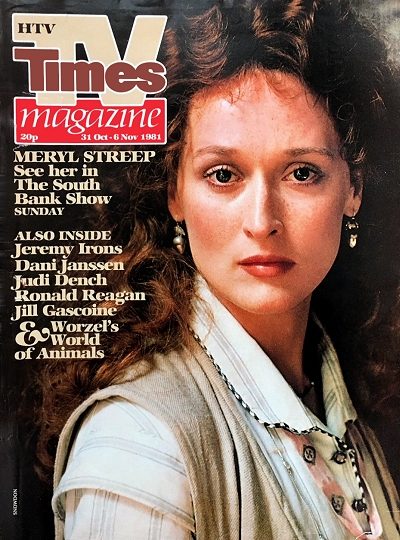 When everyone says that Meryl Streep is going to be the actress of the Eighties, you have to believe them. Not only does she have a striking unusual looks and a great talent – as her Academy Award for "Kramer vs. Kramer" testifies – but there just aren't many superstars of her group (she's 30) around at present. The world's current leading female stars are all either around 40 (Faye Dunaway, Barbra Streisand, Dyan Cannon, Jill Clayburgh, Julie Christie) or up-and-coming, in demand teenagers such as Tatum O'Neal, Brooke Shields, Kristy MacNichol and Jodie Foster. Only Sissy Spacek springs to mind as another 30-year-old female superstar – and she and Streep (whose latest performance, in "The French Lieutenant's Woman", is spotlighted in "The South Bank Show" on Sunday) are hardly the same type. The Streep features look as though they were made for tear-strained drama and high tragedy. That's the way they have been seen so far, in Julia, The Deer Hunter, The Seduction of Joe Tynan and the TV series Holocaust.
People are always surprised to learn that my background in theatre was as a comedienne, says Meryl, pointing out that she was also in Woody Allen's Manhattan, though admittedly her role, as Allen's lesbian wife, was hardly comic. And, let's face it, she adds, The French Lieutenant's Woman isn't exactly a roaring comedy either. But I had to do it – because it was simply the best screenplay I'd ever read. She's a complicated, fascinating woman. And it's the very first time I've played the central role in a film.
You get the impression that, hypnotised as she was by this character – real flesh and blood, at once recognizable and indescribable – Meryl Streep would like to turn off the torment and suffering and turn on to something lighter: I want to do films that deal with the imagination, she says. Alas, her next film Stab, with Roy Scheider, is described by its director, Robert Benton (who was with her on Kramer vs. Kramer, winning Oscars for writing and direction) as a 'Hitchcock-style thriller' about a man who marries a woman he knows is planning to kill him.
Joe Papp, her long-time mentor when she worked for him at his Public Theatre in New York, understands her longing for something in lighter vein. Give this girl a dramatic role, he says, and she tortures herself to reach the truth. She takes terific risks, both physical and emotional. And she's never been afraid to fall on her face. Dustin Hoffman, her co-star in Kramer vs. Kramer, and another Oscar-winner for the film, comments: She's an ox when it comes to acting. She eats work for breakfast. It's like playing tennis with a professional. She just keeps on trying to hit the perfect ball. She's an incredible piece of working life ahead of her. She's going to be the Eleanor Roosevelt of acting.
The South Bank Show – The French Lieutenant's Woman
Return of the popular arts magazine, edited and presented by Melvyn Bragg. Tonight's programme features the British film of the year – The French Lieutenant's Woman. An extraordinary love story set in the Victorian age but seen from today's point of view, the film has already attracted considerable critical and public attention. The South Bank Show brings together the three major figures behind the project: author John Fowles, screenplay writer Harold Pinter and director Karel Reisz. Also featured are Meryl Streep and Jeremy Irons.