A joyful time for Mama Meryl... except for one thing
The Chicago Tribune | December 11, 1983 | Written by Gene Siskel
---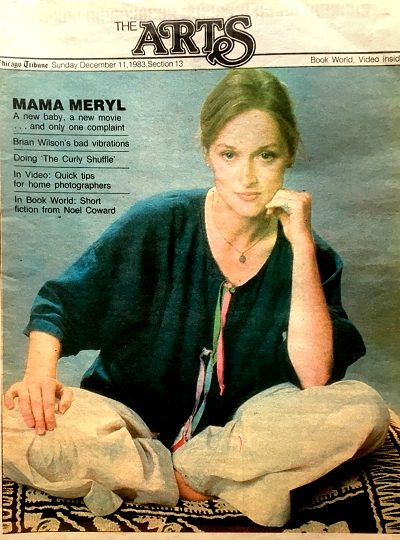 Meryl Streep would seem to have everything. At 34 she has won two Academy Awards (for Kramer vs Kramer and Sophie's Choice). She is proclaimed as the leading American actress of the 1980s. She gets first pick of any serious female film role. Her regular fee exceeds $2 million a picture. And on a personal level she is basking in the joy of her second child, a sweet-faced 4-month-old daughter, Mary Willa, nicknamed Mamie.
What more could anyone want?
Yet Meryl Streep does have a complaint, and she revealed it Tuesday evening in Chicago while breat-feeding Mamie during a conversation about the patters in her film career. The case was being made that she most often plays characters who are long-suffering and who, by the end of the picture, are either dead (Sophie's Choice and Silkwood) or beaten (Kramer vs. Kramer and The Deer Hunter). "That's not intentional", Streep said. "It's just that suffering roles are the only kinds being written for women in the movies today. Name me one good recent part that isn't like that. The only big dramatic parts recently that I haven't done have been Frances, which if full of suffering, Diane Keaton's part in Reds and Keaton's nonstop suffering role in Shoot the Moon." She could also have named Jill Clayburgh's role as a drug addict in I'm Dancing as Fast as I Can. "That's all that's out there," Streep continued, "and if I'm going to work at all, that's what I must play."
That's a shame because Streep – who is younger, livelier, fresher and more contemporary than her typically sainted, serious roles – would be a natural to play, for example, a modern, upscale, artsist-mother, much like herself. It's a shame she couldn't have played the Dustin Hoffman role in Kramer vs. Kramer. "I would have loved to have played that part," she said. "In fact, I would have loved to have played any of Dustin Hoffman's characters. It seems the only way an actress can play a nonsuffering role these days is to produce the film herself. That's how Goldie (Hawn) was able to do Private Benjamin and her new one, Swing Shift. That's how Barbra (Streisand) was able to do Yentl. Otherwise, you are just going to be mauled, maimed or martyred on screen. But I just don't know where they get the time to produce. I guess I'm a little bit lazier. I just want you to know, though, that before I began doing movies I spezialised in grotesque, wildly comic roles on stage. That was my speciality".
The complaint aside, it is clear that the role Streep enjoys playing most right now is that of Mother. "You have to be very careful that you don't bore everyone to death talking about your baby," Streep said, allowing a visitor two hours with her and the child. "I don't have any advice for mothers. And I can't tell you the secret of how to juggle a career and a child. I'm luckier than most because I have a terrific support system, including a full-time nanny. That helps a lot. But ultimately you just do it – that's all – you just do it." And the unexpected joy of having children? "Little moments", Streep said. "Certain smiles. How they wake up happy in the morning. It's a joy. It's a gift. You have to think something is good in the human race if babies wake up happy. They inspire you. Those of us who don't wake up happy have lost something somewhere. Babies renew the faith. They open your heart."
Mamie, a round-faced, pale-skinned, no-hair-yet beauty with big eyes, was stirring on Streep's lap, searching for her mother's face. But I guess that the most unexpected joy I've had", Streep continues, "was just how happy my babies (Mamie and 4-year-old Henry) have made me. I wasn't ready for that. Everybody told me like: It's going to change your life. You'll never really recover the intimacy with your husband. You'll never be able to fly off to here or there. Your career will suffer. You'll ruon your figure. I've heard all that. But nobody prepared me for how happy these kids would make me. I always wanted children, but I didn't know why. You only know why when you look them in the face".
With that, Streep began cooing at Mamie, and Mamie responde with a little squeal to every sound by her mother. "She likes to sing along with me," Streep said. Streep said that both of ther children have been in her movies in utero. She was a few days pregnant with Henry during the filming of the final elevator scene in Kramer vs. Kramer". She was a few weeks pregnant with Mamie during the Washington D.C. scene in Silkwood. While making Silkwood near Dallas last year, Streep spent six weeks with Henry in a condo. Then they were apart for a month, with Henry living with his father, Meryl's husband, sculptor Don Gummer, 37. "Being apart for a month was tough," Streep said, "but I talked to Henry every day. Then, because of my job I was able to be with him for a long time. I haven't worked in a year, and I don't start my next film until March." Streep would not reveal much about her next project except to say that it is an old-fashioned love story in a contemporary setting, an original script. All that's holding up an announcement is the finalization of financing.
She brought Mamie with her on a two-day mission to the Midwest to promote Silkwood, a downbeat but well-,ade film about Karen Silkwood, a nuclear-fuels worked who died suspiciously in 1974 after having begun to blow the whistle on sloppy practices in handling plutonium at the Oklahoma factory where she worked. Kurt Russell plays her mechanic boyfriend. Cher stars as a lesbian coworker. "I know the film will do well in New York and Los Angeles", Streep said. "They'll be curious about the subject and there is an audience that will come to see me. But I don't know about the middle of the country".
Silkwood is a good movie, to be sure, a lifelike portrait of the daily trauma of poor, working-class people. In a way, Streep's portrayal of Karen Silkwood is a companion piece to her portrayal of Linda, the steel-town girl in The Deer Hunter. Both are put-upon, unaffected, salt-of-the-earth types. One could imagine Linda in The Deer Hunter leaving home, striking out for the West, not making it and winding up at another factory town in Oklahoma. Silkwood, if it does nothing else, will remind you that every day there are people slugging it out for a buck under very trying physical and emotional conditions. Despite the quality of the movie, Streep is well aware that Silkwood, as any serious-minded film these days, faces an uphill battle at the box office. "That's the fun of this business, though", she said. "We all knew it was a risk from the very beginning. Especially the financial people. I just hope I can persuade people that the reason to go see Silkwood is simply that it's a good movie. It's not a polemic. I don't want people to take up arms or do anything specific after they see it. I want them to experience it the way we all experience the movies we like the most. We get sucked into lives that are not our own. I feel truthful about working people. It felt like where I used to work waiting table in New York. The difference is that Karen and her friends are working with these controlled substances; so the stakes are higher, the risks are much greater and the potential hazard extends way beyond their own lives. That's the special drama of the piece, in addition to the daily punching in an punching out, going to the lunchroom, doing the job, keeping the job – the economics of the situation."
One of the big controversies surroung the film is the position it takes on what really did happen to Karen Silkwood. While stopping short of saying what some people maintain – that Silkwood was run off the road and killed as she was driving to a meeting with a New York Times reporter – the film dies imply that she was poisoned with nuclear materials by company officials who feared her spilling the beans about unsafe work practics. "I don't know what really happened," Streep said. "And no one who made the movie had any inside, special information. We all have our theories. In a way, it's not that important what ultimately killed her because the events that led to her death – her speaking out at the plant, her lobbying for union representation – are why people speculate that she may have been killed."
Streep's performace as Karen Silkwood is free of the nervous mannerisms that prevented some people from enjoying her portrayal in Sophie's Choice. It's a seemingly effortless performance. "It's a different character", Streep said. "I didn't have to work as hard for it as I did with Sophie". Streep said that the most common mistake made by amateurs in acting is that they try too hard to perform the part, thinking only of themselves as they speak their lines. "Acting is talking and listening," Streep said. "It's not a solitary activity. Even when you're on camea all alone, you still can have a dialogue with your emotions and with your memories. You're never alone when you're acting.
With two children, Meryl Streep is never alone off-camera either. She obviously likes it that way. Save for those ever-present long-suffering movie roles, this is a joyful time for Meryl Streep.