Thouroughly Modern Meryl
Ladies' Home Journal | August 1986 | Written by Jeff Rovin
---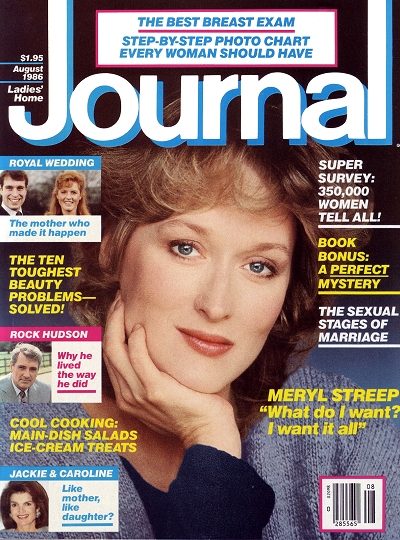 Meryl Streep's magnificent home in rustic Salisbury, Connecticut, is barely visible from the road. The main house is obscured by a looming stone wall and several buildings, including a pair of barns, the caretaker's cottage, and a spacious studio for her husband, artist Don Gummer. The stately gray contemporary is set on the far shore of Meryl's twenty-acre lake – reportedly the largest privately owned body of water east of the Mississippi – which curves around the house like a giant horse-shoe and is teeming with huge bass. Behind the house are rolling grounds that stretch all the way to the distant mountains. Farm animals once grazed here, but much to the disappointment of six-year-old Henry and his sister Mary Willa, two, the animals moved out when the Gummers moved in. "You can keep them," city boy Don Gummer told the owners. "I can't be bothered messing with sheep!" Neither can Meryl. This may be ideal farmland to the natives, but the Gummers bought the $1.8 million estate (and poured another several hundred thousand dollars into renovating it) for one reason and one reason only: privacy.
Surprisingly, there are no security measures, no hidden cameras or high iron fences. But it soon becomes apparent that there's no need for them. The live-in caretaker and his part-time assistant keep an eye on the property, as does the full-time nanny. And though initially Meryl was worried about how accessible her home is – the road by the wall divides and continues on around the lake, right past her house – the thirty-eight hundred people of Salisbury quickly put her at ease. To them, Meryl Streep is just another resident. Many Salisburians haven't even seen the film for which she now commands $3.5 million apiece: The town doesn't have a single movie theater, only half the area has cable TV, and while there's a large community of writers and artists, most of the locals are farmers without the time for or interest in watching anyone's movies on TV. To her neighbors, Meryl Streep is just another mother in an old sweat-shirt – white is her prefered color, in extra-large. Just another mother who sits with her children at the local drugstore sipping old-fashioned ice-cream sodas or who pops into Harris Foods to shop for homemade salads or cakes or who cheers Henry on when he plays hockey with his teammates at Salisbury Central Public School. In fact, Meryl can be downright inconspicious. During a recent game. During a recent game at her son's school, a man looked across the bleachers at Meryl, who, without makeup, is rather plain. The man remarked, "So htat's Meryl Streep? Funny, she doesn't look like a movie star." Which, Meryl admits, is exactly how she wants it. "I don't like to be adored," says the actress, who in nine years of film appearances has coped a staggering six Oscar nominations, winning two Academy Awards – her first for best supporting actress (Kramer vs. Kramer) and her second for best actress (Sophie's Choice). "I'd much prefer not to have all the attention and adulation, people going berserk when they see me in public," she says. "Actually, I'm sort of boring, except for this incredibly fascinating career I have. Day to day, you know, I'm just like everybody else." Constant recognition was the main reason the Gummers gave up their loft in New York City's SoHo district. They had always loved metropolitan life, but she grew tired of "being scrutinized as a public figure, with people checking out my hair, my dress or whatever." She says she couldn't even go shopping "without having someone look at what size underpants I buy" and hated having "to change my telephone number every five minutes, because of the freaks calling me up." She adds, "I think this is what turns public figures into alcoholics; you really have to do something when people are watching you all day long."
Unnerved by the loss of privacy and concerned about how it would affect their children, Meryl and Gummer found the ninety-acre haven in Salisbury, though they still maintain an apartment on fashionable Central Park West and frequently make the two-hour drive to Manhattan to see plays, visit friends or hold business meetings. In addition to keeping her hectic personal life of late (her new daughter, Grace, was born in May), Meryl has been extremly profilic professionally. She has made three films back-to-back: Plenty, Out of Africa and Heartburn. Although she has agreed to do a few interviews in connection with Heartburn, which opened last month, she admits to feeling worn out. "I would prefer to have somebody do it for me," she says, "sort of a Meryl Streep clone who would be very flashy and catch the public's eye." What Meryl really wants is the rest of the year to enjoy the quiet and anonymity of country living. As she wryly commented upon winning the People's Choice Award for favorite all-around female entertainer earlier this year, "I don't know how much entertaining I've done. I haven't even had anyone over for coffee in eighteen months!" Nonetheless, she has reportedly agreed to a new project – starring as a vagrant in Ironweed, based on William Kennedy's Puliter prize-winning novel. (Her co-star will be Jack Nicholson). But for Meryl, being busy has been the rule rather than the exception for most of her thirty-seven years. Born in Summit, New Jersey, in 1949, Meryl is the eldest child of commercial artist Mary Louise Streep and Harry Streep II, a pharmaceutical executive. She has two younger brothers: Harry III (nicknamed Third), thirty-six, the head of the Third Dance Theater in Manhattan; and Dana, thirty-two, a bond salesman who lives in New Jersey. Meryl began her career as a professional actress after having been a sometime student of the stage in high school and then a serious one at Yassar and the Yale School of Drama. When she graduated in 1975, she won a role – on her very first audition, no less – with Joseph Papp's New York Shakespeare Festival. She subsequently worked in other Papp productions and acted with other notable companies as well. After having been spotted by movie casting director Juliet Taylor, she made her screen debut in the 1977 film "Julia", playing a socialite, and she credits Jane Fonda with having given her invaluable lessons about acting for the camera. "Jane was so good to me," she recalls. "I hope I have enough sense to take care of somebody the way she took care of me then. I mean, she just literally saw how out to lunch I was and took me by the arm." Julia was followed by a series of great roles in other films, most notably The Deer Hunter, the TV mini-series Holocaust (for which she won an Emmy), Woody Allen's Manhattan (she played his lesbian ex-wife) and the film that made her a superstar, Kramer vs. Kramer, in which she played a woman who abandons and then tries to reclaim her son. Ironically, the producers had wanted Kate Jackson for the role of Joanna and were ready to sign her when Meryl came in and read for the small part of Phyillis, Dustin Hoffman's lawyer lover. Hoffman and director Robert Benton exchanged glances and immediately knew they had themselves a new Joanna.
While talent has played a large part in Meryl's meteoric rise, she is the first to admit that good fortune has also had a lot to do with it. "I was lucky," she acknowledges. "Once you get a job that attracts a certain amount of recognition, it leads to other jobs. The idea that the break begets the break really has been true with me." She also worries about her success. "The praise is nice, and being able to pick scripts in wonderful… but the extreme publicity has to create an expectation in an audience that I can't possibly satisfy." So far, however, there's no sign of audience disappointment. Meryl is the most sought-after actress in Hollywood. Although names like Goldie Hawn and Barbra Streisand have greater clout at the box office, Meryl brings more prestige to a film. As producer Allan Carr explains, "She gives an ordinary picture major stature. Any leading man looks better opposite her." Though she's in demand, Meryl says work does not come naturally to her. "I'm very, very lazy," she says, noting that even when she is working she is "totally dependent on that morning call from the studio, otherwise I'd never get going. I need someone cracking the whip." In that respect, she's envious of her husband's drive and is constantly amazed that he'll work "all day long, then sometimes after dinner, he goes back to work again. He's self-directed, but not me." At first glance, the self-effacing, often flip actress seem to have little in common with Gummer, a quiet, intense man of thirty-nine. But it soon becomes clear that two people could not, in fact, be better suited to each other. When they first met, in 1978, Meryl's boyfriend of two years, actor John Cazale (best known for his portrayal of Fredo in the two Godfather movies), had just died of bone cancer. Meryl, describing herself as "emotionally blitzed", was drawn from her sorrow by Gummer, a friend of her brother Third's and a highly regarded painter and sculptor in the New York art world. The couple hit it off right away, and even though Gummer left immediately for a lenghty tour of Europe, Meryl didn't let that stand in the way of what she sensed would be a rewarding friendship. "I started to write Don," she says. and the two of them "really got to know each other through our letters." What they discovered, says the actress, is that they were "similiar in a lot of ways. He also has a great sense of humor and a sense of himself and his work, that's imperturbable." She also couldn't help being charmed by his forthrightness: Upon returning from Europe, Gummer immediately "built me a little room in his loft and told me I could stay." She agreed, and they were married just two months later, in September of 1978. Today, as they near their eight anniversary, Meryl reflects on some of the reasons she feels the relationship has succeeded. "I think one reason our marriage is working is that I didn't marry too early. Don knows all about my work and what it means to me, and I understand about his work. We both know what we can give and what we can take from each other."
One area that might have been a source of tension between the couple is Meryl's superstar status and her husband's relatively low profile. Maureen Stapleton, who plays Meryl's therapist in Heartburn, suspects that Meryl's sense of humor contributes a great deal of stability to the marriage. "It has to be difficult for Don Gummer that all the attention is on his wife. He handles it, but I think Meryl's attitude helps. She keeps things light, and I give her a lot of credit for that." Gummer has his own explanation. "There are many different levels of love. Ours is founded in a very deeprooted feeling of trust. We're best friends." He also feels that they've both benefited artistically as well. "She's learned how to look at objects, and I've learned how to look at people." Not all of Gummer's colleagues feel the change has been beneficial, however. Some insist that his art has suffered since the marriage, one former schoolmate even declaring, "His stuff became boring." While it's true that Gummer's work is less cerebral – his reputation was built on angular, geometric sculptures made of steel, stone, silk and wood – it is now much more accessible. This is especially true of the paintings he did after spending time with Meryl while she was making Out of Africa. He returned from location and began painting magnificent if quirky watercolors with African motifs, realistic skulls scattered among African artifacts such as statues, necklaces and pieces of cloth. The paintings have sold extremly well, at an average of five thousand dollars each. Henry Gummer was born just over a year after the couple were married, and Meryl saw at once that her husband would have made the better mother in some ways; her natural laziness is, she feels, incompatible with raising a baby. "Being a housewife and mother is difficult," she says. "You have to be more self-generated. You have to keep yourself involved with your child during periods of the day when it's just the two of you and you feel that at any moment you may literally go out of your mind. The spark of electricity is always there when you're making a movie because it's not just you. It's not like that when you're a mother, and that's what's so impressive about good mothers. It's really a very, very difficult job, and I applaud anybody who comes through it unscathed."
But Meryl loves every minute of motherhood and states that she never would have been happy just having a career. When asked what she wants, she says, "Basically, I want it all – but in managable proportions." What's astonishing is that Meryl is actually succeeding. The wuestion, then, is not wheter she can balance a full home life and a career, but what she will do next – not only to satisfy the public but also to fulfill her own creative needs. She has the rare good fortune of being attractive enough to play classic leading ladies, as she did in Falling in Love and The French Lieutenant's Woman, and being versatile enough to do character roles. Indeed, in Heartburn, Meryl proves that she is also adept at playing comedy, and while that came as a surprise to many moviegoers and critics, it is something her friends never doubted. Close pal Goldie Hawn comments that while she is the one with the reputation for comedy, it's Meryl who keeps things hopping when they get together. "Her delivery is terrific, and her sense of humor is incredible. If we're on the phone, she'll joke about how glamorous it is that the two of us are sitting out in the boondocks with babies and stacks of unwashed laundry." But there is also a serious side to Meryl Streep, a side she has made more time for since Henry's birth. These days, she says, there are a few causes that she deems "worth giving up a bit of my privacy for – disarmament, equal rights, looking out for the disatvantaged. I don't want to get too busy to care." That explains why, during a break in the filming of Heartburn, Meryl rushed over to the PBS studios to do the narration for "Power Struggle", a documentary warning about the dangers of nuclear energy – an issue she is extremly concerned about. One thing Meryl is not overly concerned about is reviews, either good or bad. She explains, "You can only be as good as the task at hand. There are so few beautifully written scripts that if there's something with any promise, you latch on to it." And if it doesn't work out, she rationalizes that at least she had fun and made enough money "to give my children a good life, a happy life." Meryl is clearly a woman who knows what is really important in her life. "I feel pulled in a lot of different directions," she concedes, "but I haven't shattered yet. Thank God I know who my real people are. My husband, my family. At home they know the real me – just plain old Meryl herself."