She's the Star? Fire Her!
Newsweek | February 22, 1993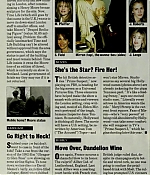 ---
The hit British detective series "Prime Suspect," now playing on PBS, is heading for the big screen as a Universal Pictures film. Three elements have helped make the show a smash with critics and viewers: the London setting, crisp writing and, most of all, Helen Mirren's portrayal of the tough, humane Inspector Jane Tennison. So naturally, Hollywood is ditching all three. The movie will have a U.S. setting, be rewritten by American Tom ("The Accused") Topor-and won't star Mirren. Studio sources say several big Hollywood names (photos above) are already jockeying for the plum Tennison part. "It's like a feeding frenzy," says one excited studio exec. "Literally every actress in America wants the role." Meryl Streep is the current front runner. Fans of Mirren-who's "very peeved" at being cold-shouldered by Hollywood–can take some comfort: she will reappear in TV's "Prime Suspect 3," which begins shooting later this year.