Streep Shoots the Rapids
Newsweek | September 26, 1994 | Written by Karen Schoemer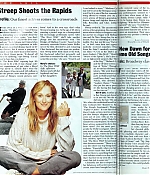 ---
Every once in a while in her new movie, "The River Wild," Meryl Streep delivers a dumb line. "Remember," she says, instructing some neophyte about the raging ways of white water, "you don't command the river — you let the river command you." Such dialogue isn't typical of an actress who made her reputation on difficult accents in period dramas based on literary classics, but it serves a purpose: it reminds you that you're in an action movie, not a Meryl Streep movie. "It doesn't all have to be suffering," says Streep. "I'm allowed to have fun, you know."
If "The River Wild" (opening Sept. 30) turns out to be a hit, it may change audience's expectations of just what a Meryl Streep movie is. Clearly that's what the studio hopes: it has invested $45 million to make the picture, more than the grosses of several of Streep's recent pictures combined. And in her own way, that's what Streep is hoping, too. At the age of 45, she is entering a pivotal stage in a distinguished but increasingly problematic career. After "The River Wild," she'll take another plunge into the mainstream with "The Bridges of Madison County," based on the massively successful Robert James Waller novel; the film, directed by and costarring Clint Eastwood, has just gone into production. Streep didn't think much of the book, but Eastwood called her personally and asked her to consider the role. "He sent the script the next day," she says. "I read it and I was bathed in tears." "Madison County" may not be art in the Streepian sense of the word, but it is one of the few romantic roles being offered to women over 30; almost every actress of Streep's generation, from Jessica Lange and Anjelica Huston to Isabella Rossellini and Cher, lobbied for the part.
Streep needed it. The uncontested great actress of her generation, the stunning technician whose ability to disappear into a role has put her in a league with Hoffman, Pacino and De Niro, Streep has, for nearly a decade, been on something of a downward tumble. Her last real hit was "Out of Africa," in 1985; since then she's appeared in modestly received comedies ("Postcards From the Edge"), modestly received serious films ("A Cry in the Dark") and too many clunkers ("She-Devil," "Heartburn," "House of the Spirits"). She's also missed out on high-profile projects like "Remains of the Day," "Thelma & Louise" and the ill-fated screen adaptation of "Evita." Throughout it all, no one has doubted Streep's talents. "She went from being a great classical actress to playing parts in Hollywood that others could have done," says Alan J. Pakula, who directed her in "Sophie's Choice." "Sometimes they put her into a picture and it's like having this huge motor on this tiny car."
Another problem is that Streep just doesn't seem to fit into the '90s the way she did into the late '70s and early '80s, when she established herself in heavy-duty workouts like "Kramer vs. Kramer," "The French Lieutenant's Woman" and "Sophie's Choice." It's not that Hollywood doesn't make serious movies anymore; it's just that Streep's elegance and braininess seem out of sync with an era in which Quentin Tarantino's grisly "Pulp Fiction" is considered a masterpiece. So what's a highbrow actress supposed to do in these lowbrow times? For the most part, Streep avoids the Hollywood game. After a three-year stint in L.A., she recently moved back to the East Coast, where she lives with her husband, sculptor Don Gummer, and their four children, aged 3 to 14. She says she took "The River Wild" for personal rather than business reasons. "There is a point in your life where you stop being daring," she explains. "Especially when you have children. "Don't touch that, look out for this.' And yet there is something that I see in my own children which is so free and fearless, that I had lost in my own life. I wanted to court that risk in some way."
Ultimately one has to respect Streep for her failures as well as her successes. These recent years have brought her back down to earth, restored some of the warmth and human dimension that those early, flawless performances seemed to belie. And at a time when many of her peers (Jane Fonda, Jessica Lange, Sally Field) seem to be losing clout, Streep wants to keep fighting. "Why did Liv Ullmann leave [the movies]?" she says. "I needed her after a certain point." Maybe Clint Eastwood, who reinvented himself late in his career, will prove an inspiration. Their upcoming collaboration may produce a Streep we've never seen before.