The Perils of Meryl
Entertainment Weekly | October 07, 1994 | Written by James Greenberg
---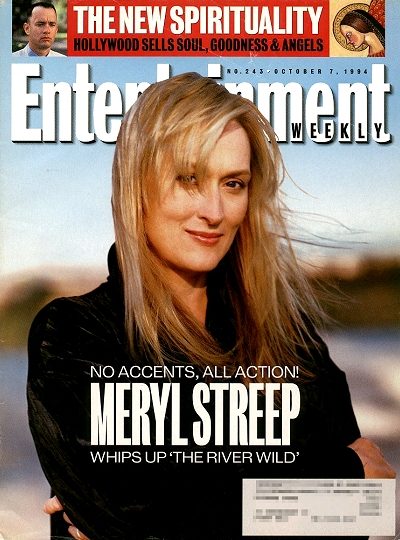 There's something wrong with this picture: Meryl Streep is navigating a raft through Montana's seething Kootenai River, the spray drenching her gray sweatshirt, the 16-foot vessel lurching as she digs her oars in with a concentration that's no act. The noble cheekbones, the imperial nose, the translucent skin, it's all there. But her hands are callused and bloody, her hair stringy and sun-bleached, and strangest of all, as she careens through the rapids, this most aristocratic of actresses seems to be having the time of her life.("Rafting is a fluid art," Streep says, intending no pun. "You don't know what's going to happen. You can't fight it, you have to stay cool. It was thrilling to come out…intact."Intact qualifies as a joyous word because her role as former white-water guide Gail in The River Wild had Streep in command of a rubber raft for most of the 15-week shoot-taking on Class V rapids (Class VI are considered unnavigable), dangling her craft at the edge of a waterfall, flying almost blind when the camera obscured her view, and performing some stunts up to 12 times to be sure director Curtis Hanson (The Hand That Rocks the Cradle) got the goods."I was scared all the time," says the 45-year-old two-time Oscar winner. "Curtis loved showing that it was me doing things. Most of it that you see is me."Streep was said to be dangling her craft at the edge of a waterfall when she took the lead in The River Wild. It was as if someone had dared the master thespian with a gift for accents to make a tense action thriller that put the heroine's survival skills to the test. Yet she emerged from filming with more than her 5-foot-6-inch form intact: Suddenly Streep has her brilliant career back.It's been a while. Best known for flawless dramatic performances in her early films Kramer vs. Kramer (her first Oscar win), Sophie's Choice (her second), The French Lieutenant's Woman, and Out of Africa, Streep has more recently taken her lumps as a comedic actor in She-Devil, Postcards From the Edge, and Death Becomes Her. For her virtuoso role in last April's The House of the Spirits, adapted from Isabel Allende's novel, she got to age several decades on camera; the film landed without a sound. But weeks later, as The River Wild hit Hollywood screening rooms, the buzz on Streep began to build. Universal changed its release from summer to fall, apparently not wanting to match Meryl's muscles with those of Arnold or Harrison Ford. Still, her stock seems to have risen on bets that The River Wild might score with the public. By August, Streep's new direction had brought her full circle: She had the lead-and a new accent to learn, Iowa by way of Italy-in the highly anticipated and deep-in-the-mainstream The Bridges of Madison County. She'll star opposite her director, Clint Eastwood. Her payday will be between $4 million and $5 million-and word is she'll also get a percentage of the gross.
Streep's tackling The River Wild-which pits Gail's family (David Strathairn plays her architect husband; Jurassic Park's Joe Mazzello is their son) against some dubious characters (John C. Reilly and a devilish Kevin Bacon)- didn't particularly surprise Robert Redford, her Out of Africa costar. "She has a very refined face," he observes. "But there's also a wild side to her that may have something to do with her doing the movie. People judge her by the roles she's played or the face she puts on for a magazine cover. You put two or three things together and assume the other 10. Actually she is quite tough."Her attitude toward her chosen task bears that out. "Bodybuilders may do it just to see if they can, to take it to that limit, and that's what I wanted to do on this film," says Streep of her River adventure. "I wanted to tax myself in that way, see how strong I could get, how scared I could get, and how much I could overcome it." The process began in March 1993, four months before shooting began. She'd get up at 5 a.m. so she could finish her workout before her family (her husband of 16 years, sculptor Don Gummer, 46, and their children, Henry, 14, Mamie, 11, Grace, 8, and Louisa, 3) got going. "I had to get stronger, so I embarked on this impossible regimen only movie stars and athletes can keep up. I did yoga, weight training, and aerobic training (for three hours a day). I built strength in my upper body. Women don't have (prominent) rhomboid muscles, so you have to build here," she says, running her fingers down her spine.A crash course in the ways of white water would come in June on Oregon's Rogue River, where part of the film was later shot, but in the meantime, Streep also had to master rowing the single scull, since the film opens with a sequence on the Charles River in Boston. "Sculling involves a great deal of finesse, not strength, and the boats are very tippy," she explains. "I didn't want them fishing me out of the river every five minutes."
She worked with a sculling coach on a little lake at the Salisbury School not far from her rural Connecticut home. Later, for her introduction to rafting, guide Arlene Burns took her on what was supposed to be a three-day trip on the Rogue. "We did it in a day," Streep recalls, laughing at the memory. "I liked it. I called up Curtis and said, 'I don't think I really have to train for this part.' I did have an instinct for it, but my eyes were bigger than my stomach."Streep laughs again when she remembers thinking it would be "pleasant" to spend four months on chilly rivers in Montana and Oregon. Actually, she says, it was pleasant-even when it was frightening. "I would have a perfectly scary day and go to bed and then I couldn't wait to get up and go again.""She battled with confidence," says Burns, who also worked with the film's river crew. "Through a lot of people telling her, 'Oh, this is so dangerous,' she started losing track of her aptitude in reading the water, to feel what's ahead and understand what you need to do to get there. A lot of people have been paddling for years and don't get it as well as she got it."Early on, Streep fell into the Kootenai River and was fished out downstream by a kayaker. "And then I had those rubber legs. White-hot fear in your lower extremities. I can still remember that boom-boom-boom feeling in my rib cage."What made it worse was knowing she was in charge. "I was scared for the other people in the boat, because really I was powering it. It was my boat. It was my fault if things didn't work."Except, that is, when she was a guinea pig. Hanson and crew were determined to get the camera close enough to convey a white-knuckle ride, so they expended considerable effort to film on the water. While the crew experimented, the $28 million budget shot up to about $44 million, says one studio source. They set up a floating barge Streep's raft could tow. They hooked a camera to the front of the raft, which weighed down its nose. And they tried to get close-ups with a camera mounted on the back of a raft ahead of Streep's. "But they could never keep focus," says the star.Hanson also brought in a camera-rigged helicopter that a pilot flew down into the canyon to get superior shots as the raft hurtled downstream. Burns was sent in place of Streep for the test. "Literally with all (her) might she was rowing to keep the helicopter wash from throwing them into the canyon," Streep recalls. "Kevin went up to Curtis and said, 'No f–ing way.' I was glad it was him saying it for once, not me."
Just as Streep began riding the rapids in June 1993, gossip columnist Liz Smith wrote that the actress had chosen The River Wild as an action vehicle to pump up her sagging box office appeal. Streep, who claims she's too old to worry about creating a new image, is irked by Smith's presumption. "It wasn't true, but there is no way I can respond to it without seeming defensive," she says. "If you look at the parts for women my age, no, I'm not going to turn that one down. I didn't pick it because I thought it would be popular."Why then? "I don't want to discourage anyone from seeing the movie who thinks it's just an action-adventure, but it really has a lot of other things going on, and that's what drew my attention."The River Wild puts Gail, her husband, and their son on a vacation meant to mend their unraveling family-both mother and son have just about given up on Strathairn's inattentive Tom, and Bacon's mystery man offers an inviting counterpoint. "Like The Fugitive, this is an action picture that's character- driven," Streep observes. "It's not black and white. The bad guys, they're not Dolph Lundgren, they're attractive. And the good guys-you don't really love this warring couple in the beginning. They have their problems."The actress and her character share similarities-both are 40ish mothers, evidently disciplined-but Streep doesn't work from the outside in. "I'm not very self-analytical," she says. "I get into a character then I find out, 'Oh, that's why (I) wanted to do this.' It's cultivated unconsciousness.""She's past the analyzing of the character," says Redford. "Her training and her experience have taken her to a point where she can be effortless with a lot of things other people have to work really hard at."At the end of the production, when the other actors were gone, Hanson needed to film some additional close-ups of his star. He set up a raft on some rocks on the shore. With nothing around to help her get back into character, he watched as her face subtly, and instantly, became Gail's. "I said, 'How do you do that?'" says Hanson. "She laughed. 'Curtis, I don't know. I've never known.'"
Streep isn't the kind of actress who takes her work home with her. How else could she find her role as a guilt-ridden Holocaust survivor in Sophie's Choice her most enjoyable work experience? "She doesn't dream about her roles or start sobbing at the table. She's a very sane person," says Carrie Fisher, who got to be a close friend while Streep filmed Fisher's Postcards From the Edge. "Work is work and family is family. And family is her priority."Nor was becoming a public figure what Streep bargained for when she started performing in her high school's musicals (in Bernardsville, N.J.) and later became a star at Vassar College and the Yale School of Drama. Over the years, she has given relatively few interviews and learned to contain what Fisher calls a naturally talkative streak. Asked if she's made her peace with being a celebrity, Streep says she's had no choice. Then, thinking again, she admits that no, she hasn't. "I'm going to go down fighting," she says.People who might interfere with her focus can get the bum's rush. A camera crew shooting publicity material for The River Wild was banished from the location when it started filming her performance after being warned not to. On another occasion, while watching an intimate campfire scene, a reporter was tapped on the shoulder and asked to leave."When you're being watched unnaturally you feel it, if you're a sensitive person. Who knows what this delicate thing is that actors are making? So if that's diva behavior, sorry," says the actress, who adds, "I don't have handlers. I do have a longtime makeup man and hairdresser who performs the scourge role in my on-set life and keeps people away."Living above the Serengeti plain while filming Out of Africa a decade ago prompted Streep and her young family to abandon Manhattan for rural Connecticut, and though she recently tried living in Los Angeles, it's back east, in the country, where she feels at home. True, her telephone company still uses rotary dialing and her satellite dish (there is no cable) was struck by lightning 12 times last year, but "every time it's out," she says, "I'm beside myself with joy."The quiet life has always agreed with her. Mary Louise Streep grew up in suburban Summit, N.J., in the '50s, the daughter of a pharmaceutical- company executive and a commercial artist. "When I was in high school and I was in a car with a boy and he was driving real, real fast, there was never an ounce of enjoyment of the thrill," she says, shaking her head. "Part of it is that I've always felt older. I've always felt about 40 (and) I did have this moment when I turned 40 that I felt like my clothes finally fit and I didn't have to be anything other than myself."As her oldest kids enter their teen years, Streep claims to want to work less. "I have so many children that it's very hard to pay attention to them and work," she sighs. "Now I have difficulty tuning in the professional side. The other side is louder and more insistent."
Early next year, following The Bridges of Madison County, she'll star with Liam Neeson in Before and After, based on Rosellen Brown's wrenching best- selling novel about a couple (she a doctor, he a sculptor) who struggle to keep their family together after a son is charged with murder. After that, her plans are indefinite, and she leaves her working pace to fate. "You're limited by the number of scripts you're appropriate for in a year. There are not 27, there are not 7. Sometimes there are none," says Streep, who finds the idea of forming her own production company "too fraught with politics, a lot of people, one-upmanship."Most of the women in movies are sex objects," she continues, "what my father calls 'scantily clad,' and they are there to be dumped, humped, maimed, or killed-a victim or an appendage. I always say to my kids, 'Read, read-why don't you read?' All the conflicted, interesting characters are in literature."And Meryl Streep movies.