Meryl Takes A Plunge
New York Daily News | December 01, 2002 | Written by Nancy Mills
---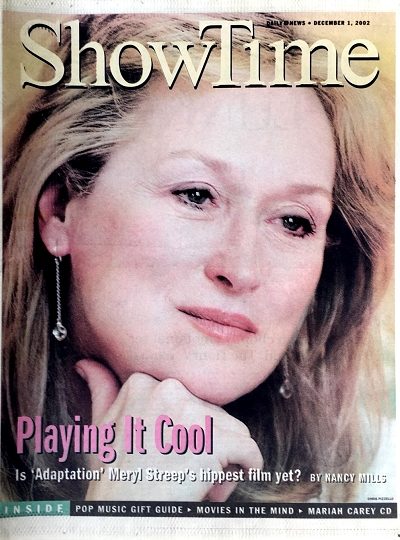 Meryl Streep has gotten many accolades during her 25-year acting career, but the one that makes her laugh the most is "the goddess." "I loved that," she says, snickering. "But who tries to live up to it? Clearly I don't." She gestures at her sensible clothes and modest makeup an appropriate look for her other life as a mother of four. "I tried a little too hard today, I'm afraid," she says of her attempt at glamour. "My eye makeup drives me insane. I should have learned by now."
Streep, 53, may have won two Oscars and had another 10 nominations, but they haven't done much for her confidence. "I have doubts all the time and have had all through my success," she says. "Your challenges grow, and what's expected of you grows. But the process is still the same. You still have to go down and get it. "I was just talking with Nicole Kidman [one of her co-stars in 'The Hours'], and she said she'd initially turned [the film] down. I said, 'Really? So did I.' She said, 'But I do that with everything.' I said, 'Really? So do I.' It's because I don't know if I can do certain things." She did eventually accept one of the three leading roles in "The Hours," and also took director Spike Jonze's offer to star opposite Nicolas Cage in "Adaptation," Jonze's followup to "Being John Malkovich," even though she initially questioned his reasons for wanting her. "I couldn't believe Spike and [screenwriter] Charlie Kaufman wanted me to be in it," Streep says. "I thought they'd get someone younger and sexier. These guys are very hip everything I'm not. They're very cool, and my children are very clear that I'm not cool. I was worried that maybe they wanted to make fun of me, so I gave the script to my son [Henry], who's 22 and a really good actor. He said, 'Mom, it's a fantastic screenplay. Shut up and do it.' "
Jonze says, "We wanted someone who had experience in their life, as opposed to someone in their 20s who's trying to figure out what their life is about. There are a lot of scenes where Meryl's character doesn't talk. We thought if anyone could bring that character to life, she could." Though based on Susan Orlean's best seller "The Orchid Thief," "Adaptation" is more about the problems Kaufman had trying to adapt the screenplay than about the horticulturist (played by Chris Cooper, see right) arrested for stealing specimens of a rare orchid from a Florida swamp. Streep plays Orlean; Cage plays twin writers Charlie and Donald Kaufman. "In a way, it's about Hollywood," Streep says, "but it's more about being true to yourself. It makes us take a hard look at ourselves and our own pathetic humanity, what we are and how we live authentically." Despite Jonze's eagerness to work with Streep, he was intimidated by her reputation.
"I was really nervous," he admits. "I didn't know how much direction Meryl wanted. She has done so many movies and so many incredible performances that I thought she might come in and say, 'This is what I'm going to do.' But she was very inclusive of me in her process. I'd give her a suggestion, and she'd say, 'That's a really good idea. Let's try that.' As much as any of the actors I've worked with, she wanted to try stuff."
Fear of Failure
Streep is realistic about her iconic image. "That gets in the way at the beginning of projects sometimes with other actors," she says with a sigh, "although it buys you a lot in terms of directors thinking they're getting something good. Little do they know I don't know what I'm doing." She breaks into a girlish laugh. "With 'Adaptation,' it was important for me to find out if they wanted me to do what I do, which is commit to the truth of this character. What's at the core of 'Adaptation' is insecurity and that fear of failure, especially for creative people. Unfortunately, we have to break down everything that's complacent, sane and confident in order to get somewhere that's interesting. It may be the most valuable part of the process, but it sure feels like hell while you're going through it." It has paid off for her time and time again.
"Meryl Streep has proved herself both in the short term and the long term," says Todd McCarthy, chief film critic for Variety. "After that initial phase where everything she did was nominated for an Oscar, she went into semi-eclipse. But she's back now. Sometimes when someone has been away for a while and you see her again, you remember what you've missed. Go back and watch 'The Seduction of Joe Tynan,' 'The Deer Hunter' and 'Sophie's Choice,' and you see how great she was." Ella Taylor, film critic for L.A. Weekly, notes: "There is an enormous potential audience of middle-aged women out there. If Hollywood wants to make movies for them the way they did in the '40s, Meryl could come back into her own." Taylor, though, is wary about Streep's talent. "She can be really great, but you see the acting a lot. You never quite forget it's Meryl Streep. She's not a person to disappear into a part. When she plays a lesser part, like she did in 'Music of the Heart,' it's painful to watch." Streep, whose last screen outing was that 1999 flop, has not had a hit since 1995's "The Bridges of Madison County."
"They don't write for people 50 and over," she complains, "although scripts do trickle in. The material that's gotten me excited and engaged my mind and heart recently has been the stuff that talks about what matters. Otherwise, why do it? "I have a lot of responsibility," continues Streep, who has four children Henry, 22; Mary Willa, 19; Grace, 16; Louisa, 11 with her husband, sculptor Don Gummer. "It's hard to abdicate and go off and leave it for their father, where it's Liberty Hall. All hell breaks loose. No, I'm just kidding but I'm certainly the bad cop." "The Hours" interweaves the lives of the novelist Virginia Woolf (Kidman), a housewife (Julianne Moore) in postwar L.A. and Clarissa Vaughan (Streep), a modern-day New York book editor who is throwing a party for her former lover (Ed Harris), a poet dying of AIDS. "[Streep's] character needed to have an emotional range combined with an incredibly confident exterior to deal with her sophisticated world," says Stephen Daldry, director of "The Hours." "Yet she's also living acutely with unconscious anxiety. Meryl is perfect for the part. She's also just a good soul."
"You wonder how could they make a movie out of that book, because it's so interior," Streep says of Michael Cunningham's Pulitzer-winning source novel. "But [screenwriter] David Hare, whom I worked with on 'Plenty,' is interested in a woman's mind and motivations. He's alert for the telling delicacy of certain details that can tell you everything about a person. That's what the book 'Mrs. Dalloway,' as Virginia Woolf conceived it, was to know everything about a woman by observing one day in her life." "The Hours" was Woolf's working title for "Mrs. Dalloway," but Streep notes the title resonates further. "Ed's character talks about facing the hours in a day," she says. "We think of our lives as this great big long journey, but for some, this trip through the hours is unbearable. This film looks at three lives for whom that's true."
Mortal Thoughts
Streep is currently completing the HBO movie of Tony Kushner's play "Angels in America," which, like "The Hours," addresses mortality, a subject much on Streep's mind. "We moved to New York Sept. 9 last year," she says. "My mother died two weeks later. That's a big marker in your life I was very close to her. It was a tumultuous year. I'd done 'The Seagull' in Central Park, and I was encouraged to think I could act in more plays. I had two kids graduate one from college and one from high school. One was finishing junior high, and one was graduating from her fourth-grade school. It was time for everyone to shift to a new school, so we thought we'd move back into the city. We'd lived there for 10 years in the early part of our marriage, and then we'd been out in the country for 16.
"We said to the kids, 'You'll love the city. It's just great.' But it was a rough beginning. They didn't know what a lock on a door was. They'd never handled keys. I'd sold them a bill of goods. On the second day [Sept. 11], they were in school and we couldn't reach them for 12 hours and they didn't know anyone." Streep constantly brings up her children and then worries she has said too much. "My 16-year-old just hates being talked about," she says. "It's so embarrassing for her to have a mother. It's harder on the girls because they read everything. My son's fine. His friends are not interested at all. 'Meryl who? What was she in?' It would be different if I were Reese Witherspoon."
Had Streep made different choices, she might have been her generation's Witherspoon. But she insists, "I'm glad I went to Vassar and didn't drop out to be an actress at 18, even though I was really much cuter than when I started at 28. "Sometimes I wish I'd been younger when I had my kids because I'd have had more energy and I'd have been a lot less cranky. But then I wouldn't have gone to drama school [Yale]. I'm glad I got all of that. My life seems pretty good." Except for her cooking, she adds.
"My husband thinks I'm okay, but he has a low threshold. I do cook, but they complain when I do, so I leave it to someone else generally. Natasha Richardson can open the fridge and see what's in there and say, 'Oh, I know what I'll do with this.' And she'll just put it together." Instead, Streep does it with the characters she plays.
"Adaptation" opens Friday; "The Hours" opens Dec. 27. *