Total Immersion
Saga Magazine | March 2003 | Written by Honie Stevens
---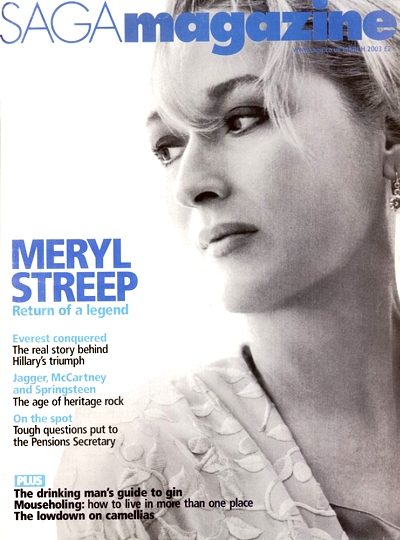 It's been three years since Meryl Streep last starred in a film. None of the scripts that came her way had been strong enough to take her away from her beloved family. But now she has two films due for UK release: the Virginia Woolf-centred The Hours, and Adaptation, Spike Jonze's follow-up to the quirky hit Being John Malkovich. At this year's Golden Globe ceremony, The Hours won the Best Drama award; Streep won Best Supporting Actress for Adaptation.
The screen has missed Streep, who has given addictively moving performances in several classics, and many highly watchable portrayals in otherwise average films. She has two Oscars (Best Supporting Actress, 1980, for Kramer vs. Kramer, and Best Actress, 1983, for Sophie's Choice). For Music of the Heart (1999), she received her 12th nomination, tying with Katharine Hepburn's record. It took Hepburn almost 50 years between her first and last Oscar nominations; Streep amassed her dozen in just 22 years.
In the year of her first nomination, for The Deer Hunter in 1978, Streep went through an experience that taught her to be highly selective of film roles, making her acutely conscious that they would keep her occupied for months and account for a significant portion of her life. Her then fiancé and Deer Hunter co-star John Cazale died in March 1978 of bone cancer, soon after filming was complete and before the film was released. She said of the experience: "I learnt what really is important. I found what is true and what's just stupid and meaningless and not worth pursuing." Cazale appeared in only five films in his career, all of which were nominated for Best Picture.
Soon after Cazale's death, Streep married sculptor Don Gummer and started a family. She has been a mother for more than two decades; the children are now 11 (Louisa), 16 (Grace), 19 (Mary) and 23 (Henry). "I've been collecting their artwork for so many years – I looked the other day and there was this pile of stuff," she says. "I've been going to parent-teacher conferences for years because the children's ages are so spread out. And as far as leaving them at home when I go on location is concerned, nothing has changed. I want to be with them even more when they're teenagers, so I know what's going on."
Judging by her approach to both parenting and acting, the 53-year-old doesn't do anything by halves. Her male counterparts (and previous co-stars) Robert De Niro and Jack Nicholson don't have anything like the stable family background that Streep has cultivated. "I'm passionate about my husband," she says. Yet Streep matches her legendary leading men in her ability to immerse herself in a role and dedicate herself to her work. For Music of the Heart, she stepped in late to take over a role as a music teacher originally meant for Madonna. To make up for lost time, Streep practised the violin for six hours, eight days a week. "I have not retained those skills," she admits. Nor can she now speak Polish, which she learnt in 1982 for Sophie's Choice. "They are what I call serial obsessions. I go from obsession to obsession. With each different job I tend to get lost in the vortex of each particular one. And then, you know, the next one comes up and they go out. I can still row," she adds, referring to her 1994 role as a white-water rafting expert in the action film The River Wild. "But I don't get to do it that much!"
In the 1980s, Streep was ridiculed by some for taking her serial obsessions too far, becoming the butt of jokes because of her ever-changing accents in films. She was a Polish survivor of a Nazi concentration camp in Sophie's Choice, Danish plantation owner Karen Blixen in Out of Africa and an Australian mother dealing with her child's death in Cry in the Dark. Her accents were pretty flawless, even in the most emotionally fraught scenes, but when you are in a class of your own, the critics are that much fiercer. "I'm always baffled by this question," Streep once said, when asked about her love of accents. "How could I play that part and talk like me? The problem with accents is, the day before you go in, you try it out on the other actors and they say, 'God!' And they'll laugh at me and it's really so stupid because they know me." Yet any professional insecurities Streep may have felt over the years have been assuaged by the level of praise she gets from her peers. She has often cited as the actor's actor, the one to follow.
In The Hours, based on Michael Cunningham's Pulitzer Prize-winning novel, Billy Elliot director Stephen Daldry ambitiously weaves together three stories concerning the life and work of Virginia Woolf. Nicole Kidman (in a performace that won a Golden Globe for Best Actress) plays the author, struggling with depression in 1923 as she writes Mrs Dalloway. Julianne Moore plays a pregnant housewife in 1949 who can't stop reading Mrs Dalloway. And Streep plays a modern-day New York book editor whose nickname is Mrs Dalloway because of her likeness to the novel's character. All three segments were filmed separately; during the film's making, Moore and Kidman did not meet their idol, Meryl Streep. But Kidman nervously sought out her colleague at a later date. "I was very pleased to finally meet Meryl, who I hold as the greatest," enthuses Kidman. "I am incredibly proud to have my name there with hers on the film. She really is the great one."
If the structure of The Hours sounds arcane, its plot is simple by comparison with Adaptation. The cast portray actual Hollywood personalities – Streep plays writer Susan Orlean, whose work The Orchid Thief is being adapted for the big screen by writer brothers Charlie and Donald Kaufman (both played by Nicolas Cage). In reality, Orlean wrote Adaptation, which was adapted by the Kaufmans. It's a labyrinthine concept, but Streep is used to that. "Maybe the closest thing that I've done to this is The French Lieutenant's Woman, where Harold Pinter adapted John Fowles's novel and employed this conceit of an actress having a dilemma similar to the one in the book," explains Streep. She jumped at the chance to work with director Spike Jonze, even if it meant an exhausting back-to-back schedule.
"The Hours was shot first, two years ago, and then I barely paused for breath to do Adaptation," she recalls. "Then I did a play in Central Park. [The Seagull, directed by Mike Nichols, with a cast including Kevin Kline, Natalie Portman, Phillip Seymour Hoffman, John Goodman and Christopher Walken.] Then we were scheduled to do re-shoots on The Hours, and September 11 happened and then my mother died. So we postponed the re-shoots until January of the following year, and we did the re-shoots of The Hours, and then I started Angels in America," she says, referring to her role in the TV version of the play, a star-studded adaptation also by Nichols, her friend and frequent collaborator. Streep still insists that it's not easy to find the right kind of work. "Good writing is hard to find because they don't write for people 50 and older. So I'm always looking for things that are good, like Adaptation. The good ones trickle in. I think that it's a fertile time, actually, mostly because no one knows what will be successful. A wider menu of films is being made, but there's still not a lot for women my age."
In the late Eighties and early Nineties, Streep's pace and edge seemed to have cooled when she took on more light-hearted roles, perhaps to amuse her children as much as herself. She was the neurotic romantic novelist in She Devil and the head-swirling, egotistical actress in the cartoon-like Death Becomes Her. She played another actress in the Hollywood self-satire Postcards from the Edge, portraying a star struggling to emerge from the shadow of her mother's career. She ended the film triumphantly with a knockout song and notched up another Oscar nomination to boot. The New Jersey-born Streep originally trained as an opera singer, but she has yet to find another suitable role to showcase her singing talent. Somewhat teasingly, she reveals:
"I have something that I'm thinking about right now. I was thinking about saying it, but I won't. It's way, way premature. It's in the theatre, but not Broadway, necessarily." In the meantime, with two films due in British cinemas, Streep's dignity and perfectionism is as much in evidence as ever. It has been 20 years since she won her last Academy Award, but with Golden Globe success for Adaptation and The Hours, Meryl Streep is back and hitting her stride.