Streep's Ahead
Radio Times | February 07, 2009 | Written by Mariella Frostrup
---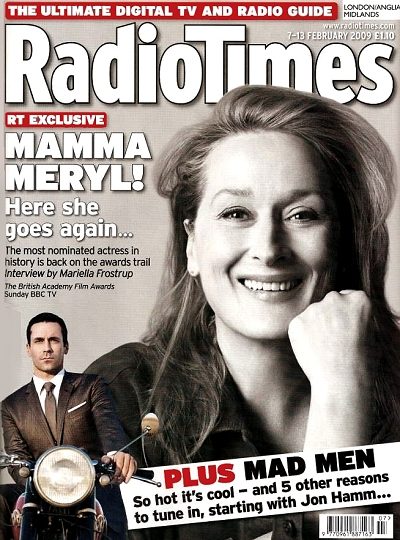 Within seconds of meeting Meryl Streep, the double Oscar-winning legend was down on her hands and knees with a roll of toilet paper. The recipient of 15 Academy Award nominations and 12 Bafta nods – inclduding best actress for "Doubt" at the awards ceremony this week – and star of the UK's biggest grossing movie of all time, "Mamma Mia'" it's an understatement to say I was surprised I'd been told that Meryl Streep is the most congenial of A-list actresses, but that normally means they pretend to notice the price of sandwiches on the room-service menu, rather than insist on mopping up spilt tea. We'd been introduced moments before in the corridor of Claridge's hotel in London's mayfair, and the actress- currently to be seen as the forbidding, Bafta-nominated nun, Sister Aloysius, in "Doubt" – so often credited with playing ice maidens proved immediately to be the antithesis. Dressed in black trousers, ruffed shirt and cardigan, with her long blond hair casually swept up in a clip, she was disarmingly friendly, even lending me her glasses to help me unravel the mystery of my illegible notes. Quite honestly, I think if I'd suggested we order in and make a night of it, she might have agreed.
Then again, as I understood more clearly in the afterglow of our meeting, she really is one of the world's finest actresses. From her Oscar-winning performances as a haunted death-camp survivor in "Sophie's Choice" to free-spirited Karen Blicken, farming in Kenya in "Out of Africa", from the tortured mother of the Australian "dingo baby" case, wrongly convicted of murder, in "A Cry in the Dark", to the exuberant singer and dancer doing the splits in "Mamma Mia!", she truly can shapeshift. In person, Streep is most definately one of us: earthy, funny, animated and not averse of the odd swearword. Concerned with the plight of women, militant about the lack of decent roles, flushed with her newfound box-office success and eager to get home to New York to keep an eye on her teenage daughter (she has three daughters and a son with sculptor Don Gummer), she's as real as the magazine in your hand. Clearly delighted that, as she approaches her 60th birthday, she not only remains in full-time employment – a triumph in itself for an actress – but has been reborn as the star of a blockbuster, it's no wonder she's smiling.
Mariella Frostrup: Did you take on the role in "Doubt" because in some way you felt you had to atone for all the fun you had in "Mamma Mia"?
Meryl Streep: Ha ha ha. That's divine. No, I was talking to them while we were making "Mamma Mia" and I began (work on "Doubt") almost the second I wrapped.
People are surprised by the diverse roles you play – but isn't that your job?
They also think you have control over what comes your way. I don't have my own production company or some brilliant 26-year-old reading scripts for me. I just take what comes. I like a character you judge very definately in one way at the beginning and then my job is to erode that judgement. The most interesting characters are the ones who are most misunderstood.
As in "A Cry in the Dark", where you played real-life Lindy Chamberlain, who was accused of murdering her baby?
That was a brilliant script and one of the earliest examples of how news has become entertainment. Most of the crew on the movie thought she'd done it, but I was convinced of her innocence. I felt for her, she was such a cantankerous character. If she had just been sweeter, so much more would have come her way. She thought her grief was private and wouldn't display it for entertainment of the evening news.
Were you aware early on of the danger of being typecast as this willowy-wispy, long-blonde-haired actress, and how did that influence the roles you chose?
I played that kind of long-haired girl in "The Deer Hunter", but then I looked for opportunities to screw with the way I looked and sounded. I wanted to have more fun.
In the middle of your career you moved from New York (where she lives now) to Los Angeles for five years because you wanted to act as a day job and spend time with your kids. Was that one of the few times you took parts because you just wanted to work?
It's true I wanted to be able to come home and have supper with the family. If you wanted to work you had to go on location or got to LA. So we went to LA. Goldie Hawn was a friend and we did "Death Becomes Her", which was fun, but it turned me away from ever doing anything with CGI again because it's very long hours, very tedious and it doesn't have anything to do with acting. It's not what I like to do – no momentum or sweep of emotion.
Was there a point when you knew you couldn't do Los Angeles any longer?
It's a fantastic place to raise kids and my husband was ecstatic – he was making sculpture outdoors nine months of the year – but I felt I had to put on a face just to drop the kids off at school because the other mothers would say, "Did you see her? She's really letting herself go," I couldn't bear it
Did you feel a different kind of pressure on you in LA?
There isn't any pressure on you there as an actress, there's a pressure on you as a thing. It's about the other stuff, the image thing, which I've never been interested in. I think it's detrimental to your ability to shapeshift and do the job you have to do.
Would you have done "Mamma Mia" 20 years ago?
I'd like to think so, but it wouldn't have been as consoling to people in the audience who are a neglected group in my opinion. If I had been 20 years younger, it would have been another dewy 30-year-old jumping up and down. The point (of Mamma Mia) is that it's people who have lumps and bumps and wrinkles and a good time and love their children and have regrets about the past. Everybody has that, but they still want to get up on a Saturday night and have a good time once in a while… in spandex!
So who are this neglected audience?
Oh, I would say women over 40. There are a lot of movies for men, and women who are dating. They always say in the Hollywood boardrooms, "THe women make the decisions about what movie to see." And I say, "Because they're trying the keep the peace, they'll go to see what he wants to see!" But maybe after 40 you don't feel like agreeing and you're tired of "How do they do that? How do they blow up… f**ck me, that's awesome!" I think with the success of a few big pictures like "Mamma Mia" addressing an audience that never mind being neglected, have been disdained in the boardrooms, there will be other fimls that target that audience. "Mamma Mia" is a rare thing you can enjoy with your mother or your child, and its aim is only to make you happy.
You look ridiculously good for a woman your age. And no matter how noble we are, there is still a shred of vanity in all of us…
Yes! You don't mind being older, but you don't want to look older. Come on! Everybody has that. Every year I've stood up at various Academy Awards with the most beautiful women in the world and I can't help but think, "Oh my God, I feel like a troll!" But what can I do? I have friends who've died and I have friends who are sick and I'm glad just to be alive. I wasted so many years thinking I wasn't pretty enough and why didn't I have Jessica Lange's body or someone else's legs? What a waste of time. Now I'm enjoying the tatters of what's left and I'm very happy. Part of it is having beautiful strong daughters and hearing them whine about what's wrong with them. I'm like, "Shut up! You're lovely!"
You daughter Mamie (25) is an actress. How difficult would it be for her to pursue the kind of career that you've had because of the pressure to look preserved in aspic?
It's ridiculous and it's detrimental. Charlize Theron did herself a big favor by screwing up the perception of her early by doing "Monster". It just throws people off a bit.
We're told actresses should disappear at 40 and only come back to play eccentric maiden aunts, but after "Mamma Mia" you've overtaken actors like Angelina Jolie in box-office…
Oh I thought I'd be done at 40. Bette Davis was just 40 – 19 years younger than I am now! – when she did "All About Eve", playing a washed-up actress, which she perceived as being. She was in her early 50s when she played those gaulish old hags in "What Ever Happened to Baby Jane?" and "Hush… Hush, Sweet Charlotte". Those were the choices for actresses of that age. So there's been a big change. At 48 you were getting the shovel ready to go in… I'm out there on behalf of all the old broads and I'm proud to be there. Some people are happy about it, some are not… so screw 'em!
"Mamma Mia" is one of the top 50 grossing films of all time. Does that give you power?
I now have my own slot! That means a box-office slot in the summer when it's a good time to put out a blockbuster. "Mamma Mia" went in it last year and my next film, "Julie & Julia" is going in it next summer… isn't that a nice thing?