Fighting for Love
AARP The Magazine | August 2012 | Written by Meg Grant
---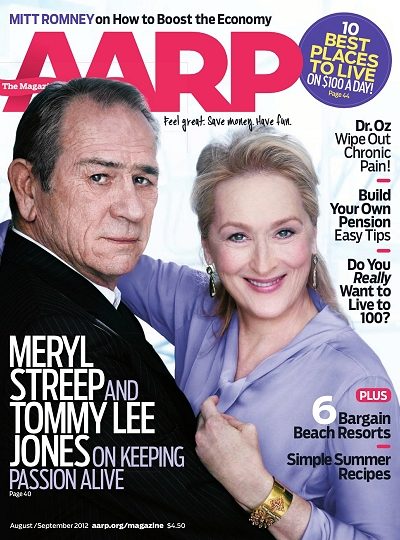 At first glance, they would seem the unlikeliest of couples. The classically beautiful Meryl Streep was her New Jersey high school's homecoming queen and always compassionate and willing. Tommy Lee Jones, in contrast, came from rural Texas, where even in youth, his face seemed to mirror his hardscrabble environment, carved with lines like a peach pit. Equally harsh is his taciturn demeanor. Strange bedfellows unless you ask director David Frankel (The Devil Wears Prada), who cast Streep and Jones as the leads in his upcoming film, Hope Springs, a portrait of a midlife couple grasping to regain their sexual passion. "Tommy's an extraordinary actor first, but he's also sexy," says Frankel. "It was important to have someone play opposite Meryl whom she found really sexy, so you could imagine a sexual history between them that had died."
In fact, Streep, 63, and Jones, 65, have more in common than it appears. Both possess sharp literary intellects. (During our photo shoot, Jones, a Harvard grad, cracks up when his wife offers a line about Southern literature from novelist Pat Conroy, and Streep, who got her M.F.A. from the Yale School of Drama, makes reference to the Roman poet Lucretius.) They claim four Oscars between them but cite their offspring as their proudest accomplishment. Married for 34 years to sculptor Don Gummer, Streep has four children, ages 21 to 32. Jones, wed to third wife Dawn since 2001, has a son, age 29, and daughter, 20, from his second marriage. Now real-life empty nesters, Streep and Jones drew from experience for their roles in Hope Springs, in which 60-somethings Kay (Streep) and Arnold (Jones) sleep in separate bedrooms. That is until Kay decides to reignite the flame between them and drags her uninterested husband to an intensive marital-therapy week with Dr. Bernie Feld (played straight by Steve Carell). The film, with jaw-dropping directness in risqué sex scenes, follows Kay and Arnold as they attempt to reconnect. It was a daring undertaking for two mature actors, but Streep and Jones were undaunted. "The issues about sex are delicate yet universal," says Frankel. "Nobody thinks they're having enough sex — that goes for teenagers and people in their 70s. This movie is about intimacy, and Meryl and Tommy were excited to confront that. There was no squeamishness on their part." There is, however, a bit of squeamishness on my part when I sit down with the actors to discuss sex after 60. To loosen things up, I offer them some wine. "No, thank you," Streep demurs. "Sure!" bellows Jones, to which Streep responds coyly, "OK, then I'll have some, too." Wineglasses in hand, we begin.
This is a little intimidating! I'm sitting down with Meryl Streep and Tommy Lee Jones to talk about sex.
Meryl Streep: Is that what this is about?
Well, sort of. The movie is like no other movie I've seen — so real. When you first read the script, what was your reaction?
Tommy Lee Jones: I thought it would be a lot of fun.
MS: This script was on one of those lists in Hollywood — the 40 best unproduced movies of the decade, or something. And you read it and understood (a) why it was good and (b) why nobody wanted to do it. [Laughs.] So that got me. I like things that seem like they have a problem. I also thought that built into it was something really funny but lodged in something very real. And that interested me.
Did anyone advise either of you to do it or not to do it?
MS: Nobody can tell us anything. [Laughs.]
TLJ: I didn't get any advice one way or the other, but it was clear that, at long last, I had a chance to work with Meryl, so there was no question in my mind that I wanted to do it.
What about your spouses? Did you show the script to them and say, "What do you think?"
TLJ: Oh, yeah. My wife loved the screenplay and loved the idea of me doing it.
MS: I think a lot of people will be interested in this, people not just of our age but of any age, really. Young people, too.
Would you take your kids to see it?
TLJ: Of course. It's funny.
And you would be OK with the bedroom scenes?
MS: Yeah. I think it's — you know, it's love.
TLJ: My daughter's a second-year acting student, and it's fun to share these things — although my kids are very tough critics.
MS: Your kids are always your toughest critics!
Did you identify with the characters you play?
MS: I believed my gal. I believed who she was, and I felt like I knew her and loved her. I just could see the world through her eyes.
Tommy, what about your guy, Arnold? Did you identify with him?
TLJ: No. I'm not like that at all, but I know people who are.
But, obviously, you understood a reluctance to talk about and confront the issue of sexual intimacy? Why is that so hard for people to do?
TLJ: I don't know. I've been living with my wife for 18 years. It hasn't been [an issue]. We get along fine. We like each other quite a lot.
MS: But I think life is long, and there are a lot of phases you go through as a human being. You live through all sorts of stuff when you're in a long marriage: real highs and lows, and things that strain — and solidify — your relationship. Often it's hard to see each other new each day, and sometimes it's good to encourage that.
So what would you say is the key to keeping things "new"?
MS: Oh, I don't make any prescription myself.
TLJ: Stay interested.
MS: Yeah, but I think it's yourself, don't you? If you're bored with somebody, it's because you're bored with yourself. If you have a problem with somebody, often it's something in yourself.
TLJ: I always told my children when they whined "I'm bored, Dad" that "Only the boring are bored."
MS: I'm going to steal that!
If you could call anyone you know for marriage advice, who would it be?
MS: I wish I could call my mother. I wish I could call her every day.
While Hope Springs is about marital passion, it's also about finding passion in everything you do. How do you continue to be passionate about life as you age?
MS: Well, I find the older I get, the more intense my appetite for living and for appreciating life gets. I think I was heedless when I was younger. I thought it was endless. But I just lost two really close friends in the last two years, and, man, you realize you've got just seconds. I just — oh! I mean, my kids wouldn't dare say they were bored to me. I would kill them! How dare you! You have the gift of life. You've got to get out there and eat it!
TLJ: That's what I do.
MS: Well, you're insane! You play polo. You get on a horse and flirt with death. [Laughs.]I just don't get it!
TLJ: I am insane! Horses have been important to me. [Pauses.] Look, I've got a young, beautiful wife, and I don't do anything that is not fun. I just don't do it.
But have you become more intent on appreciating each moment as you've gotten older?
TLJ: No, I've been doing that all my life. I'm a hedonist. That's just the way I am. I mean, I don't think I've ever had a real job! [Laughs.]
MS: I don't think it's unusual for my friends and people my age [to feel the way I do]. I really don't. I only see bored 20-year-olds. I don't see any bored 60-year-olds. People may get crotchety, mean, but it's because they hold life to a high standard. I try to curb that instinct myself, but it's there. You just want things to be better.
Sometimes your health can get in the way, though. My father was passionate about his work as a surgeon until he developed macular degeneration later in life. He had a hard time finding something else that interested him anywhere near as much.
MS: Oh, my mother had that, too. She was an artist, and it was really hard. But while you've got your health, you have everything.
You both have had long film careers. You've managed to continue to be creative and productive. Has it ever been tough — have you ever been frustrated trying to keep going in an industry that often celebrates youth?
MS: I think there's not a sell-by date on actors. If they want to, they can keep going, like Chris Plummer. But I do think we've been lucky [glances at Jones], speaking for the group.
TLJ: I've been lucky — and happy. I've made some bad movies. And I really enjoyed it! [Laughs.] I've made some good movies. I enjoyed that, too. I like being an actor.
MS: Yeah, I do too. But you also understand what a crapshoot it is and how serendipity plays a huge part in somebody's ability to do the thing we do and love. It's not a piece of cake by any means, but when I say I'm lucky, I do appreciate that.
Meryl, three of your four children are now working in film and theater. And Tommy, your daughter is also pursuing a career in acting.
TLJ: She's an acting student at the State University of New York in Purchase, a very good acting school.
Do you have these kinds of conversations about luck with her?
TLJ: Well, I'm delighted that we can share some things and that I have some experience that can be of comfort to her. She sometimes struggles, but she's very good, and that makes me very proud.
MS: It makes you feel good when your kids choose to do the thing that you do, even as much as you come home and complain about it. They go undaunted into the fray, which is pretty amazing, considering all the things lined up against them that they don't even know about.
Do you ever think, "I'm going to stop doing this at some point"?
MS: I think that every year! [Laughs.]
TLJ: I like being a director, and I'm never going to stop being an actor.
Yes, you made your directorial debut a few years ago.
MS: What's it like to direct yourself?
TLJ: Easy …
MS: I can't believe that. You sound like Clint [Eastwood].
TLJ: … if you can do without sleep!
MS: There's the deal breaker!
I hear your next directing project is a movie called The Homesman. What's it about?
TLJ: It's about mid-19th-century Nebraska and the Homestead Act and what happened to the women who came west. A lot of them were not used to living in a dugout, with no companionship, about a 75 percent infant-mortality rate, and no antibiotics. Brutal winters, consistent crop failures — it drove a lot of them crazy.
Have you cast the women yet?
[Streep leans toward Jones, hands steepled as if in prayer, and smiles.]
TLJ: I haven't cast anybody, but maybe I can talk Meryl into reading the screenplay.
MS: That sounds good!
Meryl, do you want to direct?
MS: I just don't. I really like acting. And I love to get in the car and put on some music at the end of the day, drive home, stop thinking about it. If you're a director, you never take that hat off. You live it. It crowds out a lot of other things. Acting crowds out a lot of stuff, too. A lot of things press in on me. But if I added to it, I couldn't just jettison in that way.
Do either of you think about doing something else entirely different?
MS: He does something entirely different all the time. I don't know how you do it all.
TLJ: We're in the cattle and the horse business. We raise commercial mother cows, and we also raise, train, sell and play polo horses. We have polo fields on our ranch in San Saba, Texas, and in Palm Beach County, Fla., and Argentina.
Polo seems as if it's the toughest sport.
MS: Yeah, if you've ever watched a match — oh, my God!
Do you play, Meryl?
MS: No, none of that. [Laughs.] I cross-country ski. I no longer downhill ski because — here's my thing — I don't want to fall. You fall in cross-country and it's a soft landing — you're not headlong into a tree.
What else do you love to do?
MS: I swim a lot. But I like everything. There's just not anything I don't like to do. That's the problem. It means I'm very distractible. [Laughs.]
Of all your passions and accomplishments, what is it that makes you most proud?
MS: My kids.
TLJ: Yeah, I have two pretty happy kids. I like being around them.
Is it that they're happy that makes you proud?
TLJ: I've kept them safe. [Laughs.] I've kept them alive! That's pretty good.
MS: Yeah, kineahora [a Yiddish version of knock on wood]. You don't want to say what you're grateful for. It's enough to say I'm happy for them. I'm happy.