Meryl Streep: Love, loss & what I've learned
Closer Weekly | September 02, 2019
---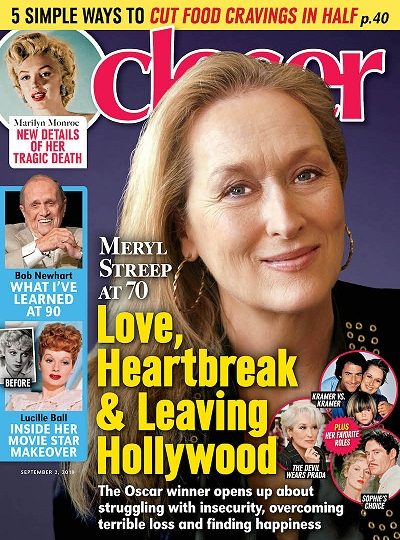 While we know Meryl Streep as a legendary talent — having amassed a record 21 Academy Award nominations — she had to go through her fair share of tragedy and self-doubt along the way.
As a kid growing up in New Jersey, the 70-year-old — whose real name is Mary Louise (just like her Big Little Lies character) — said she was "an ugly little kid with a big mouth, an obnoxious show-off." As a teen, she recalled being "a nice girl, pretty, athletic" while discovering her talent for "imitating people's speech." After attending Vassar College for undergrad and earning an MFA at Yale School of Drama, Meryl set out to take take over the world — the acting world, that is. At 27, while doing Shakespeare's Measure for Measure opposite John Cazale — the actor responsible for Fredo in The Godfather saga — it was love at first sight, despite their 14-year age gap. "He wasn't like anybody I'd ever met," she noted. A few years later, though, disaster struck as John fell ill in May 1977 and was diagnosed with terminal metastatic lung cancer. Meryl was able to hold it together and stayed by her lover's side until he died at age 42 in March 1978.
"Life is precious," the Kramer vs. Kramer star noted of the loss. "When you have lost a lot of people, you realize that each day is a gift." It was this heartbreak that led Meryl to the longtime love of her life. After she moved out of the apartment she shared with John, she began subletting the home of sculptor Don Gummer, her brother's friend, and the two began corresponding. Don quickly won over her heart and the two eventually tied the knot on September 30, 1978. They recently celebrated their 40th wedding anniversary. "I found a great husband many years ago — I'm lucky in that way," the Sophie's Choice actress gushed.
The couple settled down in Connecticut and started a family. They have four children — Henry, 39, Mamie, 36, Grace, 33, and Louisa, 28 — and Meryl began making movies while Don stayed home to hold down the fort. Though she found major success, it wasn't easy for her at first. "I was so unhappy," Meryl said. "I thought my nose was too big. I thought I was fat. Because these are the things people tell you." Meryl was able to overcome these insecurities — no thanks to winning three Oscars, most recently for The Iron Lady — and fell in love with playing interesting characters.
Now, Meryl is playing the greatest role of her career: grandmother! She became one when daughter Mamie gave birth to a son with partner Mehar Sethi. "Motherhood, marriage, it's a balancing act," Meryl declared. "Especially if you have a job that you con- sider rewarding. It's a challenge but the best kind of challenge."