Review: The Laundromat
Empire Magazine | October 2019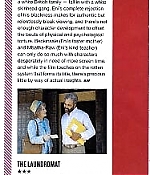 ---
For a former retiree, Steven Soderbergh has hardly mellowed: with The Laundromat, his unravelling of 2015's Panama Papers leak, he's as mad as hell. That leak pulled back the curtain on corruption affecting just about all of us in one way or another, and Soderbergh does the same here, ripping down artifice as Gary Oldman and Antonio Banderas, playing real-life law firm assholes Jürgen Mossack and Ramón Fonesca, stride from set to set explaining their methods to camera, not so much breaking the fourth wall as ram-raiding it. It's a little bit Monty Python, and a little bit smug. There is much of this medium-busting in the film, which is adapted (by screenwriter Scott Z Burns) from Jake Bernstein's Panama Papers book Secrecy World and doubles down on The Big Short's actor-splaining. Mercifully these jarring meta moments sit between more conventional, episodic chunks of narrative, loosely strung together by Meryl Streep's truth-hunting widow, who uncovers a Kafka-esque trail of bewildering scams, shell companies and tax evasion.
If it's anyone's film it's Streep's, but even she is sidelined — The Laundromat boasts an all-star cast of cameos, with the likes of Jeffrey Wright, Sharon Stone, Robert Patrick, David Schwimmer and Matthias Schoenaerts all doing their best with limited screen time. You want to see more of them all, particularly Nonso Anozie's billionaire bedswerver, trying to keep control of his empire while wrangling his furious wife and daughter. That mob in particular deserve their own TV series. With each segment, a comic tone makes way for something more sober as Soderbergh reveals the bigger picture — all of the stories illustrate something unique about the shadowy string-pulling that makes the world go round, and it's sinister stuff. But although the structure makes sense as a thematic jigsaw, piecing together the global malice that screws us all, the disconnect doesn't make for such rewarding drama. It's a muddle of a movie, weirdly so for something trying to make sense of the state we're in. Still, it's a righteous call to arms. By the time it's done, Soderbergh has not just obliterated the fourth wall but demolished the entire building. By that point, the straight-talk feels entirely justified.
This is intentionally jagged but nevertheless frustrating, a little too self-satisfied for its own good. Yet there are some great moments and, when it relaxes a bit, it has charm to spare.