Major Barbara

May 02 - May 06, 1973

|

Yale Repertory Theatre
Directed by:
Alan Miller |
Literature:
George Bernard Shaw |
Costume Design:
Zack Brown |
Production Design:
W. Atkin Pace, jr.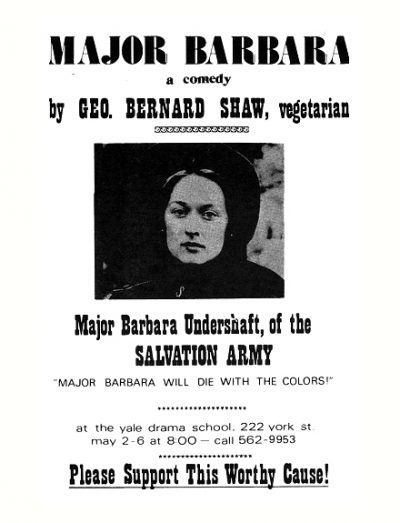 Barbara Undershaft (Meryl Streep), a major in the Salvation Army, is estranged from her wealthy father, Andrew Undershaft (Walton Jones), a munitions manufacturer. Although the Salvation Army condemns war, it gladly accepts a donation of £5,000 from her warmonger father, and she resigns in protest. The Army offers the poor only salvation, while Undershaft takes steps toward eradicating poverty. Barbara later comes to accept her father's views on capitalism and to believe that the greatest evil is the degradation caused by grinding poverty.
Cast: Laura Zucker (Lady Britomart), Peter Mark Schifter (Morrison, Snobby Prince), John Marh Rothman (Stephen Undershaft), Meryl Streep (Barbara Undershaft), Linda Atkinson (Sarah Undershaft, Mrs. Baines), Robert Neresian (Adolphus Cusins), Ralph Redpath (Charles Lomax), Walton Jones (Sir Andrew Undershaft), Franchelle Dorn (Rummy Mitchens), Lizbeth Mackay (Jenny Hill), B. Edward Marshall (Peter Shirley), Alan Rosenberg (Bill Walker, Bilton)
Reviews
Yale Daily News, May 03, 1973, Lloyd Grove
The production of G.B. Shaw's "Major Barbara" in the Drama School's underground experimental theater is an impressive effort. The sets themselves omitted not a detail, from the overstuffed, baroque drawing room furniture to the steaming trays of tea mugs and real food. The costumes, too, are appropriately elaborate – the ruffled blouses and the colorful ties, all convincing apparel fpr early twentieth-century England. However, the show itself does not altogether agree with the splendidness of its accoutrements. "Major Barbara", the play, is Shaw's sometimes biting satire on what he sees (or saw) as the morality of modern times. It centers on the deceptively atypical Undershaft family, a daughter of which, Barbara, is a Salvation Army major, while the father, Sir Andrew, is an immensely wealthy munitions manufacturer. Major Barbara has devoted herself to the saving of lives (and more importantly, souls) with a smile. Sir Andrew has devoted himself to the making of horrible weapons (and more importantly, money) also with a smile. Shaw, the writer, has been extremly witty throughout.
Shaw has crafted an almost perfectly balanced play with the potential for being a great piece of entertainment despite – and possibly because of – all the philosophical oratory (quotations of Plato and such) that interchanges on the stage. Too bad that the Drama School production seems not to realize some of the potential. One problem – and I suppose a perennial problem of opening nights – is lines. It's distracting when an actor forgets them or slips over them, and positively destructive when such lingual miscalculation obliterates the wit of someone like Shaw. After all, "Cry havoc and let poop the dogs of war!"? Another problem is screaming. It is often said in drama workshops that it is not a good idea to put nodes on one's vocal chords, especially when the actor has to go out of character to do it. This occurs in at least one instance, when Sir Andrew uncharacteristically begins to rand and rave about the meaning of real life in the third act. Here, I guess, my quarrel is with the director. One the whole, though, "Major Barbara" in the experimental theater is worth your time, even though the experiment turns out to be a noble one.
---