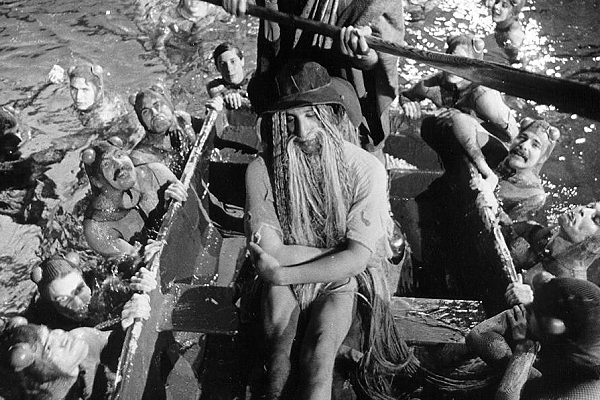 *Please note that any links forwarding to third-party streaming services have no affiliation or monetary connection with Simply Streep.
Release date:
March 29, 1974
Venue:
Yale Repertory Theatre
Directed by:
Burt Shevelove
Literature:
Aristophanes
Costume Design:
Jeanne Button
Set Design:
Michael H. Yeargan
Aristophanes's Frogs tells the story of the god Dionysus (Larry Blyden), who, despairing of the state of Athens' tragedians, travels to Hades (the underworld) to bring the playwright Euripides back from the dead. He brings along his slave Xanthias (Michael Vale), who is smarter and braver than Dionysus.
Larry Blyden (Dyonysos), Michael Vale (Xanthias), Dan Desmond (Herakles), Charles Levin (Charon), Ron Recasner (Hierophantes), Alvin Epstein (Aeakos), Carmen de Lavallade (A Handmaiden, an Inkeeper's Wife), Stephen R. Lawson (An Inkeeper), Jerome Dempsey (Pluto), Jeremy Geidt (William Shakespeare), Anthony Holland (Bernard Shaw), Joseph Costa, Jonathan Marks, Gil Rochon 3rd, Paul Schierhorn (Guards), Christopher Brown, Darryl Hill (Fleabaggers)
The Singers: Joan Berliner, Peter Bogyo, Alma Cuervo, Franchelle Stewart Dorn, Christopher Durang, Beth Hatton, Brock Holmes, Richard Larsen, Stephen R. Lawson, Susan LeFevre, Robert Picardo, Ron Recasner, Gil Rochon 3rd, Stephen Rowe, Jeremy Smith, Kate McGregor-Stewart, Meryl Streep, David Thomas, Scott lmer, Bob Van Nest, Sigourney Weaver, Donald Woodall
The Dancers: Diana Beishaw, Linda K. Harold, Ron Porter, Nora Peterson, Diana Raffman, Susan Strasburger, Alfonso Wilson, Kathryn Woglo