Trelawny of the Wells

October 15, 1975 - November 23, 1975

|

Lincoln Center Theater
Directed by:
A. J. Antoon |
Literature:
Arthur Wing Pinero |
Costume Design:
Theoni V. Aldredge |
Set Design:
David Mitchell |
Music:
Peter Link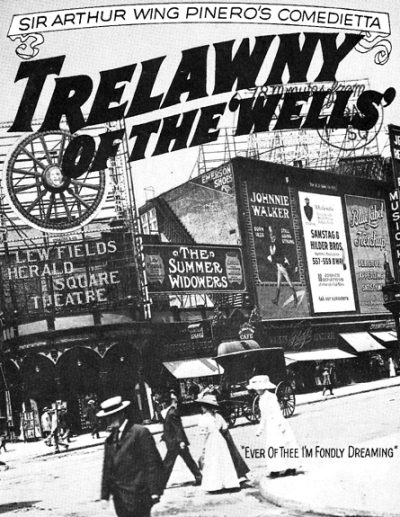 Rose Trelawny (Mary Beth Hurt) is leaving her life at Sadler's Wells Theatre to marry Arthur Gower (Mandy Patinkin), the grandson of an aristocrat. His stodgy grandfather demands that she live with the family prior to the marriage in order to put some distance between her and her questionable past as an actress. Rose finds herself terribly bored by her new life, and frustrated by her inability to fit into high society. At Sadler's Wells, a young playwright named Tom Wrench is stirring things up with a new play about the lot of ordinary people.
Cast: Mary Beth Hurt (Rose Trelawny), Mandy Patinkin (Arthur Gower), Meryl Streep (Imogen Parrott), Jeffrey Jones (Captain De Foenix), John Lithgow (Ferdinand Gadd), Aline MacMahon (Trafalger Gower), Jerry Mayer (Mr. Denzil), Ann McDonough (Clara De Foenix), Ben Slack (Augustus Colpoys), Michael Tucker (Tom Wrench), Helen Verbit (Mrs. Mossop), Sasha von Scherler (Avonia Bunn)
Production Notes
Fresh out of the Yale School of Drama in 1975, Meryl Streep was 90 minutes late for her first audition with Joseph Papp, the artistic director of the Public Theater and the New York Shakespeare Festival in Central Park. Her train from New Haven had been delayed, and there were, of course, no cellphones or e-mail then. She arrived to find Papp sitting in one of his signature white suits, his impatience conveyed with a grimace and twitchy crossed-leg kicks. Yet a few minutes later, the potential of a great actress had transformed his mood, and soon he was offering a small role to Ms. Streep in what would be her Broadway debut: "Trelawny of the 'Wells'" at the Vivian Beaumont Theater, in an era when acting work in New York was hard to find. "It was weirdly analogous to this time, because there was a recession, the city was really struggling, but the Public Theater was alive and kicking because of one man's dream," Ms. Streep said at a panel discussing Papp at a celebration of the Public's 67-year history in 2011. "That audition was a month of worry, and three seconds of his certainty about what he saw," Ms. Streep continued. "He never stopped giving me jobs, and he never stopped giving me chances. I owe him so much, I really do. I so miss him."
"Trelawny of the Wells" marked Meryl's prossional stage debut (as well as Mandy Patinkin's). Aptly enough for her first appearance in New York, Meryl played an actress, manager of a small theatrical stock company called the Wells, in the revival of Arthur Wing Pinero's 1898 comedy. Mary Beth Hurt played the leading role of Rose Trelawny, a fading ingenue actress who considers giving up the stage for a man with money in his pockets. Mandy Patinkin played Rose's boyfriend. John Lithgow played an old-fashioned actor in the troupe. Although Meryl's part was small, Walter Kerr singled her out in his review for the New York Times: "Meryl Streep as a glossily successful former colleague who has gone on to "star" in another theater, tart, level-headed, stunningly decked out in salmon gown and white plumes." Meryl herself remembered her first professional job in an interview with the Boston Globe: "I was so nervous that my top lip was moving independent of the rest of my face. It was just kind of whip, whip, whip, whip – even when I wasn't talking, it was moving. And then [costar] Michael Tucker broke something – his sleeve caught on an ashtray and it swept off the table – and all of a sudden we were located in the world of this room… because the only thing that matters in acting is what you really feel, smell, touch, and hear. All the outside stuff generally goes away with-in the first half-hour." "Trelawny of the Wells" received Tony Award nominations for Best Featured Actress in a Play (Mary Beth Hurt), Best Scenic Design, and Best Lighting Design.
Awards & Nominations for Meryl Streep
☆ Drama Desk Award – Outstanding Actress in a Play
---
Trelawny of the Wells is being listed under the following tags:
---