Secret Service

April 12, 1976 - May 02, 1976

|

The Phoenix Theatre
Directed by:
Daniel Freudenberger |
Literature:
William Gillette |
Costume Design:
Clifford Capone |
Set Design:
James Tilton |
Music:
David Rapkin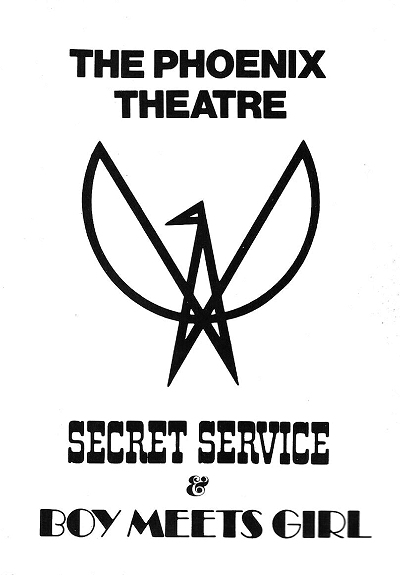 This 1895 thriller by William Gillette tells the tale of a Union spy, Captain Thorne (John Lithgow), working to seize control of the telegraph office in Richmond, Virginia in 1864. Posing as a wounded Confederate captain named Thorne, the spy's false orders to a Confederate Army Commander raise the suspicions of a southern agent, who uses a local girl, Edith Varney (Meryl Streep), as his reluctant accomplice to set a trap. PBS taped and televised "Secret Service" for its "Great Performances" programme in January 1977, marking Meryl Streep's debut on television.
Cast: Lenny Baker (Henry Dumont), Frederick Coffin (Lieutenant Maxwell), Alice Drummond (Mrs. Varney), Joe Grifasi (Corporal Matson), David Harris (Jonas), Marybeth Hurt (Caroline Mitford), Jeffrey Jones (Sergeant Wilson), Charles Kimbrough (Benton Arrelsford), John Lithgow (Captain Thorne), Arthur Miller (Banjo, Autoharp, Harmonica), Moultrie Patten (Cavalry Orderly), Jonathan Penzner (Lieutenant Allison), Roy Poole (Major General Harrison Randolph), Rex Robbins (Lieutenant Foray), Hansford Rowe (Telegraph Messenger), Don Scardino (Wilfred Varney), Meryl Streep (Edith Varney), Louise Stubbs (Martha), Stuart Warmflash (Private Eddinger)
Reviews
The Village Voice, April 19, 1976
The most successful exponent of the play's high style is Meryl Streep, whose Edith Varney is a specimen of Southern young womanhood very different from the memorable sexy, sloppy, dim-witted Baby Doll she played just a few weeks ago in the Phoenix's revival of "27 Wagons Full of Cotton". This time Ms. Streep flirts with a fine Southern archness, as if she had just come back with the wind, then rises to splendi imperious defiance and sinks to utter emotional exhaustion. Always extravagant but never excessive, she uses her body for a magnificent fullness of communication. Her extravagance makes us laugh at her sometimes, but it is laughter of admiration; it never weakens the suspense for a moment, nor breaks us out of sympathy for Edith Varney.
New York Magazine, April 26, 1976
In any case, the Gillette play has gotten from the Phoenix the best treatment of the season's four shows. Daniel Freudenberger's direction strikes a consistent tone zany enough to point up the absurdities in this tale of a Civil War spy redeemed by love without demolishing the play. His cast strikes some delicious poses, and a couple of splendid performances, by John Lithgow ans the spy and Meryl Streep as his ladylove, give the work some semblance of focus. However, Charles Kimbrough as the villain is so involved with hissing out his spiteful lines that the words themselves are often inaudible. The evening is greatly enhanced by some Confederate songs performed by members of the cast, sung in delectable close harmonies, during scene changes.
The Milwaukee Journal, January 11, 1977
With fine leading performances from John Lithgow and the brilliant and beautiful Meryl Streep, the production is satisfactory.
Awards & Nominations for Meryl Streep
☆ Drama Desk Award as Outstanding Actress in a Play
---
Secret Service is being listed under the following tags:
---