The Cherry Orchard

February 17, 1977 - April 10, 1977

|

The Vivian Beaumont Theatre
Directed by:
Andrei Serban |
Literature:
Anton Chekov |
Costume Design:
Santo Loquasto |
Set Design:
Mihai Madescu |
Music:
Elizabeth Swados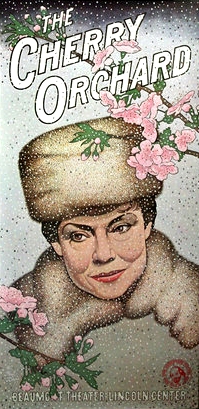 Lyubov Ranevskaya (Irene Worth) returns to the Russian country house of her youth with her daughter Anya (Mary Beth Hurt) and her adopted daughter Varya, her brother and a maid. Their family no longer has the money it once did, and alliances, rivalries and love triangles abound on the estate as they struggle for more than a year to raise enough to save the property from sale. Lopahkin (Raul Julia), whose family were once serfs on the property, buys the property at auction. He chops downs their beloved cherry orchard and the family are forced to leave.
Cast: Irene Worth (Ranevskaya, Lyubov Andreevna), Raul Julia (Lopakhin, Ermolai Alekseevich), Meryl Streep (Dunyasha), Mary Beth Hurt (Anya), Max Wright (Epikhodov, Semen Panteleevich) C. K. Alexander (Simeonov-Pishchik, Boris Borisovich), Michael Cristofer (Trofimov, Sergeyevich), Cathryn Damon (Sharlotta Ivanovna), Jon De Vries (A Vagrant, Ensemble), William Duff-Griffin (Stationmaster), Dwight Marfield (Firs), Ben Masters (Yasha), Priscilla Smith (Varya), George Voskovec (Gayev, Leonid Andreyevich), John Ahlberg (Ensemble), Suzanne Collins (Ensemble), Christine Estabrook (Ensemble), C. S. Hayward (Ensemble), Diane Lane (Ensemble), Jim Siering (Ensemble)
Production Notes
Andrei Serban's first production of "The Cherry Orchard" at Lincoln Center, New York, in 1977 met controversial response of high-brow N. Y. intellectuals. Serban's treatment of Chekhov's comedy was largely based on critical remarks made by Meyerhold on Stanislavsky's famous production of 1904. Chekhov called his play "a comedy", not a drama. The sets in Serban's production called up the memories of the frozen beauty of white cherry trees against the background of white Russian sky, memories of women in white dresses and white nurseries with fragile toys scattered all over the floor. In contrast with traditional melancholy of the closing scene of Ranevskaya's departure, Serban fills the stage with fresh energy. Ranevskaya leaves her house with determination, only for a second stopping to savor the sweet memories of childhood. Ranevskaya is circling the room with increasing swiftness, as though collecting energy for taking a new start in life.
Nominated for 5 Tony Awards, including Most Innovative Production of a Revival, Best Scenic Design and Best Actress in a Play (Irene Worth), winning two for Best Costume Design (Santo Loquasto) and Best Lighting Design (Jennifer Tipton). Both Loquasto and Tipton received Drama Desk Awards for their work with Irene Worth winning Outstanding Actress in a Play.
If actors were just reproducing an author's idea, there would be no reason for critics reviewing different ways of presenting them. What I want from the theater is the kind of thing that you get watching a great actress like Irene Worth. She makes me feel good to be alive. She makes me understand so well the particular person she plays that it makes me more interested in the people sitting around me. And that makes you understand your own humanity. You look into motives – yours, those of others. I once stood in a museam before a painting of Elizabeth I of England and looked her full in the face for ten minutes. Besides Lord Essex and a few others, I bet nobody was allowed to stare at her like that in her time. In the theater, wer're allowed to stare at people. It's like painting a portrait. When it comes off, it's a thrill! (Meryl Streep, Seventeen Magazine, February 1977)
Reviews
The New York Times, February 18, 1977
Where does one start-of course, with Irene Worth, as Madame Ranevskaya, who was peerless among her set of peers. The range and cadences of her voice have the serenity of accepted sadness, and she moves across the stage as if it were the living room of her heart. The others all sensitively grasped the intense physicality of the production, its visual speed and daring, its contacts with people and objects. How good, for example, was Meryl Streep as a sexy maid, or Cathryn Damon as a bizarre Fellini-style governess, or George Voskovec as Madame Ranevskaya's brother, or Raul Julia as a gracefully clumsy Lopakhin, or Max Wright as the clumsily graceful clerk, or C. K. Alexander as an impoverished landowner, or Marybeth Hurt and Priscilla Smith as two kinds of hopeful youth, or Ben Masters and Dwight Marfield as two kinds of servant, or Michael Cristofer as a student with his feet in the past and his eye on the future. How good they were.
Time Magazine, February 28, 1977
The Cherry Orchard is the most farcical of Chekhov's major works, and the cast (including George Voscovec, Raul Julia, Cathryn Damon, Marybeth Hurt and Michael Cristofer) whoops and tumbles through it with exaggerated zest. Especially delicious is Meryl Streep's housemaid Dunyasha, all borrowed gentility and sexual flutter.
Awards & Nominations for Meryl Streep
☆ Drama Desk Award – Outstanding Actress in a Play
---
The Cherry Orchard is being listed under the following tags:
---