Alice in Concert

December 29, 1980 - Jan 25, 1981

|

The Public Theater
Directed by:
Joseph Papp |
Literature:
Lewis Carroll |
Costume Design:
Theoni V. Aldredge |
Set Design:
Michael Yeargan |
Music:
Elizabeth Swados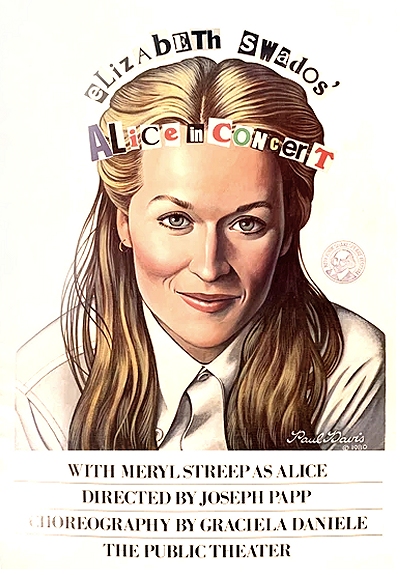 This "music hall" version of Lewis Carroll's Alice in Wonderland and Through the Looking Glass was a New York Shakespeare Festival production, for which Elizabeth Swados composed the score, adapted the book and directed for the stage. This imaginative rendering of the Lewis Carroll classic is performed concert-style on a bare stage, the actors in modern rehearsal clothes. Stylistically, the music ranges from rock to country/western to calypso, as the outlandish characters of "Wonderland" are reinterpreted in this "story theatre"-type setting.
Cast: Meryl Streep (Alice), Betty Aberlin, Stuart Baker-Bergin, Richard Cox, Rodney Hudson, Deborah Rush, Sheila Dabney, Michael Jeter, David Patrick Kelly, Charles Lanyer, Mark Linn-Baker, Kathy Morath, Amanda Plummer, Tony Viscardo
Production Notes
I just remember Elizabeth as a person with an inexhaustible creative energy — her half-closed eyes during any musical rehearsal, head turned up and half away from us, like she was waiting for instructions from on high, or a different galaxy. And then jumping to her feet from the floor (she always preferred to sit on the floor), bursting with visions and revisions, and let's just do it again, AGAIN!! She was like a 7-year-old in a grown-up's body, with teenage hair, hair that was her shield and tent and quiet room. She was the weirdest combination of exuberant and shy, shy, shy. Certain of her musical ideas, no doubt, no equivocating — but terrible anxiety about just standing in the room with people. The voice that emerged — unique, female, eternally young and tied to childhood — has not been duplicated in the theater. (New York Times, July 03, 2016)
Awards & Nominations for Meryl Streep
★ Obie Award – Performance
---
Alice in Concert is being listed under the following tags:
---