Out Of Africa

December 18, 1985

|

Universal Pictures

|

160 minutes
Directed by:
Sydney Pollack |
Written by:
Kurt Luedtke |
Literature:
Isak Dinesen |
Cinematography:
David Watkin |
Editing:
Pembroke J. Herring, Sheldon Kahn, Fredric Steinkamp, William Steinkamp |
Costume Design:
Milena Canonero |
Production Design:
Stephen B. Grimes |
Music:
John Barry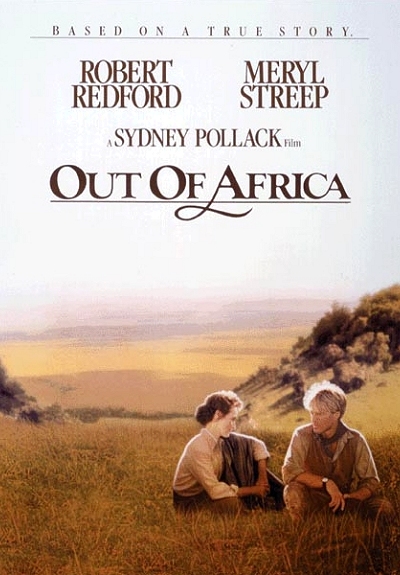 Karen Blixen (Meryl Streep) marries her friend Bror (Klaus Maria Brandauer) for the title of Baroness. They move to Africa and start a coffee plantation. But things unfold in a different direction when Bror is away on business often and begins cheating on her, so she's at home alone, working on the farm and bonding with a hunter, Denys Finch-Hatton (Robert Redford) she met on her wedding day. Later, she begins to want more from him than the simple friendship and pushes marriage, but Denys still wants his freedom.
Cast: Meryl Streep (Karen Blixen-Finecke), Robert Redford (Denys Finch Hatton), Klaus Maria Brandauer (Baron Bror Blixen-Finecke), Michael Kitchen (Berkeley), Malick Bowens (Farah), Joseph Thiaka (Kamate), Stephen Kinyanjui (Kinanjui), Michael Gough (Delamere), Suzanna Hamilton (Felicity), Rachel Kempson (Lady Belfield), Graham Crowden (Lord Belfield), Leslie Phillips (Sir Joseph), Mohammed Umar (Ismail), Job Seda (Kanuthia), Annabel Maule (Lady Byrne), Mike Burgara (Juma), Donal McCann (Doctor), Iman (Mariammo)
Production Notes
Out of Africa (1985) is based on the 1937 book by Danish writer Isak Dinesen. The film tells the autobiographical tale of Baroness Karen Blixen (Dinesen's true name), portrayed by Streep, and her time spent on a coffee plantation in East Africa in the early twentieth century. Blixen, in the film, marries Baron Bror Blixen-Finecke (Klaus Maria Brandauer) and moves with him to Africa. The marriage is most unsatisfactory as he is a womanizer who eventually leaves her to take care of the plantation on her own. The Baroness meets a hunter named Denys (Redford), and the two begin an idyllic love affair.
Right after 'Plenty', I dyed my hair dark, and we flew from England to Africa. For six months we lived there. It was fantastic. My son spent the second half of first grade there. You know there are different styles in motion pictures. There was a time when nobody ever wanted to have narration over anything. I remember Sydney saying, 'Oh, my God, we can't seem to find any other way! I hate voice-overs, they're horrible, pedestrian, the worst kind of filmmaking!' Well, now most of the cutting-edge movies all have voice-over narration. But in the 70's and early 80's, it wasn't considered 'pure'. I'd say, Gee, Orson Welles did well with it, you know? My father said, 'You're going to take these children to Africa? What an irresponsible thing to do.' I told him it was going to be a great adventure. Three weeks later, a sore appeared on my five-year-old son and nobody knew what it was. It turned out to be some horrible worm. Years later we found out the doctors thought he might have had Aids. (Meryl Streep, Entertainment Weekly, March 2000)
The idea of adapting the Dinesen's memoirs to the screen had been thrown around for decades before the project was finally picked up by Universal Studios. Orson Welles and David Lean had both considered making the film, and Nicholas Roeg thought about making the film with Julie Christie starring as Karen. Sydney Pollack was the one to produce the film in the 1980s, along with directing it. Out of Africa was shot on location in Africa; the city of Nairobi was recreated by local workers as it had appeared in the early 1900s. The production was not without its share of problems. The country was in the middle of a drought during filming, and the crew had to consider moving to a different location; the rains came just as they were attempting to decide where to relocate. Many crew members contracted malaria, and filming animals in the bush posed its own special problems. It is illegal to touch or maneuver wild animals, so the crew had to camp out for hours while they waited for the animals to come into just the right spot for each shot. Despite the difficulties encountered, many would say it was well worth it, because the film was nominated for a total of eleven Academy Awards, including a Best Actress nomination for Streep.
She's a great actress because of her intuitiveness, her powers of observation and her sense of being in touch with herself quickly – all that, along with talent. She has a vast imagination; she has incredible intuitive powers; she understands instantly things about human behavior that people who aren't observant don't understand and people who are narcissistic don't understand. You have to be paying attention to the outside world, and most people are not. Most people are wondering how they're doing; they're looking in your eyes, thinking, "I wonder what she thinks of me?" You're not going to learn about human behavior like that. She's in the world, interested in the world. She lives a full life, (and) she's experienced what she needs to experience: motherhood, love, frustration. (Sydney Pollack, The Hollywood Reporter, June 2004)
"Out of Africa" took home the statues for Best Picture, Best Director, Best Screenplay Based on Material from Another Medium, Best Cinematography, Best Art Direction-Set Decoration, Best Sound, and Best Original Score. Streep's nomination for Best Actress marked her sixth nomination, and though she did not win (the Oscar went to Geraldine Page for The Trip to Bountiful), her role in this film is still considered to be one of her best.
Simply Streep's Review
"Out of Africa" is Sydney Pollack's love letter to Karen Blixen and to the continent that has influenced and changed the author's life. There is more to the story than expected at first sight. Blixen is bored with her life in Denmark and marries for social reasons to flee from her past to Africa. Soon she finds herself alone, since her husband isn't interested in her friendship nor in her person. The heart of the film, personally, is not so much the relationship to Denys, but Blixen's effort to make a difference in the country she learns to love so passionate, and for the people who she shares ground with. The romance with Robert Redford's character just adds to that, mostly because their characters stay different and difficult. But the star of the film remains Africa – shown in astonishing images captured by cinematographer David Watkin and supported by John Barry's brilliant score – both received the Academy Award for their work. Their contribution makes the film's magic. Regarding the acting, Karen Blixen is yet another compelling performance during Streep's successful 1980s career. The film proves to be her most successful of the decade as well, in regard of its box-office success as well as its seven Oscar wins. It's been a classic already back then and has lived up to its standard ever since.
Awards & Nominations for Meryl Streep
★ David DiDonatello Award – Best Foreign Actress
★ Kansas City Film Critics Award – Best Actress
☆ Academy Award – Best Actress in a Leading Role
☆ Golden Globe Award – Best Actress in a Motion Picture, Drama
☆ Los Angeles Film Critics Award – Best Actress
☆ British Academy Award – Best Actress
---