Heartburn

July 25, 1986

|

Universal Pictures

|

108 minutes
Directed by:
Mike Nichols |
Written by:
Nora Ephron, based on her book |
Cinematography:
Néstor Almendros |
Editing:
Sam O'Steen |
Costume Design:
Ann Roth |
Set Design:
Tony Walton |
Music:
Carly Simon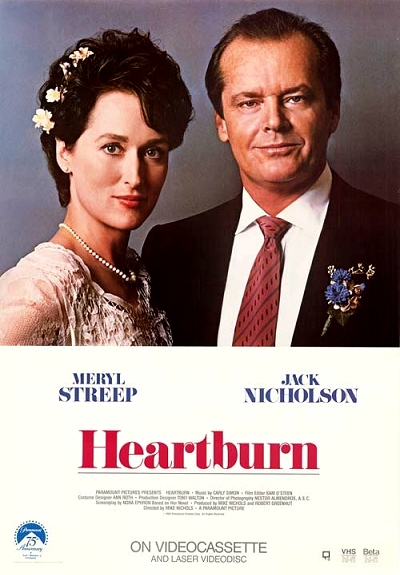 Rachel Samstat (Meryl Streep) and Mark Foreman (Jack Nicholson) meet at a mutual friend's wedding and get married shortly afterwards. All goes well initially with the marriage, despite the fact they endure months of renovation by incompetent builders on their Washington home. A child is born, Mark proves himself a fond father, and another baby is soon on the way. But then, Rachel discovers that Mark has been having an affair with one of their circle. Should she leave him and become a single parent for two children or give the marriage a second try?
Cast: Meryl Streep (Rachel Samstat), Jack Nicholson (Mark Foreman), Jeff Daniels (Richard), Maureen Stapleton (Vera), Stockard Channing (Julie), Richard Masur (Arthur), Catherine O'Hara (Betty), Steven Hill (Harry, Rachel's Father), Milos Forman (Dmitri), Mamie Gummer (Annie), Karen Akers (Thelma Rice), Kevin Spacey (Subway Thief), Kenneth Welsh (Dr. Appel), Yakov Smirnoff (Laszlo), Joanna Gleason (Diana)
Production Notes
In her 1983 best-selling novel "Heartburn", Nora Ephron wrote semi-autobiographically about her marriage to journalist Carl Bernstein, who helped cover the Watergate scandal with Bob Woodward. The novel typifies an era in which movies, books and the other media are transforming private lives into public properties at an astounding rate. Their separation was met with large public interest. Mike Nichols became interested in "Heartburn" when he was directing Meryl Streep in "Silkwood" – a film co-written by Ephron. Both Nichols and Streep had planned to revive "Private Lives" on Broadway in the early 1980's, but plans foiled after Richard Burton and Elizabeth Taylor announced their own production of the play. For Meryl, it was also the first time to do a comedy movie – although "Heartburn" can hardly be labeled a comedy, at least not in the traditional sense. According to reports, Kevin Kline was the first choice to portray the Bernstein character, however Kline wasn't available due to theatre commitments. Mandy Patinkin was then cast as the male lead. Filming started in July 1985, just weeks after Meryl returned from filming "Out Of Africa".
To prevent legal actions against the screenplay or the film, Paramount granted Carl Bernstein an unofficial advisory role to make sure his character was portrayed correctly. Further, their divorce agreement spelled out how both Bernstein and the children should be portrayed in the film. One clause stipulated that the character "will be portrayed at all times as a caring, loving and conscientious father." Bernstein also won the right to suggest revisions to the screenplay. And after seeing various versions of it, he took successful court action to implement changed he had requested. As a result, the Bernstein character is portrayed more symphateically in the film than in the novel, yet almost nothing about the character or his motives is explained. "Rarely have the subjects of gossip participated so fully to turn their domestic strife into Hollywood legend," Maclean's wrote about Ephron's and Bernstein's assistance in the filming of the novel. And to make things more difficult, Mandy Patinkin withdrew from the production soon after shooting had started. Co-producer Robert Greenhut stated that "there were artistic differences between Mike and Mandy about the interpretation of Mandy's character, and we mutually agreed that he would not be in the picture". In comes Jack Nicholson to join Streep – and an ensemble of supporting actors, including Jeff Daniels, Steven Hill, Stockard Channing, Richard Masur, Catherine O'Hara, Maureen Stapleton, Mercedes Ruehl and director Milos Forman.
Upon its release in July 1985, "Heartburn" was met with mixed reviews. Roger Ebert called it "a bitter, sour movie about two people with no chemistry, played by two actors with great chemistry". The New York Times found it hard to "get interested in these people" as well. Most critics were disappointed that the pairing of the two megastars of the 1980's, directed by someone like Mike Nichols, resulted in just an average film.
Awards & Nominations for Meryl Streep
★ Vallovid International Film Festival – Best Foreign Actress
---
Heartburn is being listed under the following tags:
---