The Tale of Peter Rabbit

1987

|

Rabbit Ears Entertainment

|

30 minutes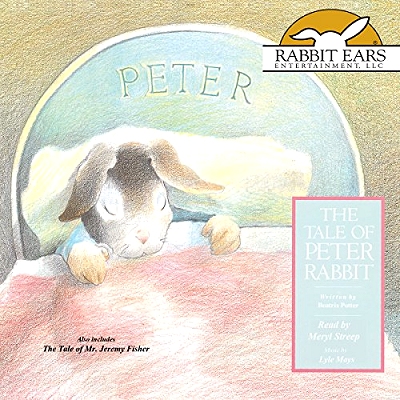 Both The Tale of Mr. Jeremy Fisher and The Tale of Peter Rabbit are two animated adaptations of Beatrix Potter stories, featuring narration by Meryl Streep and animation by David Jorgenson. In the first of these stories, Mr. Jeremy Fisher demonstrates convincingly that amphibious maneuvers can be tough even if you're not a Marine. Mr. Fisher, who lives in a little damp house amongst the buttercups at the edge of a pond, is a very proper frog, insistent on keeping up appearances at all costs. As illustrated by David Jorgensen in the video's drawings, he is stuffy, regal - sort of an Arthur Treacher with webbed feet. Mr. Fisher's eyelids droop, and he wears formal attire, even while fishing.
Tracklist
01 The Tale Of Peter Rabbit
02 The Tale Of Mr. Jeremy Fisher
03 The Tale Of Two Bad Mice
Production Notes
Along with The Tale of Mr. Jeremy, purists will enjoy the Jorgensen-Streep version of The Tale of Peter Rabbit, the mischievous bunny with a penchant for home-grown produce. It's a strict interpretation of the best known of Potter's books. Lyle Mays, who supplies the music for both stories, offers jazzier accompaniment for Peter, which makes sense, given his more cavalier approach to life. Reader Meryl Streep chose to give Mr. Fisher's voice a dash of haughtiness that seems just right with Jorgensen's humorous sketches. She adds the appropriate element of shock to her voice when she describes how Mr. Fisher is gobbled up by a trout – only to be spat out because the trout doesn't like the taste of Mr. Fisher's mackintosh (another reason to always wear your raincoat). This is a delightful retelling of a children's classic – the story that proves it's not always good to eat your vegetables. Both "The Tailor of Gloucester" and "The Tale of Peter Rabbit" received Grammy nominations in 1989 in the category of "Best Album for Children".
Helen Beatrix Potter (1866–1943) was an English author, illustrator, mycologist and conservationist who was best known for her many best-selling children's books that featured animal characters. As a young woman her study and paintings of fungi led her to be widely respected in the field of mycology. In her thirties Potter published the highly successful children's book The Tale of Peter Rabbit. Potter's books continue to sell well throughout the world, in multiple languages. Her stories have been retold in various formats, including films and in animation.
---
The Tale of Peter Rabbit is being listed under the following tags:
---