The Tailor of Gloucester

1988

|

Rabbit Ears Entertainment

|

35 minutes
|
Written by:
Beatrix Potter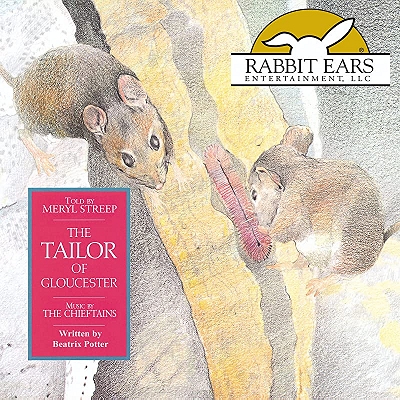 Meryl Streep narrates this heart warming tale about a group of grateful mice who come to the aid of a tailor needing help to meet a Christmas deadline. Musical accompaniment provided by Ireland's inimitable Chieftains. The tailor of Gloucester has no more silk thread thanks to his naughty cat Simpkin - but he promised to finish the mayor's wedding coat by Christmas day! With the help of some special friends the tailor finds that a kind favor is often returned. Both "The Tailor of Gloucester" and "The Tale of Peter Rabbit" received Grammy nominations in 1989 in the category of "Best Album for Children".
Tracklist
01 The Tailor Of Gloucester (Part I)
02 The Tailor Of Gloucester (Part II)
03 Theme For The Tailor Of Gloucester
04 The Tailor Of Gloucester At Work (With Friends)
05 Simpkin The Cat/Mice To The Rescue
06 Closing Theme Music
Production Notes
Helen Beatrix Potter (1866–1943) was an English author, illustrator, mycologist and conservationist who was best known for her many best-selling children's books that featured animal characters. As a young woman her study and paintings of fungi led her to be widely respected in the field of mycology. In her thirties Potter published the highly successful children's book The Tale of Peter Rabbit. Potter's books continue to sell well throughout the world, in multiple languages. Her stories have been retold in various formats, including films and in animation.
---
The Tailor of Gloucester is being listed under the following tags:
---