Harold Clurman: A Life of Theater

July 03, 1989

|

Films for the Humanities and Sciences

|

60 minutes
Directed by:
Thomas Klein, Alan Kaplan |
Written by:
Thomas Klein, Alan Kaplan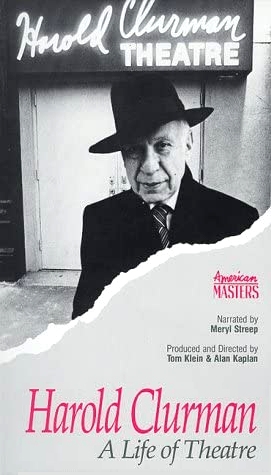 As a founding member and the driving force behind the Group Theater, Harold Clurman helped heighten the emotional sensitivity and social awareness of American drama. This classic program, narrated by Meryl Streep, recounts Clurman's artistic journey using rarely seen archival films and conversations with the director's inner circle-luminaries. Full of provocative and entertaining Clurman appearances, the program features extensive excerpts from his lectures, personal interviews, and the only Clurman acting workshop ever recorded.
Production Notes
This program profiles the career of theater director Harold Clurman. Clurman, who regarded all of life as a sort of grand theater, was born in Manhattan in 1901, and as a child became fascinated with theater. In 1923, Clurman studied at the Sorbonne in Paris, where he wrote his thesis on the history of French drama. The artists of Paris gave him inspiration for his own ideas about the theater, and when he returned to New York in 1924 he got a job as an actor on Broadway. Most plays on Broadway at the time were of European origin, and Clurman grew frustrated that there seemed to be no plays on Broadway which related to people's lives or reflected the emotions of the audience. Even as the Great Depression began, Clurman cultivated a passion and enthusiasm for the theater which spread to others around him. In November of 1930, he began delivering lectures advocating for a permanent acting company, and by the summer of 1931, he realized his dream in the form of the Group Theatre. Co-founded with Cheryl Crawford and Lee Strasberg, the Group Theatre was an acting troupe distinguished from others of the time by refusing to embrace a political standpoint, instead focusing on morality and on reflecting contemporary life and problems. Many soon-to-be famous actors such as Lee J. Cobb and Stella Adler were a part of the Group Theatre, which hoped to engender a commonality between the performer and the audience. Clurman believed that theater should "develop an identity" of its own, and worked towards that goal even in the midst of the depression; Clurman was noted for his continuous enthusiasm and positivism.
On January 5th, 1935, the Group Theatre opened "Waiting for Lefty" by Clifford Odets, a play about a taxi strike. The audience instantly responded to the play; its message of activism and self-empowerment struck a powerful chord with them. This trend continued with Odets' next play "Awake and Sing!," starring Adler and John Garfield, which was seen as emblematic of the struggles of the Great Depression and of the need to remain vibrant in the face of overwhelming odds. "Awake and Sing!" was the first play Clurman directed. Beforehand, Clurman had never considered himself a director, but found that he had a talent for expressing ideas and creating something "tangible" out of the theater. Clurman would continue to direct plays for the Group Theatre, including "House of Connelly," "Rocket to the Moon," "Golden Boy," "Paradise Lost," and "Night Music." His target audience was the prosperous middle class, whom he felt was suffering from a moral decay due to the influence of money and success. This idea is illustrated in a scene from the 1937 film version of "Golden Boy," where William Holden plays a young immigrant son torn between his passion for the violin and his desire for success via becoming a prizefighter. He has an argument with his father, played by Lee J. Cobb, who advocates that his son give up on material goods, which he deems "fake," and remain true to his heart's desire.
Clurman felt that this question was a "spiritual crisis" of the 1930's. Throughout the decade, the Group Theatre struggled financially until it could no longer be supported, and in 1941 it disbanded. After the dissolution of the Group Theatre, Clurman returned to Broadway, where he went on to direct a number of classic plays, including "The Member of the Wedding," "Truckline Café," "Bus Stop," "Orpheus Descending," "A Touch of the Poet," and "Incident at Vichy." To Clurman, theater was always "alive" and focused on the inherent "adventure" of life in whatever form it might take. In 1978, Clurman rehearsed the play "The Lady from the Sea" at the Mark Taper Form in Los Angeles with actors Joan Hackett and Richard Dysart as a sort of "experiment" meant to capture his directorial style on film. Along with footage of the rehearsals, Clurman talks about the responsibility of the director and how he interacts with actors. Actors also give their own recollections of working with Clurman, and how he challenged them to improve themselves. Clurman passed away in 1980, leaving behind a legacy of intense passion for theater and a philosophy that "theater is about people."
---
Harold Clurman: A Life of Theater is being listed under the following tags:
---